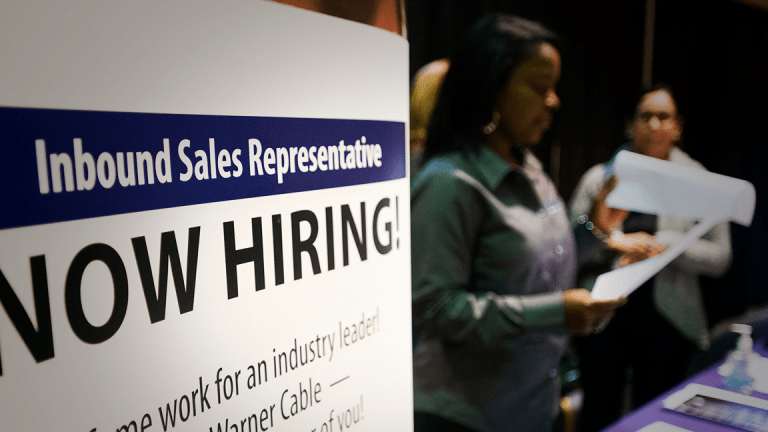 U.S. Economy Added 103,000 Jobs in March, Missing Projections
The U.S. economy added 103,000 jobs in March, below expectations, as analysts said the tighter labor market may be making skilled workers harder to come by.
The U.S. economy added 103,000 jobs in March, missing expectations, while wage gains accelerated, the Labor Department said Friday.
The gains fell short of economists' estimates of a 185,000 increase in non-farm payrolls and marked a slowdown from February's increase of 313,000, the Bureau of Labor Statistics report showed. Average hourly earnings climbed 2.7% over the past year, an acceleration from last month's pace of 2.6%. The unemployment rate was unchanged at a 17-year low of 4.1%.
The disappointing jobs growth in March may signal that workers are getting harder to find with unemployment so low, according to Charlie Ripley, senior investment strategist at the money manager Allianz Investment Management. Still, the report leaves room for the Federal Reserve to continue its trajectory of "gradual" interest-rate increases rather than a faster pace. 
Monthly jobs growth around 100,000 is "typical in an environment where the labor market is pretty tight," Ripley said in a phone interview. 
Futures contracts on the Standard & Poor's 500 Index were down slightly in premarket trading Friday, pointing toward an open 0.8% below Thursday's close. 
Investors have scrutinized recent employment reports for clues on whether the Fed might need to accelerate the pace of interest-rate hikes compared with officials' projections for two more quarter-point increases this year. In January, a report showing year-over-year wage growth accelerated to 2.9% triggered a stock-market selloff, as traders worried that the gains might push the Fed to raise rates faster.
The Federal Reserve's monetary-policy committee, led by Chairman Jerome Powell, raised benchmark interest rates by a quarter point last month to a range between 1.5% to 1.75%. It was the sixth hike since late 2015, when the Fed ended its policy of keeping rates close to zero to stimulate growth following the 2008 financial crisis. 
While inflation, at around 1.7%, is still running below the Fed's target of 2%, Fed officials project that price increases will accelerate toward the mark this year and next. High inflation is considered bad for the economy, but persistently low inflation is usually seen as a sign of a sluggish economy.
Powell told U.S. lawmakers in a hearing in February that he believes "gradual" rate increases are warranted to keep the economy growing smoothly.
Watch all of Jim Cramer's full NYSE live shows right here: