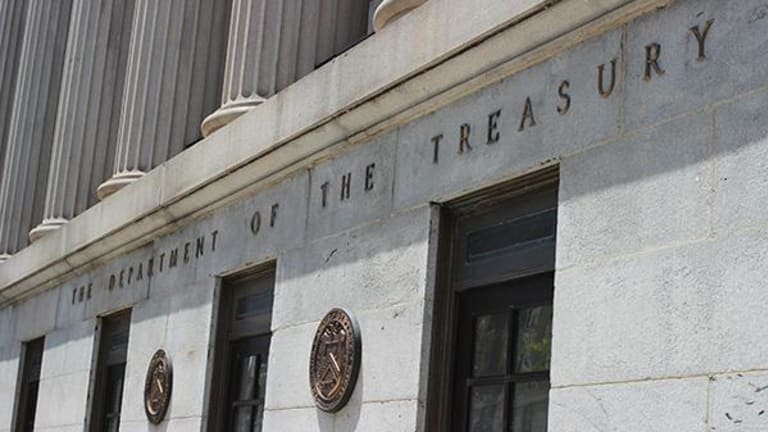 U.S.Credit-Rating Cut Unlikely as Debt Debate Nears, Moody's Says
Moody's Investors Service's prediction that the U.S. government's triple-A rating will remain intact contrasts with a warning this week by rival firm Fitch Ratings.
A failure by the United States to pay some bills on time if Congress can't agree next month on raising the $20 trillion national-debt ceiling wouldn't, by itself, result in a cut to the government's triple-A debt rating, Moody's Investors Service said Thursday.
While the government would likely face "negative rating implications" if a debt payment were missed, the ratings firm said in a report, it doesn't expect that to happen. 
"We think the debt ceiling will ultimately be raised," Sarah Carlson, a Moody's analyst in London who oversees the U.S. government's rating, said in a telephone interview. "If the government has to, it will prioritize interest rate payments" over other payment obligations, such as employee salaries. 
The assurances by Moody's on its Aaa rating -- the highest available -- on U.S. debt came as President Donald Trump signaled he's willing to risk a government shutdown if Congress doesn't provide funding for a border wall separating the U.S. from Mexico.
The Moody's pronouncement contrasts with a warning Wednesday by rival Fitch Ratings that a failure by lawmakers to raise the debt ceiling "in a timely manner" would lead to a review of its AAA rating, "with potentially negative implications."
Analysts at the Wall Street firm Goldman Sachs cautioned last week that the president's plunging approval ratings means he may push for controversial positions -- such as the border wall, one of his most prominent campaign pledges -- to shore up support among core political supporters. As a result, according to the Goldman Sachs analysts, the likelihood of a shutdown has increased to 50%
Bank of America Merrill Lynch analysts said Wednesday that "perceived dysfunction" in Washington could lead to losses on corporate bonds -- ironically, because investors would likely shift their money into U.S. Treasury bonds, still perceived as among the world's safest financial instruments.
The debate over the border wall is expected to take place next month as Congress tackles bills on government spending and the debt ceiling. In 2011, a similar debate -- though without the added wrinkle of Trump's "big, beautiful wall" -- led Standard & Poor's to downgrade the U.S. government's debt.
Treasury Secretary Steven Mnuchin has called for the debt ceiling to be raised by the end of September, and Senate Majority Leader Mitch McConnell said this week there was "zero chance" the limit wouldn't be increased. House of Representatives Speaker Paul Ryan has said he doesn't think Republicans want to see a government shutdown.
Moody's said in Thursday's report that it strongly believes the debt ceiling will be raised, as has happened every time since the applicable fiscal rule was introduced in 1917.
The extraordinary measures the U.S. Treasury has been using to pay its bills in recent weeks -- such as shuffling payments between accounts -- will be exhausted by early October, the ratings firm wrote. That increases the pressure on the government to comply with a requirement that the validity of public debt "not be questioned," which is written into the U.S. constitution.
"As has been the case in previous debt-ceiling episodes, the legislative process around the debt ceiling involves political brinkmanship, which raises the possibility that no agreement is found by October," according to the Moody's report. "Prioritizing debt payments would be undertaken to preserve the full faith and credit of the U.S. government and to preserve financial-market stability."
Asked whether Trump's threat over border-wall funding factored into the rating, Carlson said Moody's takes comfort in the separation of powers within the U.S. government and the independence of institutions like the Federal Reserve and the Congressional Budget Office. 
Apart from how a government shutdown would affect the government's credit rating directly, she said it could potentially worsen the U.S. fiscal picture, by hurting economic growth and increasing borrowing costs. The debt-ceiling showdown in 2011 increased the government's borrowing costs by $1.3 billion in that year alone, with additional costs spilling into future years, according to Moody's, citing a report by the U.S. Government Accountability Office. 
"The longer it goes on, the more disruptive it becomes," Carlson said. "These kinds of showdowns do have a cost."
She declined to specify what rating actions Moody's might take if the government actually missed a debt payment. Moody's, unlike some other ratings firms, assesses borrowers based on the expected loss to investors on their bonds, rather than simply the probability of default.
"If the U.S. missed an interest payment, we would hold a rating committee and discuss what had happened and take a view of what that tells us about the institutions, take a view of what kind of disruption you're likely to see, and make a decision on what sort of rating movement might be necessary," she said. "I can't make a prediction on what that would be, other than to say it would be negative."
Asked whether a ratings change might be possible prior to the resolution of the debt-ceiling debate, Carlson said: "For us it's more about seeing a certain kind of event that would be a trigger, such as seeing that the assumption we've made about interest payments being prioritized turns out not to be true."