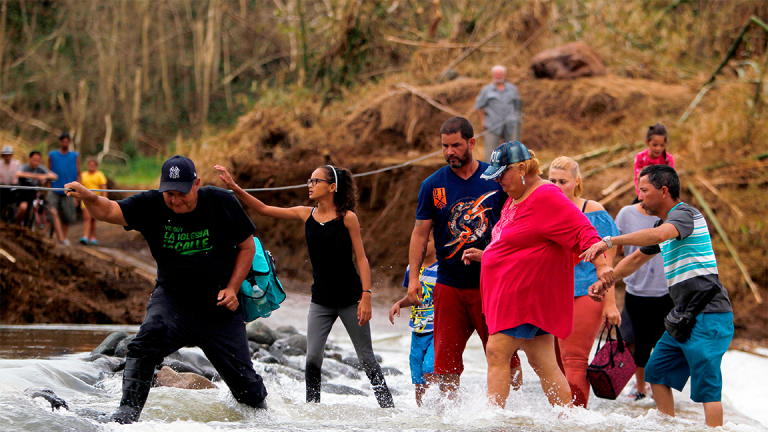 Publish date:
Trump's 'Say Goodbye' to Puerto Rico Debt Quip Sends Bond Prices to Record Low
Trump's suggestion to 'wipe out' Puerto Rico's debt has sent bond prices to an all-time low
Trump's suggestion to 'wipe out' Puerto Rico's debt has sent bond prices to an all-time low
U.S. President Donald Trump suggested late Tuesday that Puerto Rico's billions in debt would need to be written off in order to facilitate its recovery from the devastation wrought by Hurricane Maria nearly two weeks ago.
After having said, largely in jest, that the storm and its damage had "thrown our budget out of whack", Trump told Fox News that much of Puerto Rico's $72 billion in debt, linked to a recent bankruptcy filing, would need to be erased. A White House official also told Reuters late Tuesday that a $29 billion aid request will be sent to Congress in order to provide a cash injection to the National Flood Insurance Program and immediate support to Americans impacted by this year's historic hurricane season.
"We are going to work something out. We have to look at their whole debt structure. They owe a lot of money to your friends on Wall Street and we're going to have to wipe that out," Trump said. "You're going to say goodbye to that, I don't know if it's Goldman Sachs but whoever it is you can wave goodbye to that."
Yields on Puerto Rico's benchmark 8% bond due in 2035 rose nearly 1% to 18.48% following the President's remarks and now trade at a record low of 44 cents on the dollar, according to data compiled by Bloomberg.
Earlier Tuesday, Moody's Investors Service put the cost of both Maria's damage and its hit to the U.S. Territory's economy at between $45 billion and $95 billion, a figure that would be more than 130% of its gross national product at the higher end of the range. 
Puerto Rico's May Title III bankruptcy fling, the biggest ever by a U.S. state or local government, followed a decade of government borrowing and deficits aimed at reinvigorating growth after tax changes slowed investment into the island's economy. 
"Given Puerto Rico's weakened cash position and lack of capital market access, the territory's government will face challenges to the extent that it needs to contribute its own funds toward recovery efforts," Moody's wrote in a separate report earlier this wee. "Puerto Rico's oversight board authorized the governor to reallocate as much as $1 billion of its current budget for disaster-related spending ... (its) massive and contentious debt restructuring under PROMESA may influence how much funding Congress authorizes for relief efforts."
More of What's Trending on TheStreet:
Blankfein on Bitcoin: 'Folks Were Skeptical When Paper Money Displaced Gold'