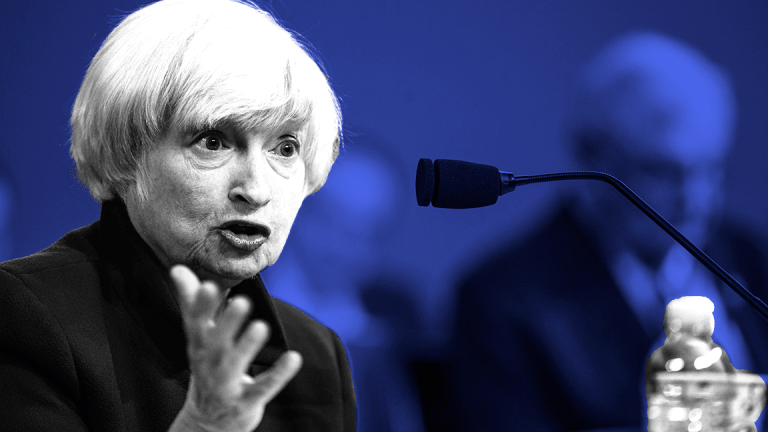 3 Key Takeaways From Fed's Latest Monetary-Policy Statement
Federal Reserve officials, in their first meeting of 2018, held benchmark U.S. interest rates steady in a range of 1.25% to 1.5%, as expected.
Federal Reserve officials held benchmark U.S. interest rates steady at their first meeting of the year, saying that labor markets continue to strengthen amid "solid" economic activity. The meeting was Chair Janet Yellen's last before she turns over leadership of the Fed to Jerome Powell, President Donald Trump's appointee as her replacement.
The Fed raised rates three times in 2017, bringing the target to a range of 1.25% to 1.5%, from near zero before the central bank starting the current hiking cycle in late 2015.
Here are three takeaways from the Fed's statement Wednesday:
Neither Dovish Nor Hawkish
The statement did little to change expectations for the Fed's rate-hiking trajectory, Charlie Ripley, senior investment strategist at the money manager Allianz Investment Management, said in a phone interview. Allianz expects the Fed to raise its target rate three times this year, as it did before the statement's release. Based on market indicators, most traders and investors also expect three hikes in 2018, following three increases last year. 
The Standard & Poor's 500 Index of U.S. stocks was down 1.1% in New York trading after the announcement. Yields on 10-year U.S. Treasury bonds were up 0.01 percentage point to 2.73% on Wednesday.
"Overall it wasn't that exciting of an event," Ripley said. "Bonds haven't really moved that much as a result of the meeting." 
Economic Backdrop Remains "Solid"
Fed officials said in the statement that the labor market has continued to strengthen and that economic activity is rising at a "solid rate." What's more, the Fed noted that market-based measures of inflation expectations have increased in recent months, adding credence to the officials' views that the pace of price increases is rising toward the central bank's 2% target in the "medium term." 
"The Committee expects that economic conditions will evolve in a manner that will warrant further gradual increases in the federal funds rate," according to the statement. 
Unanimous Decision 
The decision to hold rates steady was unanimous at Yellen's final meeting. It remains to be seen how members will vote at the policy-making committee's next meeting, scheduled for March 20-21. At the December meeting, two of the committee's nine members -- Federal Reserve Bank of Minneapolis President Neel Kashkari and Federal Reserve Bank of Chicago President Charles Evans -- dissented on the decision to raise rates by a quarter-point. Both dissenters rotated off of the committee at the end of 2017. 
"It remains to be seen whether there will be any dissenters at the March meeting," Ripley said. 
More of What's Trending on TheStreet: