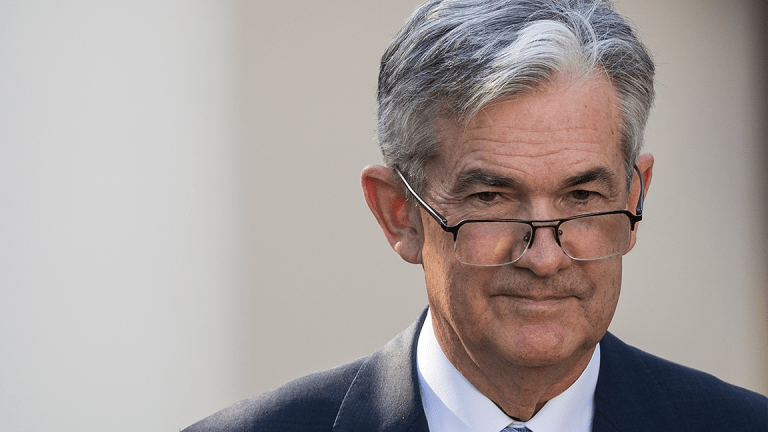 3 Big Takeaways From Fed Chairman Jerome Powell's First FOMC Meeting
The stock market wasn't quite sure how to react to Powell's commentary on Wednesday.
As new Federal Reserve Chairman Jerome Powell took the stage for his first-ever press conference atop the central bank, the stock market was well into the green. But by the time the closing bell rang, stocks were lower.
Powell and the Fed announced earlier Wednesday the sixth interest rate hike since late-2015, increasing rates a quarter of a percentage point to a target of 1.5% to 1.75%. The rate had been close to zero from 2008 through 2015 as the Fed worked to promote an easy money policy as the economy recovered from the financial crisis.
So what were the big takeaways from Powell's first press conference on Wednesday? Here you go. And be sure to watch TheStreet's takeaways below.
Economy Is Strong
"The economic outlook has strengthened in recent months," the Fed wrote in its post-meeting release. That's a new sentence that had not been in previous reports.
Fed officials raised their forecast for 2017 GDP growth to 2.7%, up from 2.5% in December. They also increased the 2018 expectation to 2.4% from 2.1%.
The rate at which the economy grows is crucial in how the Fed outlines its course of action. In earlier statements, the Fed's Open Market Committee had communicated three rate hikes this year, meaning the market will still see two more before 2018 is up. But given the pace of economic growth, many on Wall Street expect that three rate hikes might be an understatement.
For the Fed's part, though, the forecast was little changed with two more hikes still the baseline. Powell didn't announce any specific forecasts as to how many rate increases might happen this year. The Fed's "dot plot" for future rate hikes as part of its Summary of Economic Projections showed, though, that the FOMC is split between two and three additional rate hikes for 2018.
"Fed Chair Powell has chosen a procrastinated approach to communicate any changes to the pace of policy rate hikes. It is likely he is buying time until the June meeting before a fourth rate hike is crystalized into the policy forecast from the Fed," said Charlie Ripley, senior investment strategist for Allianz Investment Management.
Inflation Still in Focus
Powell noted that he and his cohorts at the Open Market Committee remain on "high alert" for inflation. He added that inflation is, indeed, moving closer to the Fed's 2% goal. But Powell didn't offer much in the way of a forecast beyond that as far as inflation is concerned. 
Inflation expectations for 2018 remain at 1.9% for both core and headline rates. Moving into 2019, inflation expectations moved slightly higher to 2.1% from 2% for core inflation, while 2019 headline inflation is expected to stick at 2%.
"Regarding inflation, the committee acknowledged that both survey based measures along with market based measures have increased," Ripley said. "They stated annualized inflation is 'expected to move up in coming months' indicating they believe inflation will move closer to the target. However, it appears that the Fed intends to keep the gradual pace of rate hikes in place."
More tempered inflation could potentially be a source of optimism for market watchers, as the Fed is more likely to raise rates when inflation runs rampant. A larger-than-anticipated uptick in inflation in January was partially to blame for the early-February selloff in stocks.
Podcast: What You Need to Know About Jerome Powell's First Fed Meeting featuring Danielle DiMartino Booth
Trade Becomes a Concern
Powell noted in his press conference that the threat of a trade war has become a source of concern for the Fed.
"A number of participants in the FOMC did bring up the issue of tariffs," Powell said. "If I could summarize what came out of it was, first, there's no thought that changes in trade policy should have any effect on the current outlook."
But Powell went on to say that trade policy has come to represent something of a concern for growth prospects moving forward.
"Our FOMC participants reported that they heard concerns, which were relatively new, about future trade actions," Powell said. "They're seeing it as a risk to the outlook. The kind of things people are talking about are more widespread retaliations, more widespread action back and forth."
Powell's comments on the possibility of a trade war came a few weeks after President Donald Trump announced a 25% tariff on imported steel and a 10% tariff on imported aluminum.