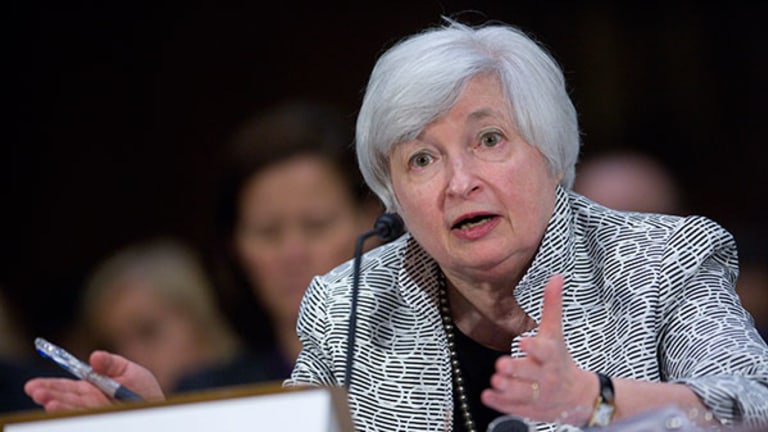 The Curious Job of the Fed: Create Employment or Curb Inflation?
Ahead of the jobs report, the debate intensifies if the Fed is focusing too much on the labor market and not enough on inflation.
NEW YORK (TheStreet) -- The Federal Reserve's job is coming under scrutiny. Again.
As economists expect the Bureau of Labor Statistics on Friday to show that the U.S. economy added more than 200,000 jobs for a sixth straight month, an encouraging trend, some observers and analysts are chirping that the Fed under Chairman Janet Yellen is focusing excessively on employment to the potential detriment of inflation.
"Clearly, Yellen is dominating the Fed, Robert Brusca, a former Fed economist and head of FAO Economics, an independent research firm, said in a phone interview from New York. "She's trying to make progress on the unemployment rate. Clearly, she's going to push that for too long. It seems to me we're going to get some inflation overheating."
READ MORE: Why 'This is Yellen's FOMC Now'
Deciding which of the Fed's twin mandates to follow has always been tricky, especially when inflation appears to be calm and jobs are expanding, albeit slowly and without much wage expansion.
Core inflation, which excludes volatile food and gasoline prices, was shown to have risen to 1.9% as of last week, as evidenced by a report on the consumer price index. The significance here is that the Fed's mandate is to keep inflation at or around 2%. Former Chairman Ben Bernanke said while heading the central bank that he would be comfortable with inflation as high as 2.5%. (The Fed targets for core inflation the Commerce Department's personal consumption expenditures, which is at 1.8%.)
Yet the closer inflation rises to 2%, the more that the so-called hawks -- market participants who focus on keeping inflation down by implementing higher interest rates -- argue that the economy is witnessing early momentum in inflation that eventually must be curbed. Of course, the inflation wolf-criers, led by CNBC's Rick Santelli, have been warning of inflation for five years, and have largely struggled to show proof of their claims as New York Times columnist Paul Krugman has consistently demonstrated.
Yellen and her supporters, meanwhile, aren't worried about a spike in inflation in the near term. Instead, she argues that there isn't enough wage growth amid the improving labor market to threaten the current moderate inflation rate.
Wages, according to the Bureau of Labor Statistics, are growing at about a 2% annual rate, which many economists argue is below the average needed to significantly boost inflation pressures.
The worry is if inflation data proves Yellen incorrect then by the time the Fed reacts it will be too late. Such a scenario would mean the Fed would be increasing the federal funds rate in response, trying to gauge exactly what interest rate level would be sufficient to quell inflation.
This likely would spook market participants, many of whom have priced in a rate increase for some time in 2015.
S&P Capitol IQ chief equity strategist Sam Stovall said conventional market wisdom suggests that higher rates lead to a slowing of the economy, which leads to a reduced intrinsic value outcome, which reduces earnings because of an increase in interest expense. Thusly, it increases the attractiveness of bonds to substitute stock purchases.
"Investors are hyperactive first graders playing musical chairs always trying to out anticipate for the other," Stovall said in a phone interview from New York.
A major component of the Fed's economic stimulus program is to purchase longer-term Treasuries in an effort to push down yields and force investors out of ultra-safe bonds and into more risky asset classes in hopes to stimulate economic activity.
But a rate increase won't necessarily follow the conventional market wisdom described by Stovall, who found in his research that since 1953 every month in which the 10-year Treasury yield rose in a range below 6%, the S&P posted a gain for the month. But the S&P flips into losses when the yield rises in a range above 6%.
Which brings us back to jobs.
The big news on Wednesday, other than the continued pull back in monetary stimulus, was the Fed's new language about "significant underutilization of labor resources," which replaced language that the unemployment rate "remains elevated."
It suggests that the Fed recognizes it can't call a national unemployment rate approaching sub-6% as elevated, but it also appears that Yellen's Fed isn't confident the labor market is at a point that it can be left without the central bank's help.
So while the great interest rate debate heats up amid the possibility of inflation pressures, Yellen, and by extension the Fed, insist that it's all about the government's important nonfarm payrolls reports.
READ MORE: U.S. Growth Surge Intensifies the Great Interest Rate Debate
-- Written by Joe Deaux in New York.
>Contact by Email.