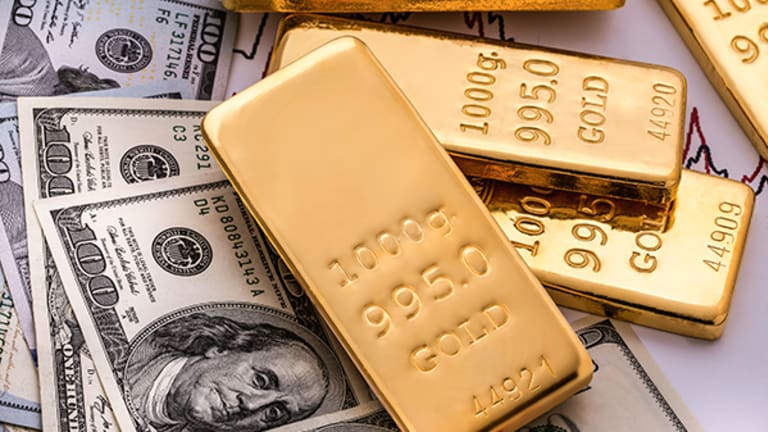 Terrorism and Trump Are Sending Gold and Government Bonds Even Higher
Nervous investors are bidding up the price of safe haven assets.
Nervous investors are bidding up the price of safe haven assets.
Nervous investors are pushing the price of gold and bonds higher as terrorist attacks in Spain, worries about a dysfunctional White House and equity market wobbles stoke demand for safe haven assets.
Gold futures for delivery in December climbed $6.70, or 0.52%, to $1,299.10 in early trading in Europe on Friday, Aug. 18, putting it on track for its third straight daily gain and its highest mark since November.
Demand for high rated bonds also pushed their prices higher, while some of the more peripheral European bonds, including Spain's 10-year notes fell.
Apple Should Be Terrified By How Much Samsung Is Spending on Its Future
Yields on Germany's 10-year bonds, the benchmark for continental European government debt, fell to 0.4%, down 6.1%. The yield on UK 10-year bonds, known as gilts, fell to 1.067%, down 1.84%. Spain's 10-year note yield climbed 7% to 1.54%. Yields move inversely to the price of a bond.
Increases in demand for safe haven assets are being driven by terrorist attacks in Spain on Thursday and by concerns that President Donald Trump's divisive response to clashes last week in Charlottesville, VA has damaged his ability to push through his economic policy including tax cuts and an infrastructure spending program.
European equity markets fell in morning trading on Friday following a series of terrorist incidents that killed 13 people and injured more than 100 in and around Barcelona. The attacks have been claimed by the so-called Islamic State, though the terrorist organization has provided no proof of its involvement.
The attacks sparked falls in the price of European travel stocks, including low-cost carriers Easyjet [lc (ESYJY) and Ryanair Holdings plc (RYAAY) - Get Report and Spanish airport operator AENA. Terrorist incidents' impact on wider market performance tend to be short lived, though past attacks, notably in France, led to a medium-term decline in tourism spending.
The economic fallout from the White House's equivocal response to violence in Charlottesville could prove longer lasting and had already sparked a rally in the gold price prior to the events in Spain.
The Devastating Retail Earthquake Is Swallowing CEOs Alive
Trump this week was forced to disband two business advisory councils as high-profile CEOs quit after the President said opponents of a white supremacist rally shared the blame for violent clashes. On Thursday night, plans for an infrastructure council were scrapped by the administration. 
"This quashes the initially big hopes that Trump could pursue a business-friendly policy," noted analysts at Germany's Commerzbank. "Ultimately, this could even prove damaging to the U.S. economy."
Gold and government bonds also benefited from this week's release of the minutes to the Federal Reserve's July meeting, which showed little consensus on when or if interest rates should rise in the world's biggest economy. Higher interest rates tend to hurt prices for both gold and government bonds.
More of What's Trending on TheStreet: