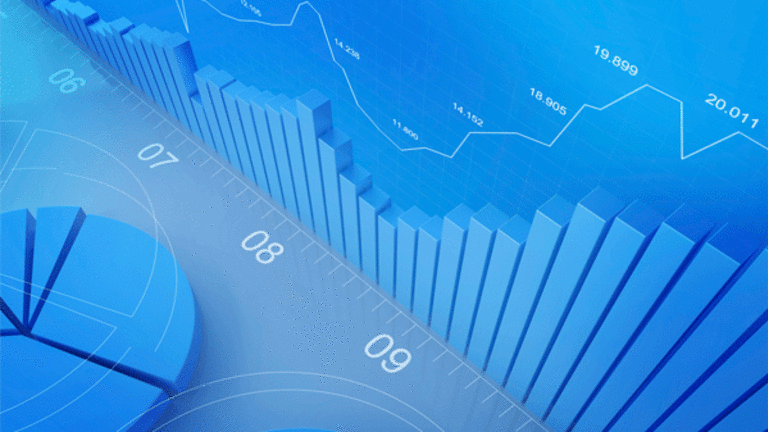 Stocks Take Tumble
The major indices are trading at new session lows as investors sift through a load earnings reports in the banking and industrial sectors.
Updated from 10:45 a.m. EDT
Stocks on Wall Street were registering losses Tuesday, as traders picked through a large, lackluster pile of
statements.
The
Dow Jones Industrial Average
was down 184 points at 9080, and the
S&P 500
gave back 25 points to 960. The
Nasdaq
was down 51 points at 1718.
"Wall Street is up to its eyeballs in earnings reports," said Fred Dickson, director of client research and chief market strategist at DA Davidson. He said investors are trying to figure out whether earnings estimates for the current quarter are too high and how much they may have to be reduced.
Dickson said the market is experiencing a normal pullback from yesterday's substantial rally. He says from here he expects the market to be range-bound, with the Dow trading between 7500 and 9500.
"We're taking a wait-and-see approach before we say the bear market hit its bottom on October 10," said Dickson.
On Monday, the major indices rallied sharply as credit markets opened up somewhat and
Federal Reserve
Chairman Ben Bernanke said an
may be a good idea.
After the close of that session, credit card firm
American Express
(AXP) - Get Report
reported earnings that fell year over year but still beat analysts' expectations.
Elsewhere in the financials, business wasn't looking as good. Regional banks
Fifth Third
(FITB) - Get Report
,
National City
(NCC)
and
KeyCorp
(KEY) - Get Report
all announced losses stemming from bad loans. National City said it plans to cut 4,000 jobs.
US Bancorp
(USB) - Get Report
said its income fell from a year ago.
Large bank
Citigroup
(C) - Get Report
was also in for a hard time following a Goldman Sachs analyst statement that said the firm may not report a profit for the next 12 months and reiterated a sell rating on the stock.
Tuesday also marked the deadline for settlement of $400 billion worth of credit default swaps on bankrupt brokerage
Lehman Brothers'
debt.
The Fed announced that it would buy commercial paper from money-market mutual funds in another effort to massage cramped credit markets. Abroad, Canada's central bank lowered its target interest rate 25 basis points to 2.25%, and France announced plans for a $14 billion capital injection into its largest banks.
The cost of borrowing among banks was once again declining, as three-month dollar Libor declined to 3.83% from 4.06%. The overnight rate slipped to 1.28% from 1.51%.
Many other companies' quarterly results were discouraging.
(TXN) - Get Report
said it foresaw weak sales in the next six months and said it plans to sell its cell-phone chip business.
Equipment manufacturer
Caterpillar
(CAT) - Get Report
reported a decline in profit as the cost of raw materials rose. Chemical firm
(DD) - Get Report
reported third-quarter earnings that fell from a year earlier because of hurricane-related charges.
Not all was dismal among industrial firms, however. Conglomerate
3M
(MMM) - Get Report
announced improved earnings thanks to strong international sales. Defense company
Lockheed Martin
(LMT) - Get Report
also saw earnings improvement, although its forward guidance was lower than analysts had expected.
Drugmakers
Pfizer
(PFE) - Get Report
and
(BIIB) - Get Report
also reported. Biogen beat estimates, and Pfizer posted substantial earnings gains.
Schering-Plough
(SGP)
said its profit declined but revenue increased 63%.
As for the automakers,
The Wall Street Journal
reported that
Chrysler
might partner with
Nissan
(NSANY)
and
Renault
for purposes of manufacturing and development. The
Journal
said that Chrysler would still prefer to merge with
General Motors
(GM) - Get Report
.
Ford
(F) - Get Report
was also looking troubled after billionaire investor
Kirk Kerkorian
, whose
Tracinda Corp.
is the largest Ford shareholder barring Ford family members, sold about $17.7 million of its stake in the company to focus on opportunities in gaming, hospitality and oil and gas.
Looking at commodities, crude oil was declining $3.66 to $70.59 a barrel, and gold was down $15.90 to $774.10 an ounce.
"I think once again the market is back to focusing on weakening demand," said Phil Flynn, vice president and senior market analyst at Alaron Trading. He said that the market has previously overestimated demand and is now pricing in a prolonged slowdown in the economy.
"We may see demand start to come back up but in terms of prices being able to take off again, it's going to take maybe a couple years," said Flynn.
Longer-dated U.S. Treasury securities were rising in price. The 10-year was up 24/32 to yield 3.75%, and the 30-year was gaining 1-10/32, yielding 4.18%. The dollar was gaining on the euro and pound but shrinking vs. the yen.
Overseas, European exchanges such as the FTSE in London and the DAX in Frankfurt were trading lower. As for
, Japan's Nikkei closed on the upside, while Hong Kong's Hang Seng finished with losses.