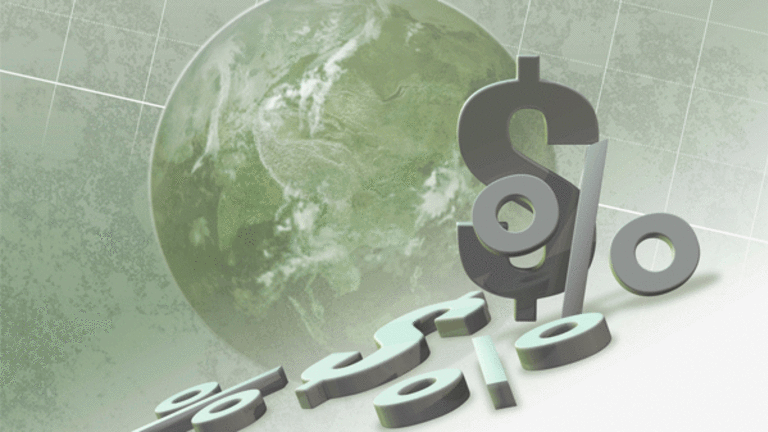 Stocks Take On Losses
Stocks on Wall Street have restaked ground in negative territory as credit troubles continue to rock the ailing financial sector.
Updated from 3:14 p.m. EST
Stocks in New York are back in negative territory Friday afternoon, held back by a dismal economic outlook.
The
Dow Jones Industrial Average
was down 237 points to 8597. The
S&P 500
was down 29 points to 882. The
Nasdaq
shed 66 points to 1530.
The market had a technical reversal Thursday, and now the major averages are coming off of the levels that rally produced, said Peter Cardillo, chief market economist at Avalon Partners. He foresees the market staging short-term reactions to economic data releases. "Until the market gets comfortable with the depth and ... the time frame of the recession, it's just going to be a trading affair," he said.
Several of the day's economic data points had dragged on the market. The Census Bureau reported that October retail sales declined a record 2.8%, following a 1.3% decline in September. Economists were expecting a 2.1% decrease. Excluding autos, sales slumped 2.2%, also a record.
Writing for his
, bond market strategist Tony Crescenzi said that much of the declines could be attributed to a nearly 13% decline in sales at gas stations. He said that the data indicate another sharp drop in the personal-spending component GDP after a 3.1% decline in the third quarter.
September business inventories declined 0.2%, showing a greater decrease than economists had expected. The August reading was also revised downward from 0.2% from 0.3%, according to the Census Bureau.
A preliminary November consumer-sentiment survey from the University of Michigan showed an index reading of 57.9, above the consensus estimate and slightly above October's reading of 57.6.
Although consumer confidence has held its ground, Cardillo said, "There was certainly no shift to the upside, which means that consumers are very concerned."
As the day's trading began, new signs emerged of the credit troubles that are continuing to rock the ailing financial sector.
The Wall Street Journal
reported that
Citigroup
(C) - Get Citigroup Inc. Report
is gearing up to cut 10,000 jobs and raise interest rates on many credit-card customers.
Elsewhere among financials,
Dexia SA
is getting set to sell its bond-insurance segment FSA Holding to
(AGO) - Get Assured Guaranty Ltd. Report
. Meanwhile, the
BBC
reported that the
Royal Bank of Scotland
(RBS) - Get Royal Bank of Scotland Group Plc Report
is eliminating 3,000 jobs over the next several weeks.
Meanwhile,
Federal Reserve Chairman Ben Bernanke
spoke at the European Central Banking Conference. Bernanke said that turmoil in the financial system has warranted international help and that markets remain severely strained. His speech comes as world leaders prepare for a summit in Washington over the next couple of days to discuss the worldwide financial meltdown.
Ahead of the meeting, the U.S. government was rolling out several new initiatives to alleviate the crisis. The FDIC released details of a plan to use $24.4 billion to guarantee 2.2 million mortgages, thereby helping some 1.5 million Americans stay in their homes.
The President's Working Group on Financial Markets, meanwhile, offered a plan to improve regulation of derivatives and credit default swaps. The plan included a provision for the Federal Reserve, the Securities and Exchange Commission and the Commodity Futures Trading Commission to share information on the market for credit default swaps.
At a time when financial and consumer firms were facing difficulties offering credit to customers, the
Journal
reported that software behemoth
(MSFT) - Get Microsoft Corporation Report
would offer 0% financing for clients who spend $20,000 to $1 million on its customer-management and accounting software.
In the earnings department,
Freddie Mac
undefined
, the mortgage company that has been among those central to the credit crisis, announced a $25.3 billion third-quarter loss.
Retailers were also showing signs of weakness. Department-store operator
Kohl's
(KSS) - Get Kohl's Corporation Report
reported declining profit and cut its full-year guidance.
Nordstrom
(JWN) - Get Nordstrom Inc. Report
also cut its earnings outlook.
J.C. Penney
(JCP) - Get J. C. Penney Company, Inc. Report
said its profit dropped 53% year over year, and the department-store operator guided below analysts' estimates.
As for analyst actions, UBS lowered its rating on European pharmaceutical firm
GlaxoSmithKline
(GSK) - Get GSK plc American Depositary Shares (Each representing two) Report
to neutral from buy, citing valuation.
Beyond earnings statements, Finnish cell phone firm
Nokia
(NOK) - Get Nokia Corporation Sponsored American Depositary Shares Report
said it expected industry-wide sales volumes to decline as the economy weakens and currencies remain volatile.
Software maker
Sun Microsystems
(JAVA)
was also hunkering down in anticipation of harsh times, announcing that it would cut 5,000 to 6,000 jobs in an effort to cut costs.
Airplane maker
Boeing
(BA) - Get The Boeing Company Report
, meanwhile, said it would delay production and delivery of the new versions of its 747 freighters. Separately, one of
Boeing's unions
called for a vote on whether to give leadership authority to call a strike.
Over in the commodities space, crude oil lost $1.20 to settle at $57.04 a barrel. Gold was adding $37.50 to close at $742.50 an ounce.
Longer-dated U.S. Treasury securities were rising in price. The 10-year was up 28/32 to yield 3.75%, and the 30-year was surging 2-2/32, yielding 4.24%. The dollar was rising vs. the yen but weakening against the euro and pound.
Abroad, European exchanges, including the FTSE in London and the DAX in Frankfurt, were working their way higher. The European Union disclosed Friday that the 15 countries that use the euro are in
recession
.
In Asia, Japan's Nikkei and Hong Kong's Hang Seng closed with gains.