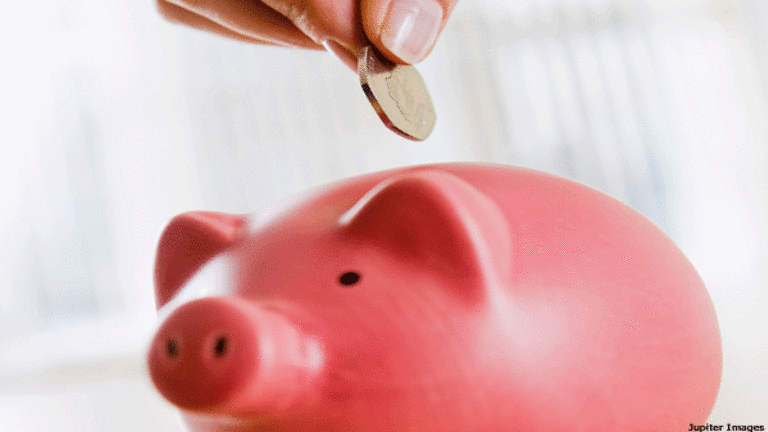 Stocks Steeped in Losses
U.S. stocks continue to carry hefty losses as investors absorb bearish news from the retail sector, continued trouble in the autos and reports that government agencies are possile amendments to the government's $700 billion TARP.
Updated from 11:02 a.m. EST
U.S. stocks remained mired in negativity Wednesday morning, as Treasury Secretary Henry Paulson spoke about the progress of the government's efforts to inject capital into the financial sector.
The
Dow Jones Industrial Average
was losing 284 points to 8410, and the
S&P 500
gave back 29 points to 870. The
Nasdaq
slid 40 points to 1541.
The status of programs to quell turmoil in the financial space was occupying investor attention.
The Wall Street Journal
reported ahead of Wednesday's session that the Treasury may begin to require companies to raise private money before gaining access to the $700 billion
.
The
Journal
also reported that
American Express
(AXP) - Get American Express Company Report
, which on Monday had become a
and thus eligible for funds from the
Federal Reserve
, was attempting to get $3.5 billion in capital injections from the government.
Paulson, speaking in Washington Wednesday morning, offered an update on the state of the TARP. "We have taken the necessary steps to prevent a broad systemic event," said Paulson, but he cautioned that the financial system remains fragile and turmoil in the markets will not abate until the housing correction resolves itself. He proposed a broad expansion of the use of TARP funds, and that non-banks may also need access to emergency funding.
Paulson also said that remaining TARP funds will be used to target ailing consumer financing markets and support homeowners facing foreclosure.
Propping up consumer financing arms of large manufacturing companies such as
General Motors
(GM) - Get General Motors Company Report
,
Ford
(F) - Get Ford Motor Company Report
and
General Electric
(GE) - Get General Electric Company Report
is an effort to stave off bankruptcy, said Matthew Smith, president of Smith Affiliated Capital.
Smith said bankruptcy would allow the profitable arms of such companies to keep going, while sloughing off the parts that are losing money. If the government intervenes to stave off bankruptcy, "Effectively they're allowing these businesses to keep on existing in the state they are. And it ends up being a zombie state. It's almost self-defeating, the fact that you're going to supply money to the financial arm. Trying to sell cars and machinery in a recession, it doesn't make sense," he said.
Meanwhile, a report by
Bloomberg
indicated the Fed is attempting to become the main regulator for the credit-default swaps market. The Fed and other government agencies are working to develop a clearinghouse for the $33 trillion CDS market.
In a further sign of trouble in the financial sector,
Reuters
reported that
Morgan Stanley's
(MS) - Get Morgan Stanley Report
chief financial officer said the company would lower its headcount by 9% after already cutting jobs 10% earlier this year.
The government also was moving toward aid for the automakers.
House Speaker Nancy Pelosi
suggested financial assistance for the industry, which includes General Motors, Ford and
Chrysler
. GM and Ford last Friday announced troubling quarterly losses that led some to question the future viability of the U.S. auto sector.
In the energy sector,
Exelon
(EXC) - Get Exelon Corporation Report
announced it would take its buyout bid for
NRG Energy
(NRG) - Get NRG Energy Inc. Report
straight to shareholders after NRG on Monday rejected Exelon's offer.
As for technology companies,
(MSFT) - Get Microsoft Corporation Report
is working on a deal with
Verizon
(VZ) - Get Verizon Communications Inc. Report
to provide the default search software for Verizon Wireless' phones, according to a report by the
Journal
.
Among corporate earnings,
(ING) - Get ING Group N.V. Report
swung to a quarterly loss on losses related to the financial crisis.
In retail, department store operator
Macy's
announced a third-quarter loss on declining sales. Elsewhere among merchants, electronics vendor
Best Buy
(BBY) - Get Best Buy Co. Inc. Report
, citing declines in consumer spending, lowered its earnings forecasts for the remainder of its fiscal year.
Turning to economic forecasts, the Bank of England predicted a decline in Britain's inflation to below 2% next year, but also said that inflation could decline yet further on an economic downturn.
Looking at commodities, crude oil was declining $2.49 to $56.84 a barrel, as the
International Energy Agency
predicted global energy demand would rise 1.6% annually between 2006 and 2030 and called for new investments to avert a supply shortage. Gold was down $13.90 to $718.90 an ounce.
Longer-dated U.S. Treasury securities were rising in price. The 10-year was up 18/32 to yield 3.67%, and the 30-year was up 23/32, yielding 4.15%. The dollar was higher vs. the euro and pound but losing ground against the yen.
Overseas, European exchanges, such as the FTSE in London and the DAX in Frankfurt, were trading lower. As for Asian markets, Japan's Nikkei and Hong Kong's Hang Seng closed on the downside.