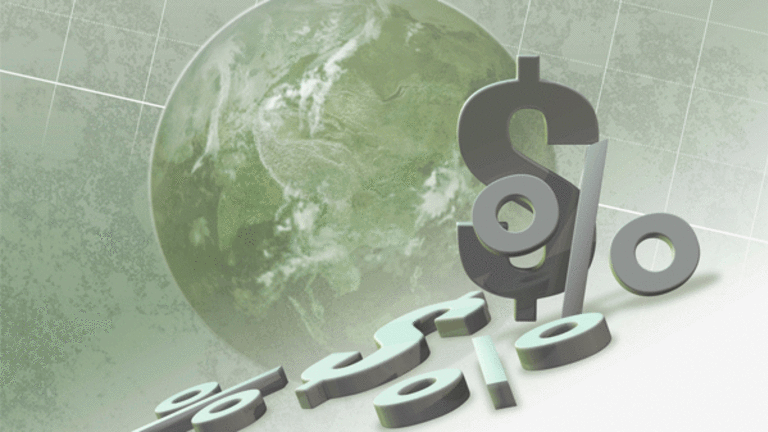 Stocks Stage an Early Rebound
Stocks on Wall Street open higher Tuesday, following Monday's massive selloff lawmakers rejected a rescue plan for the financial sector.
Updated from 6:46 a.m. EDT
Stocks in New York bounded higher at Tuesday's open following a massive selloff in the previous session.
The
Dow Jones Industrial Average
was up 204 points at 10,569, and the
was adding 28 points to 1134. The
Nasdaq
climbed 49 points to 2033.
On Monday, stocks got crushed after the House of Representatives voted down the
Treasury Department's
$700 billion financial-sector stabilization plan. The Dow plunged 777 points, or 7%, its worst single-day loss ever in terms of points and its worst percentage loss since Sept. 17, 2001. The S&P 500 gave up 8.8%, and the Nasdaq fell 9.1%.
After the bailout failed to pass in Congress, banks were becoming increasingly worried about lending to one another, as the London interbank offered rate on overnight dollar loans skyrocketed more than four percentage points to 6.875%, a record high according to
Bloomberg
data.
On Monday, overnight dollar Libor, a measure of rates that a group of banks charge for short-term loans to other banks, stood at 2.57%.
Traders had anticipated passage of the Treasury's program, which would provide liquidity in installments to financial firms in exchange for mortgage-backed securities and other hard-to-value assets. Ahead of Tuesday's session, lawmakers were rushing to put together another proposal and quell the market's anxiety.
Fitch Ratings said it may cut its credit rating on
Citigroup
(C) - Get Free Report
following the bank's announcement that it would buy
Wachovia
(WB) - Get Free Report
and take on $53 billion in Wachovia debt.
A report in the
Financial Times
Monday indicated that
Goldman Sachs
(GS) - Get Free Report
, which amid the credit crisis agreed along with
Morgan Stanley
(MS) - Get Free Report
to become a bank holding company instead of an investment bank, was looking to buy as much as $50 billion in assets from other banks.
As the credit crisis continued to manifest itself in Europe, the governments of Belgium, France and Luxemburg said they would allocate $9.24 billion in emergency funding to Belgian lending firm
. Dexia's Chairman, Pierre Richard, resigned along with CEO Axel Miller.
Outside the financials, pharmaceutical concern
Pfizer
(PFE) - Get Free Report
announced it will stop making medicine to treat heart disease.
Shifting to economic data, the Case-Shiller home-price index fell 16.35% year over year for July, a slightly wider decline than the 16% expected by economists.
The Chicago Purchasing Managers Association is set to release its September manufacturing index. The Conference Board's consumer confidence survey is also due this morning.
In commodities, crude oil was advancing $1.75 to $98.12 a barrel. Gold was losing $4.80 to $889.60 an ounce.
Longer-dated U.S. Treasury securities were falling in price. The 10-year was down 14/32 to yield 3.63%, and the 30-year was giving back 21/32, yielding 4.15%. The dollar was rising vs. its major foreign competitors.
Abroad, markets were mixed. The FTSE in London was ticking higher, and the Hang Seng in Hong Kong closed with gains. Frankfurt's DAX was taking losses, and Japan's Nikkei ended on the downside.