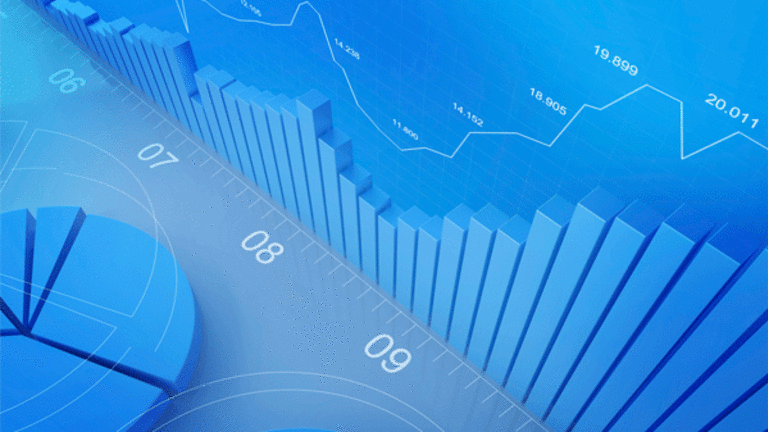 Stocks Sink on Autos, Fed Watch
Stocks in New York trade with losses as investors look to this week's Fed meeting and remain hopeful for a U.S. automakers bailout.
Stocks in New York trade with losses as investors look to this week's Fed meeting and remain hopeful for a U.S. automakers bailout.
Updated from 1:26 p.m. EST
Stocks in New York sustained losses into Monday afternoon as firms unveiled their exposure to the latest Wall Street scandal and little new information surfaced on a temporary lifeline for the U.S. auto industry.
The
Dow Jones Industrial Average
was recently down 140 points at 8489, and the
S&P 500
was losing 20 points at 860. The
Nasdaq
declined 44 points to 1496.
The
Federal Reserve
, which began a two-day meeting today, is expected to announce Tuesday that it will lower the key U.S. official interest rate, known as the fed funds target rate, by another half point. That would bring the rate to 0.5%.
There isn't much more that can be cut from the benchmark for bank-to-bank lending. But Marc Pado, U.S. market strategist Cantor Fitzgerald, says it's still a necessary move in order to help banks achieve a larger profit spread between the rates at which they borrow and lend money. It's what's needed to help banks correct their balance sheets and work toward solvency, he says -- and it's priced in to the market.
The surprise will be if the Fed goes beyond the cut, and announces it will buy back more commercial debt in bonds or asset-backed commercial paper held by U.S. banks, or government bonds from the U.S. Treasury, he says.
As important to the market this week will be the first major financial institution to report quarterly results.
(GS) - Get Report
is expected to take its first quarterly loss as a public company when it reports on Tuesday. Its most important figure will be its debt-to-capital ratio, says Pado. The lower the ratio is, the better it will be for the market.
A federal rescue plan for Detroit's Big Three Automakers --
Ford
(F) - Get Report
,
General Motors
(GM) - Get Report
and
Chrysler
-- failed to pass the Senate late last week after the United Auto Workers union refused Republican senators' demand for aggressive wage reductions.
Chrysler and GM, though, have said they may have only weeks of sustainability remaining. President Bush is urging action on $25 billion in proposed
emergency loans for the automakers
. The White House said it might now be willing to use money drawn from the $700 billion Wall Street bailout, known as the Troubled Asset Relief Program (TARP). The Treasury also said it's prepared to pitch in.
Japanese automaker
Toyota
(TM) - Get Report
will suspend building at its new plant in Mississippi, according to a
Dow Jones
report. Investment in the plant, the first in the U.S. to manufacture the Prius hybrid, was projected at $1.3 billion. The plant was to employ 2,000 workers, according to the report.
Reuters
reported earlier that
is expected to slash its 2009 sales forecast by at least 1 million vehicles and outline plans to cut costs at its year-end news conference next week.
The biggest news on Wall Street last week continued Monday, the arrest of market-maker
on charges of securities fraud. The
SEC
alleges that the 70-year-old Wall Street fixture lost some $50 billion of client money in what they say amounted to a giant Ponzi scheme.
Nomura Holdings
(NMR) - Get Report
,
Banco Santander
( STD),
BNP Paribas
,
Royal Bank of Scotland
(RBS) - Get Report
and hedge fund Man Group all revealed
significant exposures
to the fraudulent scheme.
Of course, none of this is good for investor confidence, says Pado. It could encourage more redemptions and add to seasonal pressure -- a December slump -- that occurs as investors opt to take losses before year-end for tax purposes.
Meanwhile, diversified technology and manufacturing company
Honeywell
(HON) - Get Report
reaffirmed 2008 expectations, but said it expects profit to fall between 6% and 16% in 2009.
On Monday, the Federal Reserve Bank of New York reported that, according to its Empire State Manufacturing Survey, the general business conditions index fell to -25.76 in December from -25.43 in November. It remained very close to the record low set in November, but beat forecasts for -28.0.
According to the survey, the new orders and shipments indices also remained near their recent record lows, and the unfilled orders index dropped to a new low.
OPEC is scheduled to meet this week to evaluate the effectiveness of its earlier decision to cut production targets by 1.5 million barrels per day, and to weigh the need for more cuts. Another OPEC production cut could help stabilize oil prices that have fallen with global economic hardships.
Tracking commodities, after rising earlier in the day, crude oil fell $1.77 to settle at $44.51 a barrel. Gold added $16 to settle at $836.50 an ounce.
Longer-dated U.S. Treasury securities were rising in price. The 10-year was adding 11 0.5/32 to yield 2.5%, and the 30-year was up 1 03/32, yielding 3%. The dollar was weaker against the euro, pound, and yen.
Overseas, European exchanges such as the FTSE in London and the DAX in Frankfurt flirted with both sides of the flat line Monday. In Asia, Japan's Nikkei ended higher, while Hong Kong's Hang Seng also ended with gains.
Copyright 2008 TheStreet.com Inc. All rights reserved. This material may not be published, broadcast, rewritten, or redistributed. AP contributed to this report.