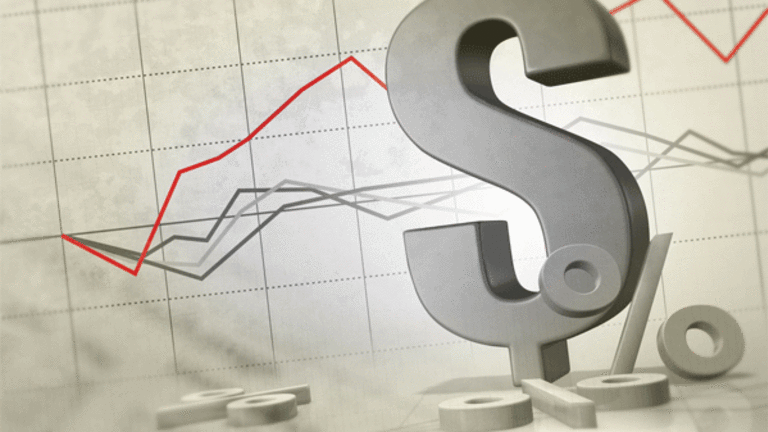 Stocks Bail on Bernanke's Glum Outlook
Stocks slip as Fed Chairman Ben Bernanke expresses concern about the pace of economic growth. Earlier, President Obama signed financial reform legislation. Gregg Greenberg has The Real Story.
Stocks slip as Fed Chairman Ben Bernanke expresses concern about the pace of economic growth. Earlier, President Obama signed financial reform legislation. Gregg Greenberg has The Real Story.
NEW YORK (
) -- Stocks fell sharply late Wednesday afternoon, and the
Dow
closed with a triple-digit loss as
Federal Reserve
Chairman Ben Bernanke offered a tepid assessment of economic growth for already nervous investors, noting that "the economic outlook remains unusually uncertain."
The Dow Jones Industrial Average shed 109 points, or 1.1%, at 10,121. The
S&P 500
slid 14 points, or 1.3%, to 1070 and the
Nasdaq
dropped 35 points, or 1.6%, at 2187.
In the afternoon, Bernanke offered his semiannual monetary policy report to Congress. FOMC members continue to expect moderate growth, he said. Still, the chairman also explained that most members see "risks to growth as weighted to the downside," given headwinds out of the eurozone and struggles with job growth, among other factors. He also noted that "progress in reducing unemployment is now expected to be somewhat slower than we previously projected."
John Canally, economist at LPL Financial, said stock losses steepened because investors were looking for more certainty from economic policymakers on responses to an economic pullback.
"I think the market was setting itself up for some sort of the acknowledgment that there's a soft spot or a double-dip, and clarity on what specific actions that will be taken to respond," Canally said, adding that expectation was somewhat misguided. "The temper tantrum
in the market today is investors thinking 'all you gave us is things are uncertain.'"
"If you look at other parts of the testimony, it's stuff that's already out there. But the market is pretty skittish right now, so all news is bad news," he continued.
In the morning, stocks pared some of their earlier losses but remained weak despite quarterly earnings beats from
Morgan Stanley
(MS) - Get Report
,
Wells Fargo
(WFC) - Get Report
, and
Apple
(AAPL) - Get Report
, which reported late Tuesday.
"Apple news from last night was off the charts, and I was very happy with Morgan Stanley and Wells Fargo this morning. On balance, second-quarter earnings news has been pretty good," said Phil Orlando, chief equity market strategist at Federated Investors. He said the bellwethers have been giving good news and the few misses have been mild and from expected second-quarter weaknesses like currencies or margin contractions.
"Whether we can break through the top of this trading range will depend on the rest of the corporate earnings season and what the next sets of housing and jobs data look like."
Earlier,
Morgan Stanley posted a second-quarter profit of 80 cents a share and said revenue jumped nearly 54% year over year to $8 billion, exceeding analysts' forecasts for earnings of 46 cents a share and revenue of $7.93 billion. The stock soared 6.3% higher to $26.80.
Shares of
Wells Fargo moved 0.6% higher after the company soared past estimates for a profit of 48 cents a share with earnings of 55 cents. Revenue, meanwhile, met expectations of $21.4 billion.
Late Tuesday,
Apple exceeded expectations with third-quarter earnings of $3.51 a share and sales of $15.7 billion, and
Yahoo!
(YHOO)
topped consensus profit estimates by a penny, but missed revenue targets.
In Washington, Senate Democrats overturned a Republican filibuster on an unemployment benefits extension on Tuesday and a Senate vote on the bill, which would extend benefits to the 2.5 million Americans who have been out of work for six months, is expected on Wednesday.
President Obama also signed sweeping
financial reform measures into law today after the Senate passed the bill last week.
Overseas on Wednesday, Hong Kong's Hang Seng rose 1.1%, and Japan's Nikkei slipped 0.2%. The FTSE in London advanced 1.5%, and the DAX in Frankfurt gained 0.4%.
>>The Economy
>>Company News
>>Commodities and the Dollar
>>Treasuries
The Economy
Mortgage loan-application volume rose by a seasonally adjusted 7.6% last week as refinancing activity jumped 8.6% and purchasing applications grew 3.4%, according to the Mortgage Bankers Association's mortgage composite index.
The Energy Information Administration reported a surprise 400,000-barrel increase to crude oil inventories in the week ending July 16, which was well off the 1.6-million-barrel drawdown that analysts polled by Platts had been expecting and more bearish than the decrease of 241,000 barrels that the American Petroleum Institute reported late Tuesday. Gasoline stockpiles gained 1.1 million barrels, which was largely in line with the 1-million barrel increase that was expected. Distillates, however, grew by 3.9 million barrels, disappointing forecasts for a milder addition of 1.6 million barrels.
>>Overview
>>Company News
>>Commodities and the Dollar
>>Treasuries
Company News
Coca-Cola
(KO) - Get Report
was the Dow's top performer, followed by
Caterpillar
(CAT) - Get Report
and
AT&T
(T) - Get Report
, with shares trading ahead by 1.6% to $54.08. Coca-Cola said second-quarter earnings rose 15% to an adjusted profit of $1.06 a share, topping forecasts for earnings of $1.03 a share. Sales came in at $8.67 billion, meeting expectations, and volume grew 5% during the quarter.
Meanwhile,
JPMorgan Chase
(JPM) - Get Report
,
Bank of America
(BAC) - Get Report
,
Johnson & Johnson
(JNJ) - Get Report
and
Hewlett-Packard
(HPQ) - Get Report
exerted the most pressure on the Dow.
United Technologies
said cost-cutting helped second-quarter earnings increase 14% to a better-than-expected $1.20 a share on sales of $54 billion. Analysts had expected sales of $54.3 billion. United Tech also raised its year-end earnings outlook between $4.60 and $4.70 a share from between $4.50 and $4.65 a share, previously. After trading higher earlier, the stock lost 0.8% at $67.
Copper miner
Freeport McMoRan
(FCX) - Get Report
beat consensus estimates with a second-quarter profit of $1.40 a share.
Shares of
US Airways
(LCC)
rose 3.1% after the airline beat second-quarter estimates and announced that it will recall 300 furloughed pilots and flight attendants.
BP
(BP) - Get Report
completed a sale of assets in North America and Egypt to
Apache
(APA) - Get Report
for $7 billion.
Textron
(TXT) - Get Report
swung to a second-quarter profit and reported a 3.7% increase in sales to $2.7 billion.
According to reports from
The Wall Street Journal
and the
Financial Times
, major oil firms
Exxon Mobil
(XOM) - Get Report
,
ConocoPhillips
(COP) - Get Report
,
Chevron
(CVX) - Get Report
and
Royal Dutch Shell
(SBUX) - Get Report
are banding together to create an
emergency rapid-response team in the event of future deepwater oil spills.
The end of Wednesday's trading session brought earnings results from
Qualcomm
(QCOM) - Get Report
, which said earnings rose 4% to 57 cents a share and sales jumped 2%, besting estimates on both fronts.
EBay
(EBAY) - Get Report
, which was expected to post a profit of 38 cents a share, said it earned 40 cents a share in the second quarter on a 6% rise in sales. In a release, the firm said its internet payment unit PayPal accounted for a chunk of its progress after gaining a million new accounts every month during the quarter.
The closing bell also brought news from coffee behemoth
Starbucks
(SBUX) - Get Report
, which reported earnings landing in-line with expectations at 29 cents a share. But disheartening guidance pressured shares in extended trading.
>>Overview
>>The Economy
>>Commodities and the Dollar
>>Treasuries
Commodities and the Dollar
Following the EIA inventories report, crude oil for September delivery settled down by $1.02, at $76.56 a barrel.
Elsewhere in commodity markets, the August gold contract gained 10 cents to settle at $1,191.80 an ounce.
The dollar was trading higher against a basket of currencies, with the dollar index up by 0.6%.
>>Overview
>>The Economy
>>Company News
>>Treasuries
Treasuries
The benchmark 10-year Treasury was up 25/32, diluting the yield to 2.869%.
The two-year note was gaining 2/32, lowering the yield to 0.560%. The 30-year bond was up by 1 28/32, lowering the yield to 3.881%.
--Written by Melinda Peer and Sung Moss in New York
.
>>Overview
>>The Economy
>>Company News
>>Commodities and the Dollar