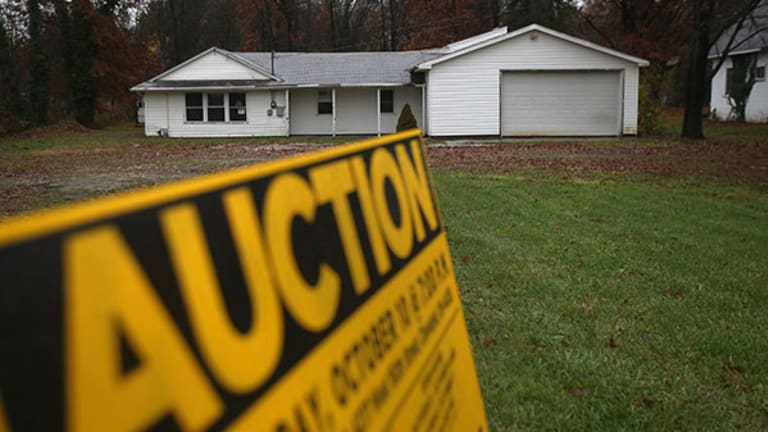 Share of Cash Home Sales Jumps to 42% in November
According to latest report from RealtyTrac, the share of cash sales remains large as lenders ramp up sales of repossessed homes.
NEW YORK (TheStreet) -- The housing market is slowly heading back to normal, but one sign that all is not well with the market is the persistently high share of cash sales.
The share of all-cash sales rose to 42% in November from 38.8% in October, according to the latest report from RealtyTrac. That's the highest level of cash sales since RealtyTrac began tracking the data in 2011.
Residential properties sold at an estimated annual pace of 5.14 million units in November, up 10% from a year earlier.
States with the highest percentage of cash sales were Florida (62.7 %), Georgia (51.3 %), Nevada (51.0 %), South Carolina (50.3%) and Michigan (49%).
Institutional investor purchases accounted for 7.7% of all residential property transactions, up from 6.3% a year ago.
Investor activity is up as banks are starting to ramp up the sale of repossessed homes.
Sales of bank-owned homes (commonly known as "real estate owned" or REO) accounted for 10% of all residential property sales in November, up from 9.1 % in October and 9.4 % a year ago. November marked the third consecutive month where REO sales increased from the previous month.
Sales to third-party investors at the foreclosure auction represented 1.3% of all residential property sales in November, up from 0.8% of sales in both the previous month and a year ago, again a new high since RealtyTrac began tracking data in 2011.
Still, the share of cash sales should decline with the number of foreclosures and short sales shrinking.
"The housing market recovery continued to be driven by investors and other cash purchasers in November," said Daren Blomquist, vice president at RealtyTrac. "Lenders are taking advantage of this environment to unload more of their bank-owned inventory and in-foreclosure inventory at the foreclosure auction. But as the backlog of distressed inventory available dries up in many of the markets with the most efficient foreclosure processes -- namely California, Arizona and Nevada, with Georgia not far behind -- overall sales volume is declining and will continue to do so until more non-distressed sellers enter the market."
The key question for the housing recovery is whether traditional buyers will easily replace cash buyers once they withdraw from the market. According to Jed Kolko, chief economist at Trulia (TRLA) , in 2014, we could see more trade-up buyers entering the market. First-time homebuyers might still find it hard to buy a home under current credit conditions.
-- Written by Shanthi Bharatwaj in New York.
Disclosure: TheStreet's editorial policy prohibits staff editors and reporters from holding positions in any individual stocks.