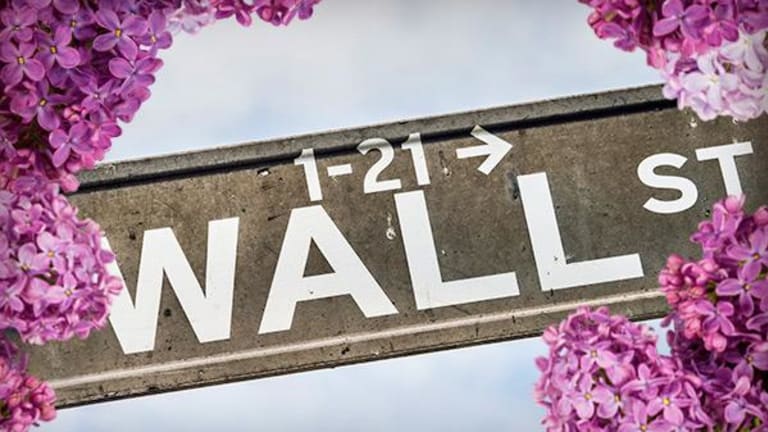 Sell in May and Go Away ... Into These 4 Alternatives
From Treasuries to MLPs, these assets look better than stocks going forward.
"Sell in May and Go Away" is likely to prove true this year. After all, the possibility of U.S. tax reform and corporation deregulation have been key drivers of asset prices recently -- but it's likely that the stock market will feel disappointment about both during the relatively quiet summer months.
While President Trump will likely work harder over the summer on policy than any other recent president has, it'll likely be a struggle for him to deliver much good news on these fronts. After all, the plan that Trump unveiled last week is light on details and lacks a clear path to passing Congress and becoming the law of the land.
At the same time, I see four major headwinds for the stock market -- which isn't good news heading into the summer's traditionally weak seasonal period:
Lackluster Data. Soft data and hard data are converging ... in the wrong direction. We're seeing soft data get weaker rather than hard data stage a rebound.
Soft Oil. Petroleum prices look weak, and weak oil served as a drag on both stocks and high-yield bonds in the not-too-distant past.
Junk Bonds. High-yield bonds are ripe for a sell-off, which would hurt small-cap stocks that have done very well of late.
Credit Spreads. The yield curve isn't looking very beneficial for U.S. financial stocks right now.
With these four headwinds emerging, "Sell in May and Go Away" seems to make sense from a risk-off perspective. Let's look at these four factors in greater detail:
Economic Data Are Deteriorating
Bob Janjuah was one of my analysts when I was trading the CDS Index books at RBS, and I'll never forget that he invariably typed "CONsumer CONfidence" (with an emphasis on "CON") when asked about U.S. consumer-confidence numbers. That's because had always found them to be unreliable indicators, and I agree.
We recently saw a divergence where so-called "soft" data (typically survey-based) were strong, but the actual "hard" economic figures were coming in weak. That discrepancy seems to be resolving itself -- but unfortunately, the soft data are getting worse rather than the hard data getting better.
For example, this chart shows how the Citibank Economic Surprise Index has rolled over:
I like to look at this index because it tends to be "mean-reverting." And right now, it's showing that expectations got ahead of themselves and will likely result in analysts downgrading their economic outlooks to something more in line with current reality.
Oil Weakness
Trump's election has been good so far for companies involved in U.S. energy production and transportation, but not so good for oil prices themselves.
The Baker Hughes rig count keeps climbing as domestic production steps up, and I strongly believe that Trump will push for U.S. energy self-sufficiency. That's great for great for MLPs (as I wrote recently in a piece for our premium site Income Seeker), but it's not good for oil prices. As the Aramco IPO nears, investors are also increasingly nervous about any long-term ability (or desire) from the Saudis to prop up oil prices.
Personally, I think oil is range-bound for now at $40 to $55 a barrel. We're at around $49 now and seemingly poised to head lower, which isn't good for the high-yield bond market in particular. It could also hurt the overall stock market as well.
High-Yield Bonds Are Too Expensive
With high-yield ETFs like the iShares iBoxx U.S. Dollar High Yield Corporate Bond ETF (HYG) - Get iShares iBoxx $ High Yield Corporate Bond ETF Report yielding barely 5%, the market is becoming priced for perfection -- and we aren't getting perfection.
As you look under the hood of the high-yield market, far too many bonds are "yield-to-call." This limits their upside. A good example is the Western Digital 10.5% bond, which is HYG's fourth-largest holding. As I write this, the bond had a price of $118 and is callable at $107.875 in April 2019. So, it has a yield-to-call of 4.5% and virtually no upside price potential from here.
On the other hand, the final maturity is 2024, and if anything bad happens to this company, the bond's price could fall. A fancy word for this is "negative convexity." But quite simply, it means more downside than upside.
So, I'd suggest exiting the high-yield market. If I'm right, then high-yield bonds should see price declines, which will be a drag on stocks -- particularly small-caps, which tend to be most correlated with high yield.
The Yield Curve Isn't Helping Financials
Remember when the "reflation trade" was going to help banks? Well, the spread between 10- and two-year U.S. Treasury yields has lost all of its post-election gains:
This measure is important, as it's an indicator of banks' potential income from lending long and borrowing short. That can drive net interest margin for financial institutions.
Many investors will also look at the above chart and see a warning sign of an impending U.S. economic slowdown. After all, the chart above historically flattens into slowdowns and steepens heading into better economic growth.
So, What Should You Buy?
I'm advising you to sell risky assets like stocks and high-yield bonds, but what should you actually buy?
My take:
I'm comfortable holding some amount of U.S. Treasuries or investment-grade bonds to mimic so-called "risk-parity" trades. Treasuries in particular should hold their gains if risk assets decline. However, I'm increasingly concerned that risk parity - the combination of owning bonds, stocks, and even commodities and looking at overall portfolio risk -- has become extremely crowded.
I continue to like leveraged loans, which are loan equivalents to high-yield bonds. They're a bit expensive and have exposure to oil, but the fact that they're senior in the capital structure helps.
I would look to buy MLPs, as I think the market is slowly getting around understanding what the Trump administration's long-term energy game plan is. Utilities are also interesting here given the potential for lower yields and reduced oil prices.
Lastly, I would look to add some dividend stocks on weakness -- just not yet.
(This column originally appeared on May 1, but has been updated with new information.)
Sell in May and Go Away: