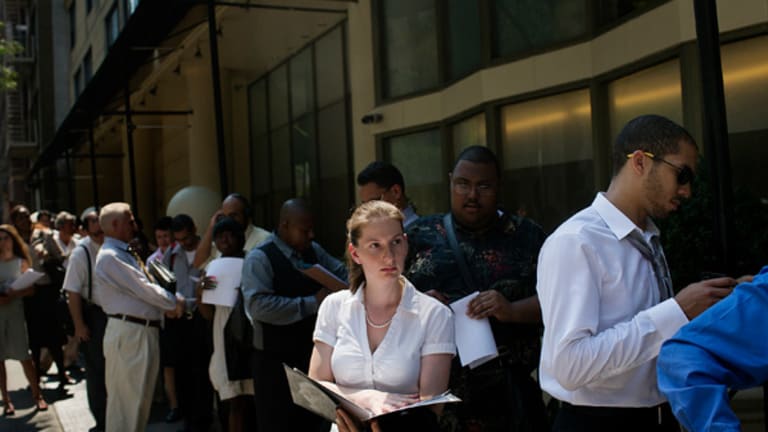 Publish date:
Quiet Fed, Upbeat Jobs Report as Election Storm Develops
The last pre-election week includes a quiet Fed and a likely upbeat jobs report as an election storm develops.
The last pre-election week includes a quiet Fed and a likely upbeat jobs report as an election storm develops.
Wall Street's gearing up for two pieces of news it's getting used to: The economy adding jobs and the Federal Reserve declining to boost interest rates.
Economists expect to hear that the economy added about 195,000 new jobs in October, with the unemployment rate falling to 4.9%, according to a survey by Dow Jones. Both measures are expected to improve on last month's 156,000 new jobs and a 5% jobless rate. And financial markets are pricing in only a 6.2% chance that the U.S. central bank raised its key interest-rate target in a pre-election meeting set for Tuesday and Wednesday.
In the short-term, it's a not-too-hot, not-too-cold environment, bolstered by Friday's report that the economy expanded at a 2.9% annual rate after two straight quarters of growth less than half as rapid. That has quelled any fears of a renewed recession that GOP presidential nominee Donald Trump may have managed to cause by repeatedly predicting one, even as markets instead seek assurance from the central bank's Federal Open Market Committee's statement that the economy isn't so hot that rates will have to rise rapidly in 2017.
"With no action at this week's meeting, the focus will be on the FOMC's words," Regions Financial Chief Economist Richard Moody says. "With the markets apparently having come to terms with a December funds rate hike, the Committee need not be overly assertive in their post-meeting policy statement. The trick will be to sell the markets on the notion of a "dovish hike" and this week would be a good time for the FOMC to start rehearsing their pitch."
The move -- or lack of one -- won't surprise anyone. The Fed rarely takes major actions at meetings where a press conference isn't on the agenda (there's not one set for Wednesday) and most of the market long ago concluded that Fed chair Janet Yellen & Co. wouldn't rock the political boat so close to the election.
The move is almost certainly coming in December, though. Inflation data released Friday shows prices in core personal consumption spending -- the index the Fed relies upon most -- up 1.7% in the past year, with a 1.9% gain just in the first nine months of this year. That's close enough to the Fed's 2% target to make a hike likely in December, Moody's Analytics economist Ryan Sweet said.
The question is whether the hike will be the first of many. Moody says it won't be, and he's in the majority that thinks the Fed will boost rates only intermittently in 2017.
On jobs, the target is still the 80,000 or so jobs a month needed to keep up the downward pressure on the unemployment rate. That number gets a little bit higher -- perhaps 150,000 to 160,000 -- if the rate of work force participation continues its gain of recent months, which has brought the newly politicized participation rate to 62.9% of adults from 62.4% in September 2015.
"Our call is consistent with an underlying trend rate of job growth that is slowing but more than sufficient to absorb remaining labor market slack," Moody says.
The medium-term trend is for participation to keep declining by about 0.2 to 0.3 percentage points a year as more Baby Boomers reach retirement age. The outlook for keeping wage growth going in the U.S. is fairly good, too, Goldman Sachs economists Jan Hatzius and Nicholas Fawcett say. Wages rise about 0.35% more each year when the unemployment rate is within a percentage point of full employment, they write -- a condition that the U.S. has met in this expansion, even though most of Europe and Japan have not.
That means higher consumer incomes, bolstering everyone from durable-goods plays like General Motors (GM) - Get Report and Home Depot (HD) - Get Report to sellers of tourism services, from Delta Airlines (DAL) - Get Report and Marriott International (MAR) - Get Report to middlemen like Priceline (PCLN) and Expedia (EXPE) - Get Report . The recent climb in oil prices may also bolster investment by the likes of Exxon Mobil (XOM) - Get Report , Economic Outlook Group Chief Economist Bernard Baumohl says.
This week the key projections: No change in rates; a 4.9% unemployment rate; and about 195,000 new jobs. The degree to which the facts come in consistent with those expectations will set the market's tone as it drives ever closer to Election Day.
This article is commentary by an independent contributor. At the time of publication, the author held no positions in the stocks mentioned.