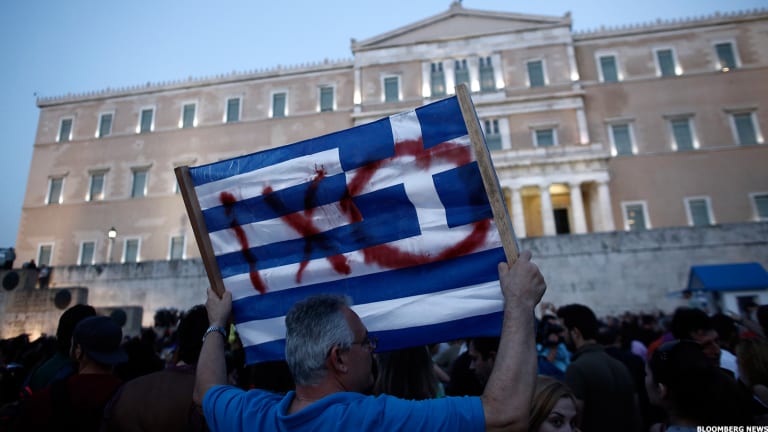 Greece Says 'No' to Creditor Demands in Referendum
Final results on referendum are in -- Greece votes 'no' to creditors' demands, an outcome European officials said would mean a Greek exit from the euro.
Update: This article, originally published Thursday at 1:03 p.m., has been updated with the final results of the referendum reported by the Associated Press in the first two paragraphs.
NEW YORK (TheStreet) -- The final results of Greece's bailout referendum are in, with all 19,159 precincts reporting. The "no" side won with a higher than expected 61.31%, while "yes" got 38.69%.
A total of 6.16 million Greeks voted in Sunday's referendum, or 62.5% of eligible voters. The poll needed a minimum 40% turnout to be valid.
Earlier in the day, as returns showed the "no" side gaining ground in the bailout referendum, Greece's finance minister said the country's citizens have said "no more" to continued austerity.
Yanis Varoufakis, speaking live to TV cameras, said creditors had planned from the start to shut down banks to humiliate Greece and to force the country to make a statement of contrition for showing to them that the debt and loans are unsustainable.
Varoufakis said "the Greek people said 'no more' to five years of austerity."
Final results on the referendum are expected later Sunday. The markets seemed to take a dim view of the apparent outcome, with the euro dropping to a one-month low of $1.10.
Greece's interior ministry predicted Sunday -- correctly, it seems -- that more than 60% of voters in the referendum had rejected creditors' demands for more austerity in exchange for rescue loans. Greeks lined up at polls Sunday to decide whether the country would accept creditors' demands for more austerity in return for rescue loans or would reject the deal, according to published media reports.
Early indications suggested a high turnout after a week of intense campaigning left Greek cities littered with fliers and posters -- and opinion polls showed voters evenly split on the first referendum Greece has held in 41 years, the Associated Press reported.
Prime Minister Alexis Tsipras, gambling the future of his 5-month-old left-wing government on the poll, said a "no" vote would strengthen his hand to negotiate a better deal with creditors while a "yes" result would mean acceding to their harsh demands.
Meanwhile, the opposition accused Tsipras of jeopardizing the country's membership in the 19-nation union that uses the euro and said a "yes" vote is about keeping the common currency, reports said.
"Today, democracy is defeating fear ... I am very optimistic," Tsipras said after voting in in Athens, surrounded by dozens of journalists.
His high-stakes standoff with lenders from the eurozone countries and the International Monetary Fund led Greece to default on its debts this week and shut down its banks to avoid their collapse.
European officials urged Greeks to vote against the government's recommendation.
"I hope people say 'yes,'" European Parliament President Martin Schulz told German public radio. "If after the referendum, the majority is a 'no,' they will have to introduce another currency because the euro will no longer be available for a means of payment."
As voters flooded polling stations, large lines once again formed at ATM machines where Greeks withdrew their daily limit of 60 euros ($67) - part of the banking restrictions imposed June 28 in an attempt to halt a bank run.
On the eve of Sunday's vote on a bailout referendum, reports said campaigns in Greece were halted with polls showing voters were divided over whether to defy creditors and push for better repayment terms or seek new political leadership to find a compromise.
Political rallies and publication of new opinion polls are banned 24 hours before Sunday's referendum.
Late Friday, rival rallies took place a half-mile apart in central Athens, and Tsipras made his final pitch outside parliament, the Associated Press reported.
"This is not a protest. It is a celebration to overcome fear and blackmail," he told a crowd of 30,000 as they roared, "no, no."
Tsipras, 40, gambled the future of his new left-wing government on Sunday's vote -- insisting a "no" vote would strengthen his hand to negotiate a third bailout with better terms. If he lost, Tsipras strongly indicated he would step aside.
The meaning of a "yes" vote, one to accept the latest proposal, would have been unclear. Not only was the latest proposal withdrawn, it was €60 billion short of what the country actually needs, a report released Thursday said.
In its paper, the International Monetary Fund said changes in both Greece's policies and economic outlook from those earlier this year mean the country will need at least that much more over the next three years. Part of that shift in outlook was included in the report, which cut growth expectations for the country from 2.5% to zero.
The institution also recommended extending Greece's payment deadlines and reducing interest rates in order to give it more "breathing space."
The report was seemingly a boost for Tsipras and others encouraging Greeks to vote against the bailout plan from creditors, which include the IMF and the Eurogroup. Since quitting negotiations and announcing the referendum last weekend, the leftist PM has argued that Greece needs a better deal with its creditors.
A survey late Wednesday from polling firm GPO showed voters were split on whether to accept the current proposal: 47% of likely voters were planning to support a proposal that includes cuts to pensions and other austerity measures from the International Monetary Fund, the European Commission and the European Central Bank. Another 43% said they would reject it during Sunday's referendum, as Tsipras had urged.
Majority support for Tsipras' position allows him to return to negotiations with a mandate from voters -- albeit those from his own country, whose dissatisfaction with austerity measures was already well known -- for changes.
"The referendum is part of a negotiating strategy," Nicholas Burns, a professor at Harvard University and former U.S. Ambassador to Greece, told TheStreet in an interview before the vote. 
With a majority of Greek voters on his side, Tsipras might be able to win concessions from creditors that he asked for on Tuesday in a letter to Jean Claude Juncker, the president of the European Commission.
Tsipras' amendments included maintaining a discounted value-added tax for Greece's islands, slowing reforms to pensions and extending the EU's bailout for Greece, according to the letter.
In response to the proposed changes, Eurogroup President Jeroen Dijsselbloem said on Wednesday night that his group saw "no grounds for further talks at this point" and would not renew the bailout agreement that expired Tuesday night.
It's possible the  'no' vote will seal Greece's exit from the euro: It means an 80% chance the country will leave the Eurozone altogether, Michael Ingram, an analyst with New York-based BGC Partners, said before Sunday's vote.
The debt debacle is likely to have only a minimal direct effect on U.S. trade, Goldman Sachs said in a note to clients last week. Exports to the country account for less than 0.01% of the U.S. economy, while exports to the entire European Union account for only about 2%, Jari Stehn, an economist, said in the note.
Deteriorating overall financial conditions might have a much broader effect, he noted, with Greece's departure from the euro area "a live possibility."
For more coverage of the Greek debt crisis from TheStreet, see: