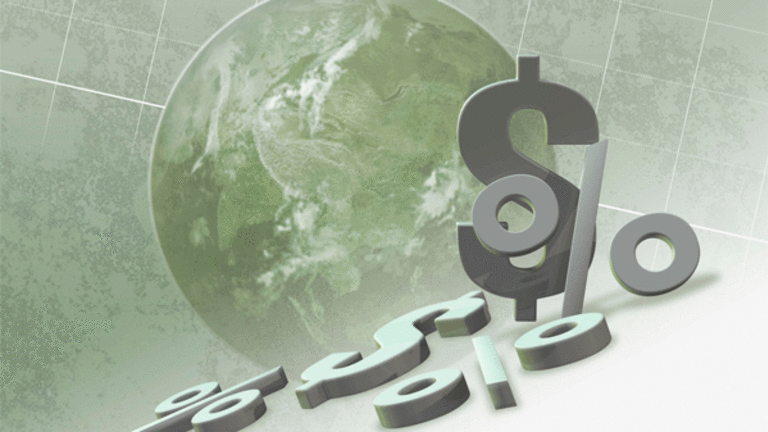 Treasuries Trade Firmly After Auction: Market Bits
Treasury bonds traded firmly on optimism about the treasury market following a lukewarm reception of the government's seven-year notes auction Wednesday.

NEW YORK (TheStreet) -- Treasury bonds traded firmly on optimism about the treasury market after a lukewarm reception of the government's seven-year notes auction Wednesday.
The treasuries had yields of 2.895%, the highest in months and more attractive to buyers than the 2.873% yields dealers were forecasting on average, according to a
Bloomberg
survey.
The two-year note was rising 2/32, pushing the yield down to 0.801%, the 10-year note was gaining 8/32, pushing the yield down to 3.459% and the 30-Year bond was up 6/32, lowering the yield to 4.526%.
"Another mixed takedown with a sizable tail, but above average non-dealer bidding
of 58.2% vs.
the 57.8% norm," is how CRT Group fixed-income strategist Ian Lyngen described the auction. "Since the results, Treasuries have continued to hold the price action."
The weaker the demand in a treasury auction, the wider the tail or difference between the average bid and the lowest bid at a Treasury auction.
The $29 billion sale of seven-year notes concludes the government's $99 billion of treasury sales this week. On Tuesday, the five-year auction showed mixed results, while Monday's two-year auction was described as "mediocre" by Stifel Nicolaus head government bond trader Marty Mitchell.
iShares Barclays 7-10 Year Treasury Bond Fund
(IEF) - Get iShares 7-10 Year Treasury Bond ETF Report
was rising 0.3% to $93.16, the
iShares Barclays 1-3 Year Treasury Bond Fund
(SHY) - Get iShares 1-3 Year Treasury Bond ETF Report
was flat at $83.81 and the
iShares Barclays 20+ Year Treasury Bond Fund
(TLT) - Get iShares 20+ Year Treasury Bond ETF Report
was 0.5% higher at $92.
Treasuries were also gaining with the ADP National Employment Report's indication that the private sector added 201,000 jobs in March -- lower than the 210,000 jobs economists were expecting, according
Briefing.com.
The market was also keeping a close on the Fed policymakers' debate on the next move on monetary policy.
iShares Barclays TIPS (Treasury Inflation Protected Securities) Bond Fund
(TIP) - Get iShares TIPS Bond ETF Report
was rising 0.2% to $109.02,
PIMCO Broad US TIPS Index Fund
(TIPZ) - Get PIMCO Broad US TIPS Index ETF Report
was up 0.3% to $53.99 and
iShares Barclays 0-5 Year TIPS Bond Fund
(STIP) - Get iShares 0-5 Year TIPS Bond ETF Report
was flat at $102.22.
(Published at 11:11 am)
Natural gas futures rebounded Wednesday as fundamentals improved and traders finished taking profits after the expiration of the April contract on Tuesday.
Natural gas for May delivery was rising 1.4% to $4.32 per million British thermal units.
U.S. natural gas fundamentals are improving.
"Events in Libya and Japan have placed a strong floor under global gas and we are now watching U.S. supply and demand data for a turning point in prices by the fourth quarter of the year," said Deutsche Bank analyst Michael Lewis.
Natural gas improvements come as much of the world turns cold against nuclear power in the wake of the nuclear crisis in Japan.
"We believe the state election in Baden-Wuerttemberg will ultimately lead to a radical re-ordering of Germany's nuclear-energy policy and an accelerated schedule for the permanent shutdown of some or all of Germany's 17 nuclear reactors," said Lewis.
Natural gas stocks were trading in mixed territory.
Chesapeake Energy
(CHK) - Get Chesapeake Energy Corporation Report
was rising 1.9% to $33.99,
Devon Energy
(DVN) - Get Devon Energy Corporation Report
was falling 0.2% to $91.51 and
EOG Resources
(EOG) - Get EOG Resources, Inc. (EOG) Report
was down 0.3% to $119.37.
Light sweet crude oil futures were falling on expectations of Libyan leader Muammar el-Qaddafi's impending downfall.
Crude oil for May delivery was falling 0.4% to $104.34 a barrel and Brent crude was flat at $115.20 a barrel as Col. Muammar el-Qaddafi desperately clings to power.
"Oil prices seem to sell off every time the rebels advance, while conversely, they rise when Libyan troops make progress, or when the fighting gets bogged down," said MF Global analyst Ed Meir. "We suspect, however, that despite the ebb and flow of the battle, Col. Qaddafi's days are numbered, as the coalition will likely get more involved with the opposition and its cause."
Given that Qaddafi is putting up a determined fight against the rebels, there will continue to be choppy oil price action for now, said Meir surmised.
Lewis of Deutsche Bank predicts more upside for oil. Factoring in financial, fundamental and geopolitical trends, he forecasts crude oil prices to average well above $100 a barrel in 2011, with Brent prices ranging between $115 to $125 barrels out to 2015. "The latest oil data for China so far this year shows demand is off to a very strong start. China's total oil demand growth in Jan. to Feb. has averaged 12% (year-over-year), according to our apparent demand calculation."
Diesel demand has been exceptionally strong year-over-year, growing on average 16% in the first two months of this year, according to Lewis.
Oil stocks were rising.
Exxon Mobil
(XOM) - Get Exxon Mobil Corporation Report
was up 1.3% to $84.35 and
Chevron
(CVX) - Get Chevron Corporation Report
was up 0.4% to $107.71.
Cotton and corn futures were trading lower amid stronger supply expectations.
May cotton futures were tumbling 0.2% to $1.95 a pound and corn futures for May delivery were down 0.5% to $6.68 3/4 a bushel.
"Price rallies in the agricultural sector are maturing and markets should be braced for strong production responses for certain agricultural commodities in the next crop year," said Lewis. "We view corn and cotton at risk in the short term in the event of higher U.S. plantings."
PFG Best strategist Robin Rosenberg said cotton trading has become quite thin and volume has been down. With cotton prices still high, Rosenberg expects to see additional acreage planted with cotton this coming growing season. The Department of Agriculture's March cotton report indicated strong production rise of 5.4 million bales for Brazil to 8.8 million bales from last year.
Corn refiner
Corn Products International
(CPO)
was up 1.2% to $50.48.
Coffee futures were rising as buyers took advantage of dips from the previous days.
Coffee for May delivery was rising 0.6% to $2.629 a pound.
Rosenberg of PFG Best hears that as coffee prices remain high, coffee growers around the world have been ramping up security to protect themselves against thefts. Murders have been reported in Latin America.
Investment firm Waverly Advisors, which has a coffee position, is starting to see downside momentum in soft commodities as they inevitably come down from their highs on higher supply expectations.
"We fully expect that coffee will be caught in any broad selloff, but will look to reestablish this position at lower prices."
Starbucks
(SBUX) - Get Starbucks Corporation Report
was trading sideways at $36.84.
The Australian commodity currency continues to enjoy gains against other major currencies including the greenback and Japanese yen amid soaring commodity prices.
The Aussie dollar was heading for a second straight day of gains against the U.S. dollar, up 0.2% at $1.03124, and a third straight day of gains against the yen, up 1% at 85.638 yen.
"We have been surprised by the strength in the AUD (Australian Dollar), and were fortunate to have put on a small position last week," said Waverly Advisors strategist Andrew Barber. "We cannot add at current levels without at least a few day's consolidation, so, for now, we are managing this position with a hands off approach."
The euro was falling 0.4% against the dollar at $1.4061 on continued concerns about the region's debt crisis.
But despite ratings downgrades for both Portugal and Greece, observers believe in a euro rebound owing to expectations of a European central bank rate adjustment April.
"In the meantime, out of the European bond market, Portugal's 5-year bond yield breached 9%, a new high, but Italy held a well-received auction of fixed and floating rate earlier today."
European bank stress tests will be taking place on Thursday.
>>Search for Highest Dividends by Rate or Yield
-- Written by Andrea Tse in New York.
>To contact the writer of this article, click here:
Andrea Tse
.
>To follow the writer on Twitter, go to
.
>To submit a news tip, send an email to:
.
Copyright 2010 TheStreet.com Inc. All rights reserved. This material may not be published, broadcast, rewritten, or redistributed.