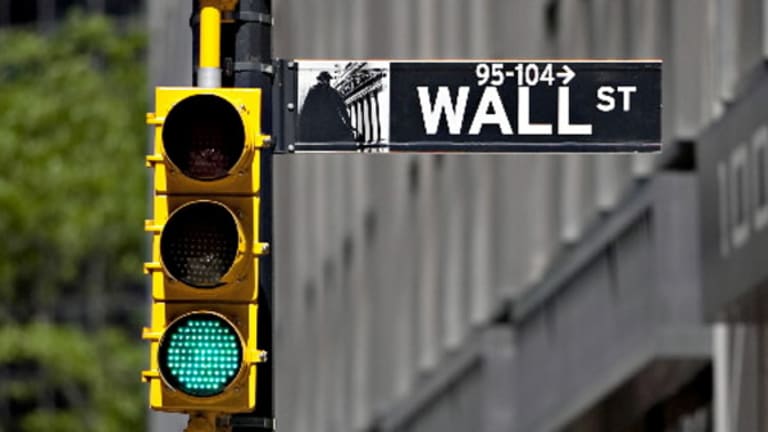 My March Fixed-Income Play Is Working So Far
Why long leveraged floating-rate loans are beating junk bonds.
Why long leveraged floating-rate loans are beating junk bonds.
My top fixed-income recommendation for March was that you should be in floating-rate loans -- primarily long leveraged ones -- and have limited if any exposure to the high-yield market. I'm happy to report that my call is working out so far.
It's true that both the PowerShares Senior Loan ETF (BKLN) - Get Report and the SPDR Blackstone/GSO Senior Loan ETF (SRLN) - Get Report -- two leveraged-loan ETFs -- are weaker by about 0.5% month to date. But they've nonetheless handily outperformed high-yield ETFs
SPDR Barclays High Yield Bond ETF (JNK) - Get Report and iShares iBoxx U.S. Dollar High Yield Corporate Bond ETF (HYG) - Get Report , which are both down by some 2%, as this chart shows:
That's a roughly 1.5% outperformance -- which is important in this still relatively low yield environment.
As a quick reminder, leveraged loans are debts that are often issued by the same companies that issue high-yield bonds (also known as "junk bonds"). Leveraged loans are floating-rate and senior-secured, while high-yield bonds are typically fixed-rate, callable and senior-unsecured.
I made a call of favoring leveraged loans over high-yield bonds because I'm concerned about two things:
Interest-Rate Risk. The 10-year U.S. Treasury yield is currently hovering around key support near 2.6%, and I see the potential for it to gap up to 3%.
Credit-Spread Risk. The credit market is experiencing some "indigestion" given the large amount of issuance that has hit this year.
Both risks came into play over the past week, with Treasury yields rising and credit spreads widening. The CDX IG index, which is based on 125 investment grade issuers' credit-default-swap spreads, moved from 59.75 to 64.5 -- a reasonably large move. While the index is esoteric, it's still a useful guide to credit-market performance.
Personally, I continue to prefer investing in mutual funds or even some well-run closed-end funds when it comes to leveraged loans, and I anticipate this to be a core position for the foreseeable future. I think the Federal Reserve will be raising rates, which is positive for the income generated by these funds.
I also expect interest rates to continue to rise moderately, increasing high-yield bonds' volatility. And given the multiyear lows that we're currently seeing in credit spreads, I like the additional safety of senior-secured bonds (even though they have less upside price potential). For example, the iShares Floating Rate Bond (FLOT) - Get Report an investment-grade floating-rate bond ETF has done well this month.
It's true that there are some "hedged" high-yield-bond funds, but I think those are dangerous because high-yield-bond prices are likely to go down in any risk-off move regardless of what interest rates do. (You'll also lose money on the hedge.) So, I think leveraged-loan funds will outperform in a risk-off move.
However, I would look to add back high-yield exposure if that sector continues to decline. After all, fixed-income gains and losses of over 2% are meaningful - in fact, they're over four months of interest.