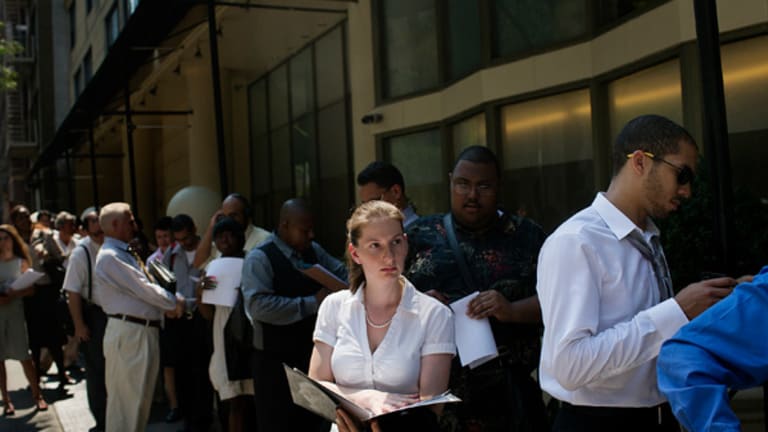 Market Sinks With Foundering Bank Stocks
Lehman and WaMu lead the downward charge at Thursday's open.
Updated from 9:47 a.m. EDT
Stocks in New York were dropping Thursday as swooning price action in financial-services shares sent waves of nausea up and down Wall Street, but the major averages had come off their worst levels.
The
Dow Jones Industrial Average
was losing 74 points to 11,195, and the
S&P 500
was down 9 points to 1223. The
Nasdaq
was lower by 9 points to 2220.
Sellers were having their way with shares of
Lehman Brothers
(LEH)
and
Washington Mutual
(WM) - Get Waste Management, Inc. Report
, both of which continued to suffer on liquidity fears after taking heavy losses during Wednesday's trading.
The Wall Street Journal
reported that Lehman CEO Dick Fuld over the past week has been calling other financial firms to ensure they were still trading with his company. Fuld lately has been fighting rumors that Lehman will follow
Bear Stearns
,
Fannie Mae
undefined
and
Freddie Mac
undefined
as the next victim of the credit crisis, the report said.
Analysts expressed extreme skittishness about the prospects for
. Citigroup, Goldman Sachs and Oppenheimer all cut their ratings on the brokerage. Merrill Lynch replaced its neutral rating with "no opinion." Ratings agency Moody's said after the close Wednesday that Lehman will face a credit downgrade unless it partners with a stronger company. Lehman credit default swaps also rose sharply Wednesday. Lehman shares dropped 40% early.
Meanwhile,
was dropping 19% after
Reuters
reported that action in its credit default swaps reflected increasing fears about its capital levels. A
Bloomberg
report also indicated that new accounting rules may hurt the company's chances of finding a buyer.
Merrill Lynch
(MER)
shares tumbled 18% in sympathy with Lehman and WaMu.
Separately, Fannie Mae, which along with Freddie Mac was nationalized by the government over the weekend, successfully issued $7 billion in two-year bonds as investors regained confidence in the mortgage company's credit.
In the energy space,
Petrobras
(PBR) - Get Petroleo Brasileiro SA Sponsored ADR Report
said one of its fields contains between 3 billion and 4 billion barrels of oil.
Mining equipment manufacturer
Joy Global
(JOYG)
announced a $1 billion share buyback early Thursday.
As for commodities, crude oil was down $1.11 at $101.47 a barrel. Gold lost $18 to $744.50.
Moving on to economic data, unemployment claims for the week ended September 6 fell to 445,000 from 451,000 the week before, according to a report by the Labor Department.
The Bureau of Labor Statistics' trade balance reading for July showed an increase in the trade deficit to $62.2 billion from $58.8 billion in June. Economists had expected a $58 billion deficit. A bit later in the day, the Treasury will release its monthly budget information.
Longer-term U.S. Treasury securities were rising in price. The 10-year was up 10/32 to yield 3.59%, and the 30-year was up 15/32 to yield 4.2%. The dollar was rising vs. the euro and pound, but falling against the yen.
Foreign exchanges were broadly losing value. The FTSE in London and the Dax in Frankfurt were both trading lower. Hong Kong's Hang Seng and Japan's Nikkei finished their day with losses.