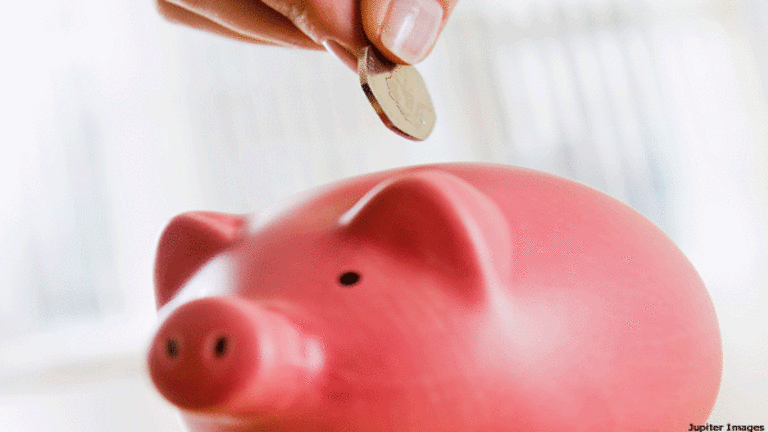 Market Looks for Stability in Coming Week
News from Europe and economic data will determine whether markets can find a footing next week.
NEW YORK (
) -- Investors are hoping for some stability after a manic trading week that saw the
Dow Jones Industrial Average
down by more than 600 points one day and up by more than 400 points the next.
Whether the market will be able to find its footing in the coming week will depend on economic data and news from Europe.
The past week got off to a rocky start as global markets reacted to an unprecedented downgrade of the U.S.'s credit rating by Standard & Poor's, from triple-A to double-A-plus.
The Dow plunged 635 points on Monday in the sixth-biggest decline in its history.
Stocks proceeded to whipsaw throughout the week as the
downgraded its outlook for the U.S. economy and said it would keep key interest rates near zero for at least another two years.
> > Bull or Bear? Vote in Our Poll
European contagion concerns also came back into the mix as a rumor spurred fears that France may be the next country to lose its triple-A rating. The rumor turned out to be unfounded, but markets were rattled nonetheless.
By Friday, volatility eased and fundamentals appeared to be coming back into the market, according to Frank Fantozzi, CEO of Planned Financial Services, who is anticipating calmer action next week.
"It should be a quiet week," Fantozzi said. "From an economic data standpoint, this will be a lighter week than normal, and there's not a lot coming up that's going to rattle the market. The one wild card is Europe."
The European sovereign debt crisis will take the spotlight on Tuesday when French President Nicolas Sarkozy and German Chancellor Angela Merkel meet in Paris to discuss options to stabilize the eurozone. Investors are hoping that the emergency meeting will yield a substantive plan, which could alleviate contagion fears and return the focus to U.S. economic data.
>> Keep the stock market at your fingertips with TheStreet's iPad app.
"We've had some encouraging data here that has been largely overlooked because of Europe," said Peter Maris, principal at Resource Financial Group. "We had a jobs number that was better than expected; retail sales rose again; and earnings from corporations have been phenomenal, but the European cloud keeps coming over us. With that cloud lifted, I think you'll see stronger markets because the numbers are recovering gradually, which means that a double-dip is not in the cards."
Maris expects manufacturing data to capture some attention from the market after weaker-than-expected readings on regional manufacturing in July. On Monday, the Federal Reserve Bank of New York will release its Empire State Manufacturing survey and the Federal Reserve Bank of Philadelphia will release its manufacturing survey on Thursday.
"Manufacturing is a huge psychological factor because it drives the economy and has implications for sales and jobs," Maris said.
Tuesday brings housing starts and building permits data from the Census Bureau, July import and export prices from the Labor Department, and the Federal Reserve's report on industrial production and capacity utilization for July.
The market will get the latest reads on inflationary pressures with the July producer price index on Wednesday and the consumer price index on Thursday. Also during Thursday's session, the Conference Board will release its leading indicators report for July.
Market strategists agree that investors will largely be looking to economic data for signs that the economy is headed in the right direction.
"If economic data shows gradual improvement, investors could regain some of their confidence, and the market could find some stability," said Peter Cardillo, chief market economist at Rockwell Global Capital.
Casey Weade, vice president of Howard Bailey Financial, said that after recent weeks of mixed economic data, investors are hungry for direction.
"There's been so much mixed news that investors are confused about what to do next week. We need to see continued improvement in jobs data, CPI and manufacturing reports from the coming week," Weade said.
On the corporate earnings front,
Dell
(DELL) - Get Free Report
,
Dollar Tree
(DLTR) - Get Free Report
,
Hewlett-Packard
(HPQ) - Get Free Report
,
Home Depot
(HD) - Get Free Report
and
Sears Holdings
(SHLD)
are among companies reporting quarterly results next week.
-- Written by Melinda Peer in New York
.
Disclosure: TheStreet's editorial policy prohibits staff editors and reporters from holding positions in any individual stocks.