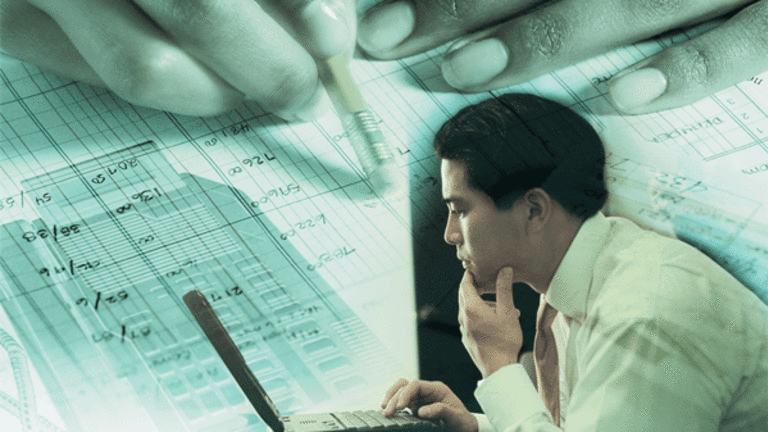 Market Hopes to Focus on Jobs, Not Hurricane, in Coming Week
If a hurricane doesn't get in the way, Wall Street will focus on the August employment report as stocks look to keep up their positive momentum.
NEW YORK (
) -- Stocks managed their
best weekly performance in two months
, even though
Federal Reserve
Chairman Ben Bernanke focused on fiscal policy instead of stimulus in his highly anticipated speech on Friday.
But with Congress still in recess, the market will likely be focused next week on the government's August jobs report -- unless Hurricane Irene wrecks havoc on Wall Street over the weekend.
Although there was initially disappointment about the
lack of stimulus details in Bernanke's speech, stocks rebounded as traders absorbed news that the
Federal Open Market Committee
will extend its September meeting by a day to fully discuss the tools it has to support the economy.
In addition to acknowledging that temporary and structural issues are dragging on the economy, Bernanke also placed some blame on Washington.
> > Bull or Bear? Vote in Our Poll
"Without significant policy changes, the finances of the federal government will inevitably spiral out of control, risking severe economic and financial damage," Bernanke said in
prepared remarks on Friday.
"The country would be well served by a better process for making fiscal decisions," he added. "The negotiations that took place over the summer disrupted financial markets and probably the economy as well, and similar events in the future could, over time, seriously jeopardize the willingness of investors around the world to hold U.S. financial assets or to make direct investments in job-creating U.S. businesses."
Reacting to the speech, Phil Orlando, chief equity market strategist at Federated Investors, said, "I think Bernanke was hoping to achieve two things. First, to reaffirm that economic growth will be better in the second half of the year and into next year -- basically that we're not going to see a double-dip -- and second, I thought he'd take the president and Congress out behind the woodshed, and he really did. He basically said the Fed has done all that it can from a monetary policy standpoint."
"He attempted to light a fire under Congress, but it's up to this supercommittee to come together and get this economic malaise behind us," Orlando continued.
Ron Weiner, president and CEO of RDM Financial Group, agreed.
"Listening to
Philadelphia Federal Reserve Bank President Charles Plosser and Ben Bernanke's comments this morning, I think they realize that they don't have enough bullets to truly alter the way the economy is going -- it really is a structural problem and is much more on Congress and the president to create an environment that fosters economic growth -- even if just by taking some questions out of the economy," Weiner said.
The Joint Select Committee on Deficit Reduction, the so-called "supercommittee" that has been tasked with coming up with suggestions to cut federal budget deficits by at least $1.5 trillion over 10 years, is required to submit its recommendations before the Thanksgiving recess with a full congressional vote planned before the winter recess.
That means the market could be stuck in what Orlando dubs "congressional malaise" until the supercommittee can convince Wall Street that it will come up with a meaningful plan for fiscal sustainability.
"So if everything is focused on this three-month supercommittee process, then market fundamentals won't matter," Orlando said. "Technicals may be more important than fundamentals -- at least in the near term. "
With Congress still on recess until Sept. 6 and the Fed pushing back stimulus talks until Sept. 20-21, the market will shift its gaze to economic data, keeping a close eye on the government's August jobs report on Friday.
The coming week, however, could be dominated by a different story all together if
Hurricane Irene hits the East Coast hard over the weekend, as expected.
Lou Pastina, Head of Trading Floor Operations at the
New York Stock Exchange
, plans to open the exchange on Monday but said he'll make a definitive decision over the weekend.
Before the market gets its first jobs-related release on Wednesday, the Bureau of Economic Analysis will report on personal income and spending in July on Monday while Tuesday will bring the Conference Board's consumer confidence index for August.
Wednesday kicks off a string of jobs releases with Automatic Data Processing's read on company job growth in August. Investors will be comparing August's number to private sector job growth of 114,000 in July.
Also on Wednesday, the Chicago Purchasing Managers Index will give a read on manufacturing activity in the Chicago region in August.
The Labor Department's initial jobless claims report on Thursday will be closely watched since it comes a day before the government's unemployment report. In recent weeks, initial claims continued to hang above the 400,000 level.
The other big report on Thursday will be the Institute for Supply Management's manufacturing index for August. Market watchers will be comparing August's reading to July's level of 50.9.
Friday brings the Labor Department's highly anticipated unemployment report for August. According to Weiner of RDM Financial Group, the market is anticipating job growth of 111,000 after gains of 117,000 in July.
Briefing.com
is expecting the unemployment rate to tick up to 9.2% from 9.1% in July.
--
Written by Melinda Peer in New York
.
Disclosure: TheStreet's editorial policy prohibits staff editors and reporters from holding positions in any individual stocks.