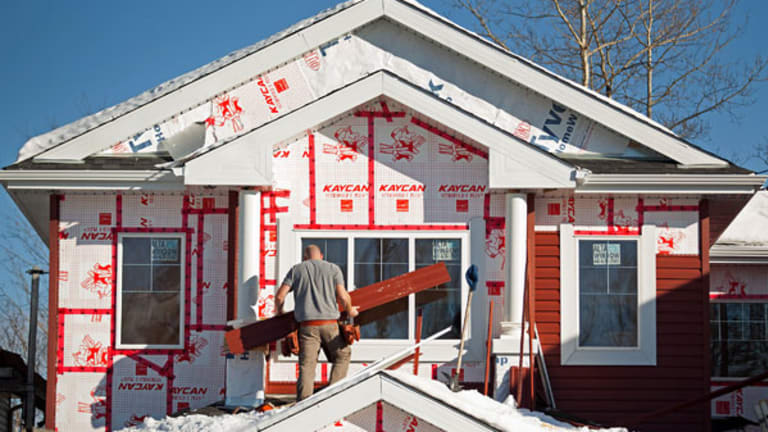 Low Household Formation Clouds Housing Recovery
The rate of formation of new households in the United States remains well below the historical average.
NEW YORK (
) -- The pace of household formation is alarmingly low, casting a shadow on the housing recovery story.
According to the latest data from the Census Bureau, only 380,000 households were created over the past four quarters through September. That is far below the normal average of 1.1 million households.
The slow pace clouds the outlook for demand for both rental and owner-occupied housing.
Household formation has slowed since the credit crisis of 2008, as more young adults have chosen to live with their parents in the midst of a sluggish job market.
Online real estate company Trulia estimates that nearly 2.4 million households have gone "missing" since the crisis.
Housing bulls believe that as the economy recovers, there will be a jump in household formation, unleashing pent-up demand that will drive home prices and the demand for rental units higher.
But we are yet to see household formation catch up with its normal pace.
"By now, at this stage of the recovery, we should have seen household formation not just move back to 1.1 million units but rise above that level," says Trulia economist Jed Kolko.
The delay in household formation is holding back the U.S. economic recovery. Unless more households are created, construction starts will not move back to normal, according to Kolko.
But even if household formation picks up, it will be a while before the homeownership rate increases, as new households are more likely to rent before they buy.
The national homeownership rate ticked up in the latest quarter, the first quarterly increase in more than a year.
The homeownership rate stood at 65.3%, up from 65% in the second quarter, though down slightly from 65.5% in September 2012, according to the Census report.
Homeownership in the U.S. has historically ranged between the 63% to 65% levels but began climbing in the late 90s and early 2000s to reach a peak of 69.2% in 2004. It remained near those levels heading into the credit crisis.
Since the housing bust, more than 4 million homeowners have lost their homes to foreclosure and been forced to become renters.
Homeownership among adults below the age of 35 has dropped to 36.3% from 42% in the third quarter of 2007.
Racial minorities have also been adversely affected by the housing bust, with the homeownership rates among blacks falling to 43.1% from over 46% in 2009.
The homeownership rates for Hispanics declined to 47.6% during the third quarter from from 48.7% in the third quarter of 2009, according to the report.
-- Written by Shanthi Bharatwaj in New York.
>Contact by
.
Disclosure: TheStreet's editorial policy prohibits staff editors and reporters from holding positions in any individual stocks.