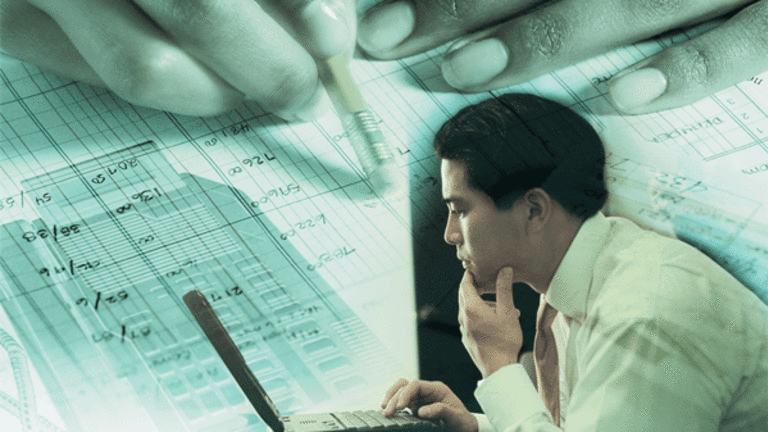 Kass: Subprime Fungus Will Spread
The securitization markets soon will face troubles similar to those of subprime mortgages.
This column by Doug Kass was originally published on Feb. 15 at 9:27 a.m. EST on Street Insight. It's being republished as a bonus for TheStreet.com and RealMoney.com readers. For more information about subscribing to Street Insight, please click here .
Wednesday saw another large mortgage bank, Silver State Mortgage, cease originating subprime loans. Silver State Mortgage was, according to
National Mortgage News
, one of the fastest-growing wholesale lenders in the country.
The relatively healthy subprime originators, like
Washington Mutual's
(WM) - Get Waste Management, Inc. Report
Long Beach Mortgage, are
downsizing
around the country faster than you can say BBB-minus.
In a related note, Standard & Poor's might have been reading
my story from last week as they downgraded ratings on 18 securities from 11 mortgage-backed bond issues and put on review a number of other bonds sold by units of
Goldman Sachs
(GS) - Get Goldman Sachs Group, Inc. (GS) Report
,
Lehman Brothers
(LEH)
,
Barclays Capital
,
Countrywide Financial
(CFC)
and
New Century Financial
(NEW) - Get Puxin Ltd. Sponsored ADR Report
on Wednesday.
Many in the media (from Jim "El Capitan" Cramer to Sir Larry Kudlow to
) have opined that the bears "don't understand the conditions under which real estate markets collapse, and these conditions (suggestive of a broadening credit problem) are not present." And, in a series of perfunctory conference calls over the last week, the leading brokerages have supported their case that there will not be a credit contagion emanating from subprime lending and that the brokerage exposure will be contained and limited, even though none of the banks disclosed their involvement in the subprime market (as agents and as principals).
It appears that the principal reason these observers are ignoring the subprime problem and
its ramifications is that the equity markets are ignoring them. Ergo, it must not be a problem. This is the definition of a Goldilocks mindset (see no evil, hear no evil), not a Goldilocks scenario.
The subprime carnage (like HSBC's nearly $2 billion addition to subprime loan losses in the fourth quarter 2006) is ignored as is the commentary from merchant builders like
KB Home
(below) and others (perhaps because their stock prices are also rising).
We began 2006 with a strong backlog that produced record deliveries. However, as the year progressed, market conditions worsened, cancellations increased, net orders declined and margins came under pressure. The result was a 2006 year-end backlog substantially below the year-earlier level. At a minimum this will likely result in a year over year decrease in our unit deliveries through the first half of 2007 and potentially longer.
-- KB Home CEO Jeffrey Mezger (Feb. 13, 2007)
Two Toxic Reagents
The credit containment argument ignores the parabolic growth and rising role of subprime lending (relative to total mortgage industry loans) -- never before have lenders relied more on the candor and integrity of borrowers, and never before have underwriting terms been so lax. These are two toxic reagents, especially within the context of the biggest housing boom in history, in which real estate mortgage receivables have mushroomed to all-time records at the major (and minor) banks.
The "dot condo" CondoFlip
that encouraged investors/speculators to day-trade condominiums (and proudly declared that "Bubbles are for Bathtubs") has been dismantled and is no longer operational, replaced by a Condo Super Center. The site now admits, in a
mea culpa
, that "the condo boom was driven by overly-ambitious speculators, many of whom had been successful in flipping condos in the past. As condo inventories grew and prices rose, many speculators realized that further purchasing was increasingly risky. So, buyers just stopped buying."
There is an emerging credit crisis and it will lead to rapidly rising charge-offs. Construction lending on land and condominium loans are the next area to implode (examples of exposed intermediaries are Fulton Financial, National City and Corus Bancshares).
As night follows day, the enormous securitization markets will shortly begin to demonstrate the same sort of delinquencies we have witnessed in subprime mortgage lending. Then a continued acceleration of subprime loan problems will creep into the prime market (where equally creative mortgage loans have been made to
prime
borrowers).
Restrictive credit practices are just beginning to unfold as a consequence of the poor underwriting standards applied over the last decade. The more things change, the more they stay the same.
At time of publication, Kass and/or his funds had no positions in stocks mentioned, although holdings can change at any time.
Doug Kass is founder and president of Seabreeze Partners Management, Inc., and the general partner and investment manager of Seabreeze Partners Short LP and Seabreeze Partners Short Offshore Fund, Ltd. Until 1996, he was senior portfolio manager at Omega Advisors, a $4 billion investment partnership. Before that he was executive senior vice president and director of institutional equities of First Albany Corporation and JW Charles/CSG. He also was a General Partner of Glickenhaus & Co., and held various positions with Putnam Management and Kidder, Peabody. Kass received his bachelor's from Alfred University, and received a master's of business administration in finance from the University of Pennsylvania's Wharton School in 1972. He co-authored "Citibank: The Ralph Nader Report" with Nader and the Center for the Study of Responsive Law and currently serves as a guest host on CNBC's "Squawk Box."
Kass appreciates your feedback;
to send him an email.