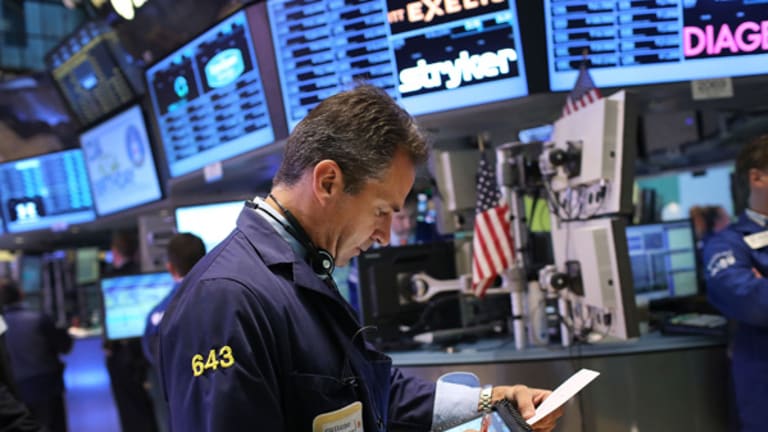 NEW YORK (TheStreet) -- High-yield bonds, otherwise known as junk bonds, have long been an excellent source of capital appreciation and income for families and individuals.
They've benefited from the Federal Reserve's ultra-low interest rates. This, in turn, has prompted billions of dollars to surge into below-investment-grade holdings.
I don't blame anyone for wanting to seek a higher return on their assets than the 2.07% yield offered by fund s such as the iShares Core Total U.S. Bond Market ETF (AGG) - Get iShares Core U.S. Aggregate Bond ETF Report. This type of low-yielding investment becomes even harder to swallow when you consider that rising interest rates can quickly wipe out marginal income.
While I have been a big proponent of these moves in the past, I am hesitant to recommend that investors put new money into high yield fixed-income or bank loans at this time. The height of prices, compression of yields, and general complacency in the low credit quality arena has made me cautious about the risk to reward equation from this point forward.
The biggest ETF in the high yield fixed-income space is the iShares High Yield Corporate Bond ETF (HYG) - Get iShares iBoxx $ High Yield Corporate Bond ETF Report, which has more than $13 billion under management. If you look at the five-year annualized returns of this fund through Dec. 31, you would be amazed to see equity-like gains of 15.01% per year.
In fact, HYG has continued to march even higher in 2014, which has pushed the 30-day SEC yield down to a relatively meager 4.49%. When you consider that the 12-month trailing yield is noted at 5.96%, you can see just how much less income new money would receive today than it would a year ago.
The last spate of volatility in HYG came back in mid-2013, when the Fed indicated a potential for tightening the reigns of quantitative easing and raising the Fed Funds rate. Many investors saw this as an opportunity to adjust the duration of their high yield bond holdings by moving to a shorter duration fund such as the Pimco 0-5 Year High Yield Bond ETF (HYS) - Get PIMCO 0-5 Year High Yield Corporate Bond Index ETF Report.
This strategy provides a measure of security from the threat of rising interest rates and still captures a higher yield than an aggregate bond portfolio. Another popular alternative to reduce interest rate risk is the use of bank loan ETFs such as the PowerShares Senior Loan Portfolio (BKLN) - Get Invesco Senior Loan ETF Report.
If you still own high yield ETFs, I would continue to do so with the mindset that we may be closer to the end of this ride than the beginning. Prices are not indicating any kind of problem as of yet and the income streams are still solid for early adopters.
However, there will come a time when it will make sense to switch to higher credit quality areas such as investment grade corporate bonds or mortgage securities. I would recommend being flexible to shift your holdings in response to changing conditions when we reach an inflection point or see a convincing turn in price.
From a valuation standpoint, I still believe that emerging market bonds are offering a more attractive profile with respect to yield and price than domestic high yield fixed-income. The iShares JP Morgan USD Emerging Market Bond ETF (EMB) - Get iShares JP Morgan USD Emerging Markets Bond ETF Report is currently a sector allocation in my income portfolio that is paying a yield of 5.00% and in my opinion has room for upside capital appreciation as well. Emerging market bonds certainly have their own unique set of risks; however, I am more inclined to integrate new holdings that have not already climbed to all-time highs.
By making these types of adjustments you can reduce the risk of being over-allocated to a stretched area of the fixed-income landscape. Staying ahead of the curve and being proactive with your portfolio will allow you to sidestep any major volatility with respect to credit or interest rates.
At the time of publication, the author held positions in HYG and EMB.
This article represents the opinion of a contributor and not necessarily that of TheStreet or its editorial staff.