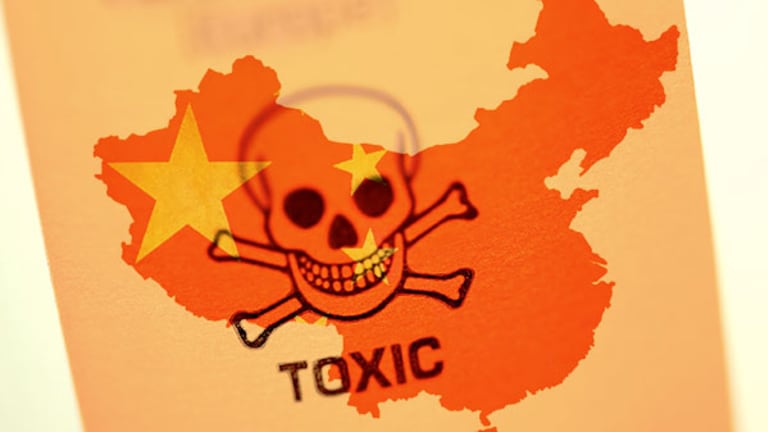 Chinese Junk Bonds: The Red Badge of Investing Courage
Chinese junk bonds' unusually high yields reflect that nation's poor corporate governance and unpredictable risks. Now, with Beijing retreating from its tacit guarantee of such debt, they're looking much riskier.
NEW YORK (The Deal) -- The holders of about $250 billion of dollar-denominated bonds issued on behalf of Chinese companies through overseas subsidiaries are a risk-loving bunch. The attraction of the Chinese companies' dollar bonds may look unsurprising. "The yield is relatively high," said Kenny Wu, a Hong Kong-based credit analyst at Citigroup (C) - Get Citigroup Inc. Report. Yet yields of close to 8%, and occasionally as high as 12% or more, often go hand in hand with poor corporate governance, unpredictable risks, and instruments that lack both the upside of equities and the levels of protection normally afforded to debt.
Chinese property companies in particular led the charge in issuing offshore debt. Faced with huge upfront capital requirements for construction projects and suffering from tighter domestic bank lending and accustomed (until recently) to rapidly rising property prices, they proved willing issuers with no shortage of takers. Investors enticed by high yields and emboldened by an implicit state guarantee readily snapped up the dollar bonds. But they're now discovering that the guarantee may be a mirage just as both business and political risk has shifted against them.
Among the daredevils willing to trade high returns for high risk, special mention must go to the owners of Kaisa Group Holdings' roughly $2.5 billion of dollar-denominated bonds. Kaisa, a Shenzhen-based property developer, has been buffeted by almost every misfortune that could befall a Chinese company. It already holds the dubious honor of being the first Chinese company to default on its offshore loans. Yet, at the end of May, just over a month after Kaisa's default, the owners of its offshore bonds chose risk over security once again when they jettisoned a $1.17 billion takeover of Kaisa by rival Sunac China Holdings.
Sunac blamed the bid's collapse on Kaisa's failure to achieve "certain conditions precedent" to a deal. The would-be buyer, another property developer, didn't elaborate on the failures, but offshore creditors' refusal to accept a debt restructuring linked to the deal was undoubtedly chief among them.
A committee of offshore bondholders, which included BFAM Partners Hong Kong,Claren Road Asset Management and HarvestGlobal Investments, rejected Sunac's proposal in March, judging that they could do better than the 60 cents on the dollar they were offered. They were right. Sunac, according to bond analysts, eventually offered them as much as 73 cents. Reports suggested that a majority of the eight-member offshore bondholders' committee was ready to accept the improved offer, but others once again balked at the haircut.
The courage of that decision is reflected by quick look at Kaisa's finances. The company had cash at the start of March of 1.9 billion renminbi ($306 million), of which only 566 million renminbi-- or little over a quarter -- was unrestricted. Its total debt at the end of 2014 was 65 billion renminbi, of which 28 billion renminbi is already the subject of creditor demands for immediate repayment.
More worrying still for offshore bondholders: accounting firm Deloitte Touche Tohmatsu warned in March that they should expect to recoup only 2.4% of their investment if Kaisa fails.
Yet the offshore lenders evidently remain confident they can do better than 73 cents on the dollar. The foundation of that confidence appears to be a lingering belief that access to offshore debt is so important to Chinese property developers that Kaisa, potentially with state or corporate help, will not be allowed to jeopardize the wider sector's access to offshore funds.
That theory has been bolstered by the return of Kaisa's chairman and co-founder Kwok Ying Shing. Kwok, also known on the mainland as Guo Yingcheng, resigned at the end of 2014 under mysterious circumstances before making his return, without explanation, on April 13. In May, Kwok told an offshore bondholders' steering committee he felt he could offer better restructuring terms once Sunac's offer faltered.
The chairman has a vested interest in seeing that happen. His family in February agreed a deal to sell its 49.25% stake in Kaisa to Sunac for HK$4.55 billion ($586 million) -- though Sunac said it would finalize that deal only if it secured a debt restructuring at Kaisa. Kwok's return to Kaisa was widely seen as a sign that he had changed his mind about selling and by rallying the support of offshore bondholders he was able to ensure he wouldn't have to.
Not everyone is convinced that Kwok can deliver. "The termination of the share purchase agreement [with Sunac] will weaken repayment prospects for Kaisa's creditors, including its offshore bondholders," Moody's Investors Service analyst Franco Leung noted on May 28. "Without an immediate sponsor of stronger financial strength, Kaisa will face significant challenges in resolving its financial woes."
Kaisa appears to have little interest in easing the tension. The company's priority is not finding a new buyer or other sources of equity, a senior executive told Bloomberg on June 12. Its focus is on unblocking restrictions on the sales of several projects so it can start to generate cash again. Kaisa officials could not be reached.
Long before Sunac's deal fell through, Kaisa's woes were already serving as a cautionary tale for the dangers faced by offshore bondholders in the Chinese high-yield market. Yet what makes the situation remarkable is how unremarkable the risks faced by its creditors actually are. The combination of factors that have brought Kaisa's offshore bonds to the brink of disaster are shared, at least in part, by all of China's dollar-denominated debt.
First among those is the lack of security that debt holders have as a result of China's restrictions on foreign currency borrowing, which largely prevent private companies from directly borrowing from foreigners. The workaround for would-be dollar bond issuers is relatively simple. Chinese companies, unable to issue foreign currency bonds themselves, create offshore subsidiaries that issue debt then invest the funds in their domestic parent as equity. The upshot of this arrangement is that bondholders don't lend money to the operating company.
"In the event of a default, offshore bondholders may take control of an offshore holding company, but they have no direct security over the underlying onshore assets and it would be difficult for them to enforce control of onshore operations," said Sandra Chow, an Asian high yield analyst at CreditSights. "They would also be excluded from any onshore bankruptcy proceedings.
In other words, offshore bondholders are subordinate to both onshore creditors and trade creditors, and potentially mainland equity holders. That is why Deloitte Touche Tohmatsu warned Kaisa's offshore bondholders that they would be effectively wiped out if Kaisa was forced into liquidation.
As recently as early 2014, such risks seemed largely technical. Until then Chinese corporate bonds, including offshore debt, were thought to be tacitly underwritten by Beijing -- part of a policy designed to facilitate Chinese companies' access to debt. It was a state of affairs that effectively gave all Chinese corporate bonds the equivalent of a sovereign rating and made investors reckless.
As corporate debt ballooned the state decided it was time to inject rigor into its lending markets by reinserting risk. It did this by selectively withdrawing its support. In March 2014, solar equipment maker Shanghai Chaori Solar Energy Science & Technology became the first Chinese company to default on a domestic bond. It later slipped into bankruptcy, becoming the first listed Chinese company to test China's nascent insolvency process and in doing so recalibrating lenders' risk calculations.
Since then, four other domestic defaults have followed -- most recently in early June when Zhong'ao Holdings Group, a company that smokes duck legs, said it couldn't repay bank loans, blaming a slowing economy and difficulty raising new credit.
But government policy in China hasn't just stopped being positive for creditors. Kaisa showed that in some instance it has swung to the negative side of the ledger.
Behind that change is China's crackdown on government corruption. The policy of going after powerful and corrupt officials as well as the petty misdemeanors of minor bureaucrats, a strategy dubbed "killing tigers and swatting flies," has introduced a new layer of unpredictability to Chinese political risk. It is a risk that should leave creditors sleeping a little less easily.
The crackdown has already ensnared local officials involved in awarding planning and construction permissions to developers as well as other government contracts to private companies. The risk of disruption to companies' operations, or the possibility they might be implicated in corruption, has become so acute that share prices in some developers have dipped merely on news that inspectors had arrived in the regions in which they operate.
Kaisa's recent history appears to bear out this new political risk. There was little concern at the start of December that Kaisa was in trouble. On Dec. 1 Kaisa's bonds were trading at highs of 108 cents on the dollar. By early January the same bonds were exchanging hands at just over 20 cents in the dollar.
The first sign that Kaisa was in trouble arrived almost out of the blue on Dec 3., when the company asked that trading in its shares be halted. Reports quickly emerged that authorities in Shenzhen had blocked the sales of some of its real estate assets, possibly as part of a corruption investigation. On Dec. 21, those reports were partially confirmed when Kaisa said that it had been barred from selling apartments in 15 projects and had some of its rights to land parcels frozen. Yet no reason was provided for the sales ban, nor was one forthcoming when, on April 9, Kaisa announced that most of the restrictions had been lifted.
A link to the anti-corruption campaign has never been established, but the block on Kaisa's sales, and Kwok's temporary resignation at the end of December, coincided with an investigation of a former Shenzhen property official. The situation at Kaisa also closely mirrored events at another Chinese property group, Agile Property Holdings, which lost its chairman in October amid rumors of a corruption probe. He returned two months later. 
"The events suggest that the companies or their owners were embroiled in political disputes, but there is little information to substantiate this," said CreditSights' Chow. She posits that property developers, energy, transportation, steel and telecoms companies, all of which have regular dealings with local government, are most at risk of being caught in the corruption clampdown.
Such is the concern that the bonds of some Chinese property developers, including Shimao Property Holdings, have declined simply on reports that investigations are underway in areas where they operate.
Whatever the reason for Kwok's temporary resignation it also served to highlight another systemic danger for the holders of offshore Chinese debt. When the chairman left his post, it triggered a key-person clause in a loan held by HSBC Holdings that left Kaisa having to immediately repay a HK$400 million ($51.6 million) loan facility. Unable to meet the repayment, Kaisa found itself in technical default, exposed to the potential of cross-default and to further demands for accelerated payments from bondholders.
Key-man risk is endemic among Chinese property developers, many of which have entrepreneurial roots and founder-chairmen who remain large or majority shareholders. Agile was forced to hastily rewrite its key-man clauses when its chairman was placed under investigation, threatening to trigger repayment of $265 million of dollar notes held by Standard Chartered and Hang Seng Bank.
CreditSights in May identified 21 Chinese high-yield debt issuers in which the chairman and senior management owned stakes that, if sold or lost due to legal proceedings, could trigger change-of-control clauses in their debt.
Moody's suggested that property developers "with diverse ownership structures" will continue to enjoy better access to funding "due to the perception that these companies are less vulnerable to ... key-man risks." In practice, and Kaisa and Agile are the only notable precedents; banks have agreed to waive change-of-control clauses rather than enforce early repayment. For the lenders, the prospect of testing their ability to recoup dollar loans provides a powerful incentive to work with, rather than, against debt issuers.
Key-man and political risk are difficult to predict. More mundane company-related risks should be easier to foresee due to the regular company reporting. Yet Chinese high-yield issuers' accounts are at best a riddle requiring decoding and at worst simply unreliable.
Kaisa again is at the extreme of this problem. The company in early March surprised investors with a first warning that it had likely made a loss over 2014 -- a period during which it traded normally. Later that same month, it delayed the publication of its 2014 annual results, claiming auditors had asked for "more time to ascertain the cash flow position of the company." At the time of writing both the unaudited and audited 2014 accounts were still awaiting publication. Kaisa has warned of "significant adjustments."
Part of the problem for would-be investors is the immaturity of many Chinese companies -- an issue they share with many emerging-market and high-yield bond issuers. Chinese companies are required to produce three years of historical financial data in a bond offering circular -- a short horizon that can hide relatively recent problems.
The accounts themselves are also riddled with pitfalls for anyone hoping to understand the debt burden and thus risk inherent in a company's bonds. Among the many tricks available, Chinese property developers can book perpetual bonds, which pay high rates but have no set maturity date, as equity rather than debt. They can also choose not to disclose debt held by joint ventures so long as they hold a minority stake in the joint venture -- meaning that a three-way joint venture's debt can remain off the balance sheet of all of its partners.
Chinese authorities are evidently sensitive to criticism of their corporations' governance. In 2011, Moody's was handed a $3 million fine by Hong Kong's markets watchdog following the publication of a report entitled "Red Flags for Emerging Market Companies: A Focus on China."
Kaisa, notably, raised seven of Moody's red flags, beating the average of 5.7 red flags raised by the 26 property developers included in the report. The decision to fine Moody's has sparked fears that analysts will be wary of criticizing Chinese debt issuers, making the market even murkier. Moody's is appealing the fine.
Analysts who cover Chinese high yield are quick to point out that investors are largely aware of the risks and accept them in exchange for higher yields. Asian high-yield bonds, excluding Japan, regularly offer yields averaging more than 200 basis points above their U.S. and European counterparts.
Yet, for all their apparent knowledge, investors in Asian high-yield bonds were rattled by Kaisa's woes. Asian high-yield issuance (again, excluding Japan) over the first five months of this year declined to about $7 billion, accounting for just 9% of the total Asian debt issuance of $77 billion. That was down from an average of 29% over the 10 years to 2014, according to CreditSights.
The idea that a Kaisa-like event was already priced into the market is also called into question by the immediate reaction to the company's default on its overseas bonds. Spreads between Asian high-yield and U.S. high-yield bonds peaked at 270 basis points in early January as Kaisa hit the headlines, up from as little as 100 basis points in late 2014. At the height of Kaisa's woes Asian corporate dollar bonds paid average yields of about 10%, though that has since dropped to close to 7.8%, according to the Bank of America (BAC) - Get Bank of America Corporation Report Merrill Lynch index.
Any obituary of Chinese high yield would be premature. The rate differential between U.S. and Asian high yield closed to below 140 basis points by the end of April as investors shrugged off Kaisa-fueled nerves, though possibly also because of the sharp decline in supply as new issues fell off a cliff.
There will be more shocks to come after Kaisa. Chinese dollar bonds' unattractive mix of outsized risk and opaqueness make that inevitable. And one day, a company will tumble into bankruptcy, testing offshore bondholders' ability to recoup their investment.
Kaisa's offshore bondholders' decision to reject a takeover has ensured that they are still in the running to be that test case.
This article was originally published at 1:56 p.m. ET, June 19, 2015, on The Deal.