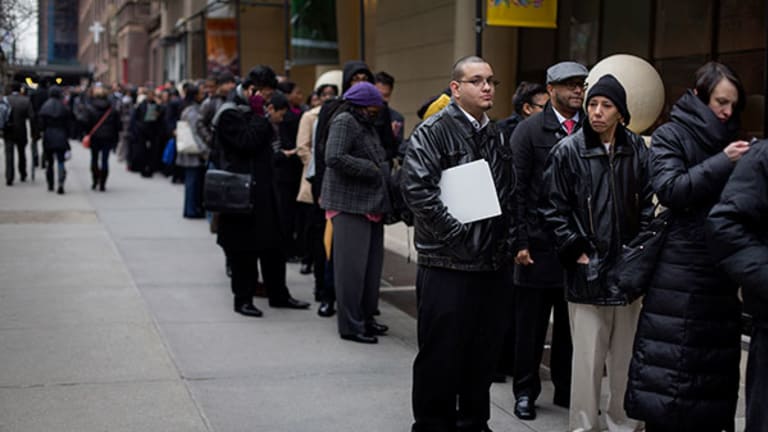 Jobs Report Weighs Heavy on Dems, GOP for Midterms
The jobs report is already influencing the midterm elections.
NEW YORK (TheStreet) -- More than a year removed from President Barack Obama's resounding defeat of former Massachusetts Gov. Mitt Romney, largely on a voter mandate that administration policies successfully pulled the U.S. economy from the worst recession since the Great Depression, jobs remain a central message driving the upcoming midterm elections.
The Labor Department reported Friday that in April the unemployment rate reached 6.3%, its lowest level since October 2008, and payrolls climbed a robust 288,000. But while economists and market strategists argued the good (headlines!) and the bad (hourly wages stagnated!), political candidates are scheming how they'll deliver their jobs platforms.
Democrats and Republicans approach the topic differently.
While the labor market has been improving, Democrats don't want to make midterms about jobs. And Republicans are trying to avoid core Democratic matters.
"You dont want to make education or health care the issue, because most people identify with Democrats on those issues," Patrick McSweeney, former Virginia GOP chairman, said in a phone interview. "The more [Democrats] make the economy and jobs the issue that is the issue we can certainly win."
It's simple. Democrats who focus on the jobs discussion risk the perception that if they're addressing unemployment, then maybe they're not doing a good enough job. Republicans who focus on immigration, health care and education must be content with economic growth, voters might assume.
The truth is, the jobs picture and the overall economy are complex beasts to tackle and to say either is "good" or "bad" completely misses the enormous incongruities different regions of the country are experiencing.
Take Friday's jobs report as an example. While the headline numbers suggest a full-bodied surge for American workers, the details show that wages haven't budged month-over-month and are regressing in year-over-year improvement -- hourly earnings grew 2.1% from March 2013 to March 2014, but only 1.9% from April 2013 to April 2014. On the positive end, the United States added the most jobs on an initial monthly report since 2010 Census hiring, and the Labor Department announced that hiring over the last two months was 36,000 jobs better than it initially calculated.
We have what seems to be some more people getting hired, but the wages can't measure with that; so you still have a sticky situation here in terms of where the economy is going to go, what long-duration [Treasury] bonds are saying and what stocks are saying," Michael Gayed, chief investment strategist at Pension Partners, said in an interview.
Try explaining that to an American employee who drops a child off at school, works more than 9 hours, goes home, makes dinner and repeats.
"The only job number that matters for the average person is the number of jobs they have; whether it's one or none," David DiMartino, a D.C.-based Democratic consultant, said in a phone interview.
Unlike during presidential elections when the national employment situation in the minds of many voters directly correlates to who they'll choose for commander in chief, midterm elections are more local. North Dakota Incumbent Rep. Kevin Cramer oversees a district (the entire state) with a 2.4% unemployment rate -- the nation's best. House incumbents in Nevada face 8.5% state unemployment -- second worst.
What works for an election in Nebraska likely won't be exactly the same to a New Jersey House race, but it's also important to know that jobs and the economy are critical regardless.
"It's subliminal," McSweeney said. "People are conscious of it when a pollster asks. It is not as easily identified as Obamacare but it's a pervasive issue."
Both parties understand this, and Republicans are attempting to turn bread-and-butter Democratic platforms into referendums on jobs, DiMartino said.
The Republican message about Obamacare is that it's killing jobs. Even though Obamacare isn't near its full implementation and it appears more likely that the employer mandate will perish, the GOP is attempting to convince voters that small businesses are being hurt by the landmark health care legislation passed by Democrats.
This isn't to say that the Affordable Care Act won't affect employers' hiring practices, but not enough evidence exists in the market place to say the ACA is depressing the possibility of robust labor growth.
Immigration, which failed to gain enough traction in 2013 to pass any legislation, is regaining momentum, as exemplified by an outcry among the Republican caucus at House Speaker John Boehner for mocking his party about immigration reform being too difficult. DiMartino argued that the GOP is turning immigration reform into a jobs discussion by saying it could hurt American workers.
But Democrats who are trying to focus on issues that steer from jobs and the economy are also doing so because the recovery remains a work in progress.
"We've had almost five years of this, and the meager performance of the economy hasn't helped them a bit," McSweeney said.
Federal Reserve Chair Janet Yellen and all of her living predecessors say they've never experienced a slow recovery like this. Of course, Yellen and Ben Bernanke weren't born until after World War II, and Paul Volcker and Alan Greenspan weren't even 5 years old when the Great Depression started. But this type of rhetoric is a reminder that economic growth since the end of the Great Recession is tepid. Only after years of monetary stimulus, massive bailouts of the financial industry and emergency fiscal stimulus have we reached a point where the S&P 500 -- the nation's benchmark stock market index -- is posting all-time highs again. Adjusted for inflation, the S&P technically hasn't reached a new high since before the recession.
Democratic candidates likely won't convince many undecided voters with those gritty details.
What it all comes down to, then, is who delivers a better message that sticks in the minds of constituents.
Investors who shun politics can relax, knowing that midterm elections won't disrupt markets (no one wants to pass massive legislative reform before elections) and critical economic indicators like the jobs report are trending in a positive direction without much indication that a huge reversal remains ahead. But "everyday folks" who continue to scrape by know that job statuses can change quickly.
>>Watch: Surge in April Jobs Shrouds Weaker Details Investors Should Fear
>>Watch: April Jobs Surge as Extreme Weather Effects Evaporate
-- Written by Joe Deaux in New York.
>Contact by Email.