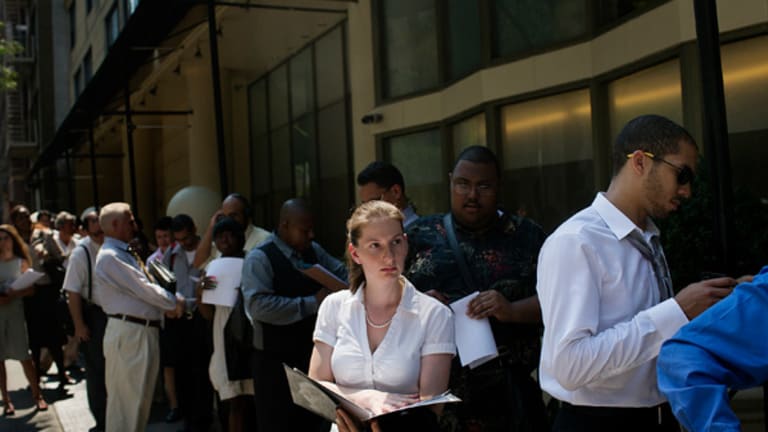 Jobs Report Spawns Twitter Conspiracy Debate
Here's what people on Twitter were saying about Friday's jobs report.
NEW YORK (
) - The unemployment rate is below 8% for the first time in three years after business payrolls gained and a survey of households showed giant employment gains. All is well.
But on
Twitter
, some saw reason to question the jobs report with former
General Electric
(GE) - Get General Electric Company (GE) Report
chief executive Jack Welch outright slamming the government's numbers.
"Unbelievable jobs numbers. these Chicago guys will do anything..can't debate so change numbers," wrote Welch on Twitter, to his 1,353,106 followers. Welch appeared to be questioning whether a lower unemployment rate was manipulated by the Obama administration, after a week performance in Wednesday's presidential debate.
The U.S. unemployment rate unexpectedly fell to 7.8% after the economy added 114,000 workers in September and August payroll figures were revised upward to 142,000. The report, which came in line with economist forecasts, puts the unemployment rate at the lowest levels since President Barack Obama took office in January 2009.
Morgan Stanley chief U.S. economist David Greenlaw characterized the September jobs numbers on Twitter as a "strong report." Greenlaw highlighted payroll gains in-line with expectations, but said other aspects in the report, including the unemployment rate came in much better than expected. "Hours and earnings were much better than expected, which is supportive of income growth," wrote Greenlaw on Twitter.
Greenlaw and many others noted that the big headline of the day - the drop in the unemployment rate below 8% -- was a result of big employment gains in the household survey, where the rate is derived. In contrast to 114,000 new nonfarm payroll jobs, the household survey showed an 873,000 gain in employment, pushing the unemployment rate to three year lows.
Economic journalists, political operatives and media pundits immediately excoriated Welch for his tweet.
Tony Fratto, a former White House official in the Bush administration rebutted Welch's claims. "BLS is not manipulating data. Evidence of such would be a scandal of enormous proportions & loss of credibility," wrote Fratto on Twitter.
When parsing over the numbers, Wall Street insiders saw reason to be skeptical of how good a report September figures actually were.
Daniel Alpert a managing partner of investment bank Westwood Capital noted the large benefit that part time workers gave to the unemployment rate. "Whoa, folks, stop the music," wrote Alpert, on Twitter. He noted a 582,000 increase in part time workers - a general negative - that pushed the unemployment rate lower. "The unemp. rate went down b/c of part time," wrote Alpert.
Greenlaw of Morgan Stanley and Lawrence McDonald, a managing director at Newedge, both noted that upward August nonfarm payrolls revisions were concentrated in government jobs. "
Upward revisions were ALL gov't jobs and private sector was revised lower," wrote McDonald. "Large upward revisions to payrolls in July and Aug. Most of this was concentrated in the S&L govt sector," noted Greenlaw.
On Bloomberg TV, Douglas Holtz-Eakin, an adviser to the Romney campaign and the chief economic policy adviser to U.S. Senator John McCain's 2008 presidential run directly dismissed claims by GE's Welch that employment data was manipulated. Still, he noted the fall in the unemployment rate was less an indication of actual economic growth and was more of a one-time aberration. "The unemployment rate is just a fluke," said Eakin, who called the 7.8% unemployment rate a "statistical anomaly."
In the
Bureau of Labor Statistics
monthly jobs report, overall job gains or losses - called total non-farm payrolls -- are taken from what's called the establishment survey of businesses. The unemployment rate, in contrast, is derived from a smaller survey of 60,000 small businesses and households, called the household survey.
Jim Cramer also noted on Twitter that were the monthly jobs report to be done by private companies like
SAP
(SAP) - Get SAP SE Sponsored ADR Report
and
Tibco Software
(TIBX)
instead of the Department of Labor, payroll calculations could be done on a daily basis. "Just give the payroll calc job to $SAP or $TIBX and we can get them daily!," wrote Cramer.
Follow @agara2004
-- Written by Antoine Gara in New York