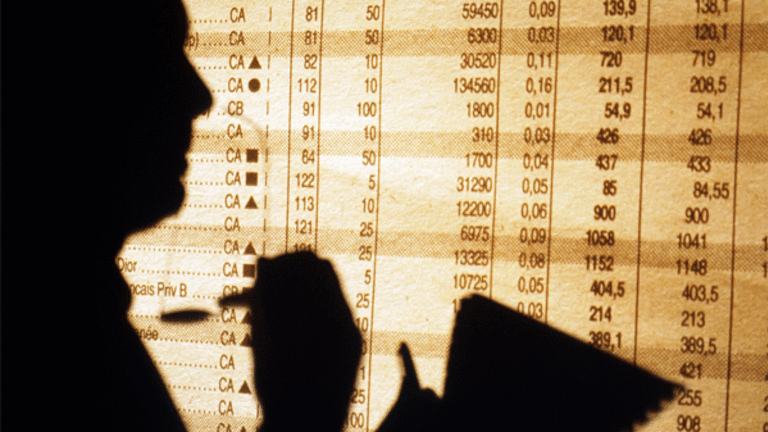 Jobs Report Is a Rorschach Test
The U.S. jobs market expanded in January, if the consensus forecast of analysts is correct, but even if it did, the numbers must be taken with a grain of salt.
WASHINGTON (TheStreet ) -- A wide array of predictions exist for the U.S. job market in January ahead of the government's nonfarm payrolls report Friday, but the more upbeat assessments come laden with a host of caveats.
First, the good news: The consensus predicts that 15,000 jobs were added to payrolls in January, according to Briefing.com. That would represent only the second positive reading in the last two years, but a definite step in the right direction after December's report showed employers shed 85,000 jobs. Still, individual estimates are varying widely in both directions, suggesting that a negative number wouldn't come as a surprise to anyone.
Analysts also expect the nation's unemployment rate to hold steady at 10%.
But job growth remains elusive. Just see Thursday's
initial jobless claims report, which showed applications edged up again last week to their highest level since December. That helped accelerate a sharp stock selloff Thursday, as jittery investors turned pessimistic ahead of the jobs report.
Now, the grim news: Even if we see a marginal upturn in jobs, some economists say they may need to be taken with a major grain of salt. The December cold snap -- it was the 14th coldest showing for the month in the last 115 years -- likely played some role in the unexpected drop in jobs that month, particularly in construction. Employers, in turn, probably picked up more workers in the aftermath.
Also, fewer people showed up for work because of the bitter cold, making surveying by the Bureau of Labor Statistics more problematic, says Chris Low, chief economist at FTN Financial. Seasonal adjustment measures, too, may inflate the January figure more than usual. In typical years, retailers and others hire more in October and November in preparation for the holiday season. They then release those workers in the new year. Seasonal modeling adjusts for this trend, weighing down the tally in the fall while boosting the number in the spring.
Because last year's holiday hiring was tepid, there were fewer job losses in the aftermath. Low, who anticipates nonfarm payrolls added 100,000 jobs in January, said the seasonal adjustments will juice the January number more than usual as a result.
"The seasonal adjustment numbers are based on 20 years worth of data," Low said. "These are little quirks that nine years out of ten don't matter. But at turning points you have to bear them in mind."
The government is also rolling out another employment program of sorts. Jobs are filling up in preparation for the Census season. John Canally, economist at LPL Financial, says census years typically see about 20,000 to 50,000 census worker additions in January. Those jobs may boost the headlining jobs report figure in the short term, but they lack the organic nature and long-term staying power market watchers desire.
"The numbers count. Those people have jobs, though it's only temporary jobs," Canally said. "That being said, it's sort of like a built-in stimulus plan that was built in to the budget years ago, so it doesn't really hurt anybody."
Above all, most will be eyeing the the Bureau of Labor Statistics' latest benchmark revisions. Because of a much-ballyhooed statistical oddity known as the Birth/Death model and the breakneck pace of losses during the recession, the Labor Department was vastly more optimistic about job losses than they should have been. The bureau admitted as much back in October, warning that 824,000 more jobs were likely lost than first realized between April 2008 and March 2009. Those jobs will officially disappear in the final benchmark revision within Friday's report.
To be sure, the sharp downward revision won't specifically affect January payroll numbers. Monthly numbers since March 2009 may be revised slightly to reflect this new reality. But the same statistical modeling technique that led to the massive underestimate last year is still being used. If nonfarm payrolls see a marginal pop on Friday, it will be easy for detractors to shrug it off since it could merely be revised down during the next benchmark revision in 2011.
"The question there becomes, 'can we trust this data at all,' and my answer to that is it's probably the best data set in the world for this data and they really spend all of time thinking about this," Canally said. "Given all these distortions, I think the market might just throw up its hands and say 'I don't know what's going on.'"
"You'd love to see a clean number at a turning point and we're not going to get it," Canally added. "It just leaves the number to anyone's interpretation."
Most agree that evidence appears to be supporting economic growth on several fronts. This week alone, the Institute for Supply Management said activity in the
manufacturing and
services sectors each showed improvement in January. Individual measures tracking employment in each realm also bettered during the month.
And news that the
nation's economy grew at its fastest clip in six years in the second quarter is buoying hopes that a jobs rebound is coming soon.
"The data so far is indicating we
should
see some improvement," said Robert Pavlik, chief investment officer at Oaktree Asset Management. "And you're seeing growth in areas of the economy that lead you to believe that certainly some job creation may have occurred."
But several major layoff announcements from
Verizon
(VZ) - Get Free Report
,
Wal-Mart
(WMT) - Get Free Report
and
Home Depot
(HD) - Get Free Report
were only adding to the more despairing sentiment.
On a brighter note,
Cisco
(CSCO) - Get Free Report
CEO John Chambers said the tech bellwether will add as much as 3,000 jobs in the coming quarters, highlighting the rebounding economy.
The unemployment problem became even more stark last week when President Barack Obama made job creation a focal point of his administration in his
State of the Union address.
"I guess, on one level, you can take the recovery at face value, but the source of the turnaround is going to be gone," Low said. "There's some risk that with federal money no longer coming to the economy, this thing isn't going to be sustainable. But hopefully, it is. And it should be sustainable because we should have some job and income growth soon enough."
-- Written by Sung Moss in New York