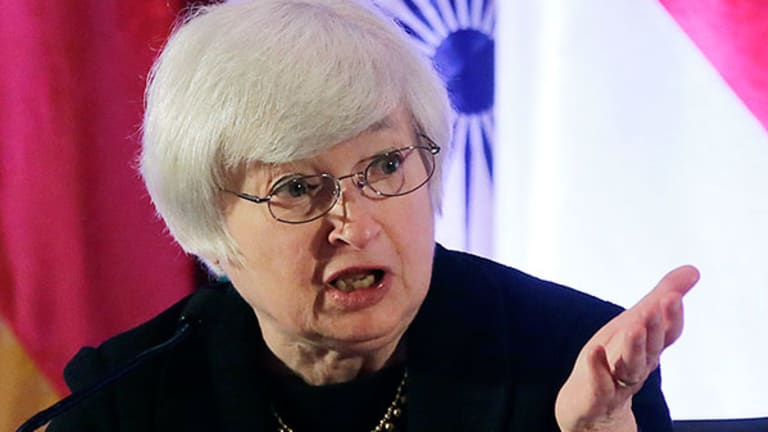 Insanely Crazy but Wildly Effective Fed Bond-Buying Program to Halt in October
Fed minutes for the June meeting show the central bank is ready to end its unprecedented economic stimulus program by October.
Updated from 2:27 p.m. ET with comments from Bank of America senior U.S. economist Michael Hanson
NEW YORK (TheStreet) -- The Federal Reserve is set to finish its unprecedented economic stimulus program in October.
Minutes released for the June meeting of the Fed's policy-making arm, the Federal Open Market Committee, showed that members are seeking to end so-called quantitative easing if current economic conditions end by October 2014 with a final cut of $15 billion in its asset purchases.

WATCH: More market update videos on TheStreet TV | More videos from Joe Deaux
"[I]t would be appropriate to complete asset purchases with a $15 billion reduction in the pace of purchases in order to avoid having the small, remaining level of purchases receive undue focus among investors," the minutes said.
The Fed currently is purchasing $15 billion a month in mortgage-backed securities and $20 billion a month in longer-term Treasuries. The central bank has been scaling back buying in each of those asset classes at a pace of $5 billion a month, which at the current rate would leave $5 billion a month of longer-term Treasuries to remain after October.
Ending the program in October would eliminate that possibility.
Fed officials said they witnessed investors as complacent on risk taking -- a suggestion that maybe investors are overly confident in improving economic data and a continuing low interest rate environment.
"They want to note that this is not a done deal, that they're not tied into a particular schedule, they're going to react to changes in their perception of the outlook, and that depends both on uncertainty on the economy, and there's some uncertainty about policy," Michael Hanson, senior U.S. economist at Bank of America, said in an interview.
Critics of the central bank's economic stimulus programs argued that it has encouraged investors to pile into, among other assets, equities and push up share prices and index averages on the assumption that the Fed will continue to support the recovering economy by forcing investors out of ultra-safe government bonds.
Other highlights in the minutes included that members think the housing sector remains soft, while capital expenditures by companies is increasing. FOMC members also said risks in inflation, jobs and economic growth are about even.
Jobs, however, have shown resiliency as the June nonfarm payrolls report showed the U.S. economy added more than 200,000 jobs for the fifth straight month -- a streak that hasn't occurred since 1999 to 2000. 
While politicians in Washington may suggest the extremes of the labor market -- that jobs growth is terrible, or that labor improvements are exceptional -- Paul Millard, managing partner of search firm The Millard Group, said the market is in the middle. Millard said employers and employees are on more equal footing.
-- Written by Joe Deaux in New York.
>Contact by Email.