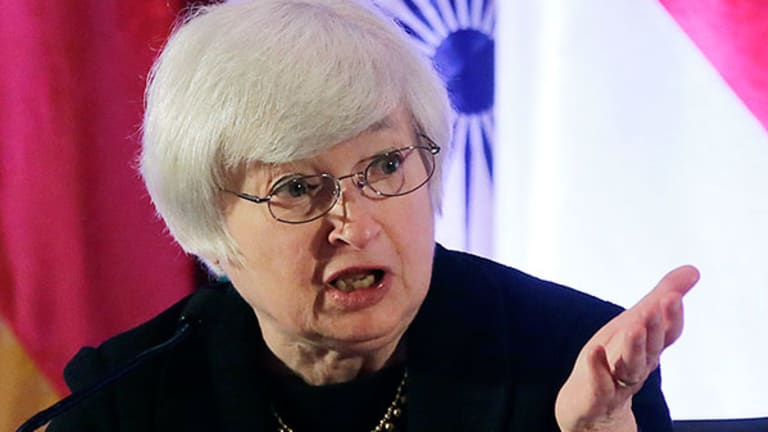 Inflation Pressures Abate, at Least for Now
Inflation pressures pull back, at least for now.
Inflation pressures pull back, at least for now.
NEW YORK (TheStreet) -- Inflation pressures pulled back in June, allowing investors to push back fears of rising prices by at least another month.
The Bureau of Labor Statistics said Tuesday that consumer prices in June rose 0.1% from the prior month, undercutting economists' average forecast of a 0.3% increase. Prices climbed 1.9% in June 2013. 
"There's no question that we've seen inflation creep back in over the last six months. The point that I'm making is that these last two metrics we saw … on CPI and PPI, respectively, show a diminution in inflationary pressures at the core level, and that's what matters," Phil Orlando, chief equity strategist at Federated Investors, said in a phone interview from New York.
Orlando was referring to the core producer price index, a measure of cost increases for producers, which rose 0.2% in June from the prior month -- in line with economists' expectations -- as the year-over-year increase was 1.7%.
Gasoline costs in the June report posted the biggest gain since June 2013.
Market participants keep an eye on consumer prices because the Federal Reserve uses core inflation -- which excludes volatile gasoline and food prices -- as a key indicator to determine whether it must increase interest rates or keep them at historically low levels to cool down or heat up the economy.
Among economists, the question remains whether the U.S. economy is beginning to witness a real rise in inflation that should force the central bank to boost its benchmark interest rate.
"Overall, we still expect that a faster rise in core inflation will prompt the Fed to start hiking interest rates in March and force it to raise them further than widely expected," Paul Dales, senior U.S. economist at Capital Economics, wrote in a note to clients.
Fed Chair Janet Yellen has reiterated that the central bank won't raise the federal funds rate until a "significant" amount of time after it ends the economic stimulus program, but critics argued that if the core rate rises above the Fed's 2% objective then it will force the Fed to rein in rising prices amid a still-recovering economy.
However, Yellen last week told the Senate Banking Committee that she isn't worried about inflation because she said the country isn't to the point where a rise in wages could give way to a rise in inflation and she thinks that if inflation rises above 2% it won't peak much higher than that in the longer term.
-- Written by Joe Deaux in New York.
>Contact by Email.