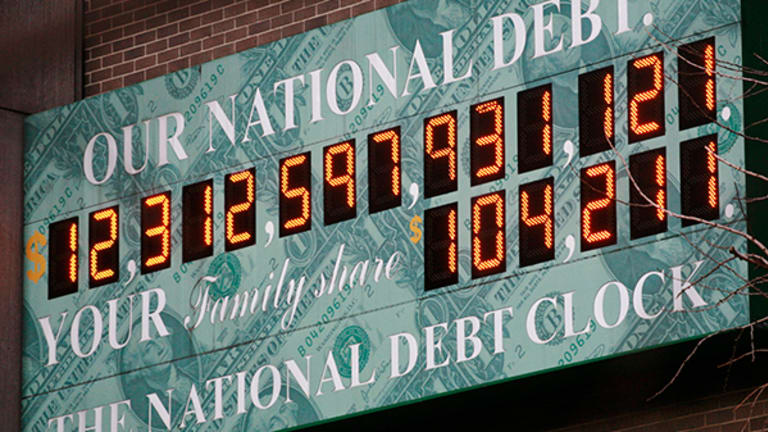 Publish date:
How China's Treasury Sales Create a Huge Problem for Trump Tax Plan
Foreign governments and investors in China, Japan and elsewhere have footed the bill for an ever-expanding U.S. national debt. Yet signs are emerging that such buyers are losing interest.
Foreign governments and investors in China, Japan and elsewhere have footed the bill for an ever-expanding U.S. national debt. Yet signs are emerging that such buyers are losing interest.
Signs are growing that the United States' nearly $20 trillion national debt is becoming unsustainable -- at exactly the worst time for President Donald Trump's plans to slash taxes and boost government spending.
Foreign governments and investors have sold a combined $361 billion of long-term U.S. Treasury bonds since June, data show. During the prior decade, foreigners' holdings had tripled to a record $5.6 trillion, driven by big buyers like China and Japan.
While economists and officials have warned for years that the national debt was becoming unwieldy, the recent selling by foreigners is the clearest sign yet of growing international concerns about the U.S. government's creditworthiness, says Dick Bove, a five-decade Wall Street veteran who now works at Rafferty Capital Markets in Lutz, Fla.
And that could spell trouble for Trump's pledge to stimulate the economy with tax cuts and $1 trillion of spending on infrastructure like bridges, roads and pipelines. The government's interest payments on the debt already are running at about $270 billion a year -- nearly half the budget for the entire Department of Defense and more than twice that of the Department of Agriculture. As interest rates rise over the coming decade, while the debt continues to swell, those payments will triple, the Congressional Budget Office projects.
"There's all these grandiose plans for what Republicans are going to do now that they're in office, but somebody's got to buy this deficit that they're building," Bove said. "In the past, it's always been foreigners, but they don't want to do it anymore."
Following the defeat last week of Trump's attempt to overhaul former President Barack Obama's Affordable Care Act, lawmakers are shifting their focus to rewriting the tax code. A major question is whether a bill can be crafted with sufficient new revenue sources -- through taxes on imports, for example -- to offset the proposed cuts. Such balance could prove key to appeasing fiscal conservatives in the House of Representatives who repeatedly bucked Trump's healthcare ambitions.
Trump administration officials say their tax cuts will stimulate growth, leading to a bigger economy that will eventually produce higher collections -- an echo of the "supply-side" policies advocated by former President Ronald Reagan during the 1980s.
Yet the Tax Policy Center, a nonpartisan think tank in Washington, estimated in October that Trump's budget plan would add $7.2 trillion to the national debt over the first decade.
All the while, the urgency of addressing the nation's debt burden is growing, according to the Government Accountability Office, which published a report in January urging "prompt action" on the matter. U.S. Comptroller General Gene Dodaro said in an accompanying statement that he's "deeply concerned about our government's unsustainable long-term fiscal path."
According to the report, publicly held national debt will climb to a new record of 107% of gross domestic product in 15-25 years. The previous record of 106% was set in 1946, following a giant surge in military spending during World War II. Currently, the figure stands at about 77%.
The Congressional Budget Office, in a separate report in January, projected that interest payments will account for about $11 of every $100 of annual expenditures within a decade, compared with about $6.70 now.
That's partly because interest rates on 10-year Treasury notes are projected to rise to 3.6% in a decade, from about 2.1% in the fourth quarter of 2016, according to the report.
Such high and rising debt would likely drag on wages and labor productivity, while leaving lawmakers with less flexibility to respond to emergencies, according to the report. There's also a risk that that both foreign and domestic investors could become increasingly reluctant to finance the U.S. government's borrowing -- pushing interest rates on Treasury bonds even higher.
According to Bove, that's already happening.
For the past several years, China has been selling Treasuries held in its $3 trillion of foreign reserves, as part of an effort to stabilize the country's currency amid a wave of capital outflows.
Japanese investors, the second-biggest group of foreign holders, have also been selling. As of January, Japanese holdings of long-term Treasury bonds stood at $1.05 trillion, down from roughly $1.2 trillion in 2014.
Another big buyer of U.S. debt -- the U.S. Federal Reserve -- looks similarly constrained. The Fed earlier this decade amassed nearly $2.5 trillion of Treasury bonds through former Chairman Ben Bernanke's "quantitative easing" program, a series of asset purchases designed to stimulate the economy and drive down unemployment following the financial crisis of 2008.
But that program was phased out in 2014, and Fed officials are now discussing ways to shrink the central bank's balance sheet, possibly by running down its holdings of Treasuries.
So who will buy the national debt in the Trump era?
American investors will probably have to step up, though interest rates on Treasury bonds will have to go much higher to entice them, Bove says. U.S. banks, from JPMorgan Chase (JPM) - Get Report to Goldman Sachs (GS) - Get Report and Bank of America (BAC) - Get Report , also are likely to be pressed by authorities to buy ever-greater amounts of the government's debt, he says.
"At some point your debt becomes so overwhelming, so huge, that that becomes the main priority," Bove said. "I think we've reached that point."
Read More Related Articles Here:
China President Xi to Meet Trump Next Week
Trump's Tax Plans: Biggest Winners and Losers