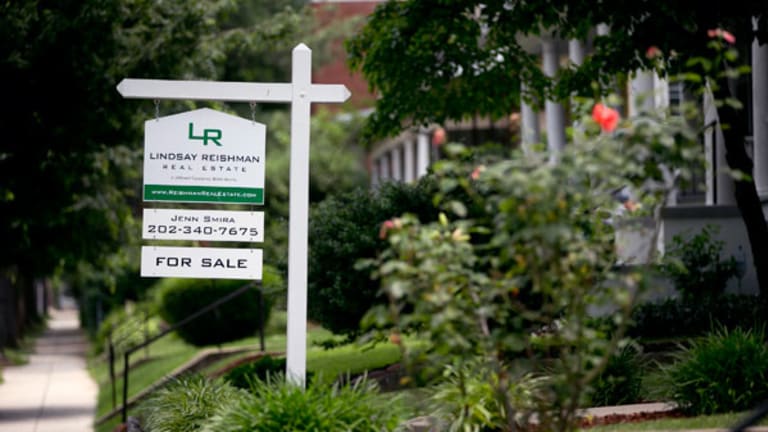 [video] Home Prices Rise at Fastest Annual Pace Since February 2006 (Update 1)
The S&P Case-Shiller 20-City Composite Index rose 13.3% year-over-year in September.
Updated from 9:13 a.m. ET with additional information
NEW YORK (TheStreet) -- Home prices rose 13.3% year-over-year in September, the fastest annual pace since February 2006.
The widely followed S&P Case-Shiller 20-City Composite Index rose 1% in September from August, on a seasonally adjusted basis. Economists expected a 0.9% rise according to consensus estimates from Bloomberg.
Unadjusted for seasonality, prices were up 0.7% in line with estimates.
The U.S. National Home Price Index rose 3.2% in the third quarter of 2013 and is up 11.2% in the last four quarters, the strongest figure since the peak in 2006.
The Case- Shiller Index is based on a three-month moving average and therefore reflects price trends for the months of July, August and September. It is also based on closed transactions, which means contracts to buy homes were signed a couple of months earlier.
Regionally, the West continues to lead the recovery, with las Vegas gaining 29.1% year-over-year, followed by San Francisco at 25.7%.
Cities such as San Francisco, Los Angeles and Chicago posted their highest yearly gains since 2005. The 20-City Composite Index is up 23.6% from the March 2012 bottom and is still about 20% below its previous peak.
While the data for September is strong, it also points to a continued slowdown in monthly gains. While 13 of the 20 cities posted stronger annual gains, 19 of the 20 cities saw prices decelerate in September. Las Vegas went from a monthly gain of 2.9% in August to 1.3% in September.
The slowdown in monthly gains is however seen as welcome news in some parts of the country such as California, where rapid price increases have sparked concerns of a bubble.
S&P's David Blitzer said those worries could now be abating. "The strong price gains in the West are sparking questions and concerns about the possibility of another bubble. However the talk is focused on fear of a bubble, not a rush to join the party and buy," he said in a statement.  "Moreover, other data suggest a market beginning to shift to slower growth rather than one about to accelerate. Existing home sales weakened in the most recent report, home construction remains far below the boom levels of six or seven years ago and interest rates are expected to be higher a year from now. "
He added that for the long-term question for the housing recovery is whether household formation will continue to recover and whether homeownership will reach peak 2004 levels.
Homeownership today is round 65% compared to its peak of 69%. Some economists believe that the homeownership rate will not recover to the previous peak.
-- Written by Shanthi Bharatwaj in New York.
Disclosure: TheStreet's editorial policy prohibits staff editors and reporters from holding positions in any individual stocks.