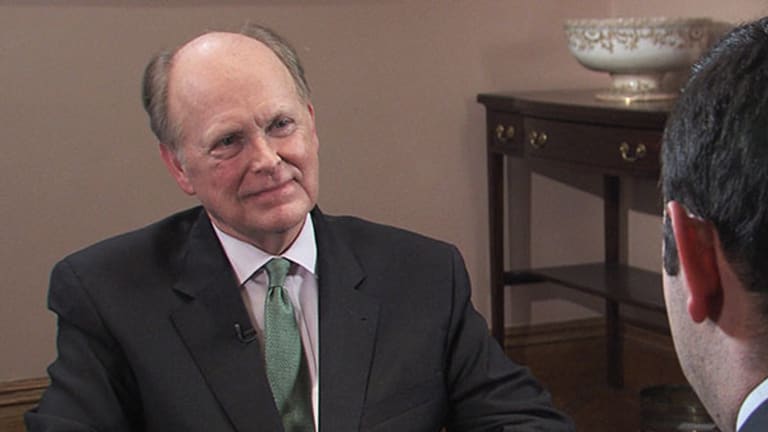 Here's Everything You Need to Know About Charles Plosser's Latest Federal Reserve Views
Philadelphia Fed President Charles Plosser sat down for an interview with TheStreet to explain his latest policy views following the March policy-making meeting.
NEW YORK (TheStreet) -- Philadelphia Fed President Charles Plosser said the Federal Reserve's economic stimulus program will end sometime later in the year.
Plosser, in an interview with TheStreet, said the central bank's monthly asset purchases of mortgage backed securities and longer term Treasuries will end by the September, October or December policy-making meeting.
The Fed since 2012 purchased these assets at a pace of $85 billion per month until December, when it started to taper the pace that now sits at $55 billion a month. Plosser's forecast suggests that the FOMC will curb stimulus by about $10 billion per meeting until there is no more stimulus.
Critical to that move is that Chair Janet Yellen said last week to reporters that the policy-making arm likely would begin to raise the federal funds rate six months after. The rate has remained at the historically low level of zero to 0.25% since late 2008.
Plosser, who last month said at a monetary policy forum in New York that the Fed should drop its unemployment rate threshold language, said the committee had "no choice" but to drop the language.
While he said the latest FOMC statement was a step in the right direction, the Philadelphia Fed president said the group of policy makers must draft more specific guidance for the markets.
Plosser remains worried about long-term unemployment in the United States, saying there's not a "magic bullet" to solve the problem.
Reflecting on the Fed's actions since the 2008 financial crisis, Plosser said if the central bank closely followed his guidance interest rates would be a little bit higher and "perhaps" the economy would be stronger.
You can check out Part I, Part II and Part III of the interview on TheStreet.
-- Written by Joe Deaux in New York.
>Contact by Email.