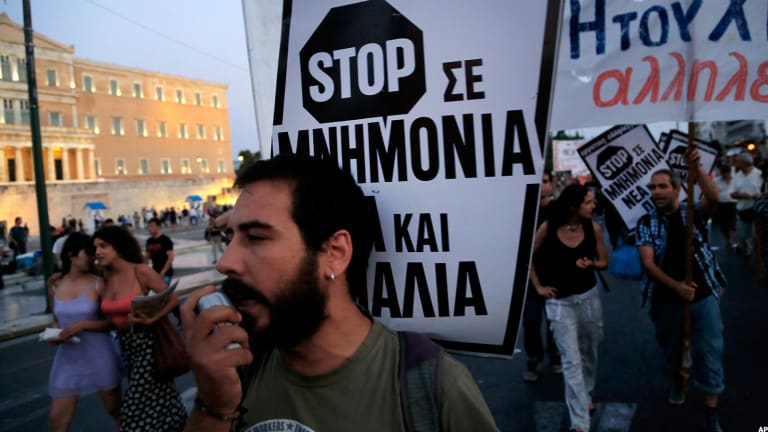 Greece Council of State Rejects Appeal to Cancel Referendum
Update: Greece's top court rejected an appeal to cancel the vote that will allow citizens to accept or reject creditors' terms on sovereign debt it owes.
Update: This article, originally published Thursday at 1:03 p.m., has been updated with an Associated Press report in the first two paragraphs.
NEW YORK (TheStreet) -- A last-minute effort to call off the referendum that will put in Greece's voters' hands the outcome of the sovereign's debt negotiations with international creditors has failed, according to reports. 
Greece announced that its Council of State -- the nation's supreme administrative court -- rejected an appeal to cancel the referendum and the vote will go ahead.
The latest proposal from Greece's creditors is €60 billion short of what the country actually needs, a report released Thursday said.
In its paper, the International Monetary Fund said changes in both Greece's policies and economic outlook from those earlier this year mean the country will need at least that much more over the next three years. Part of that shift in outlook was included in the report, which cut growth expectations for the country from 2.5% to zero.
The institution also recommended extending Greece's payment deadlines and reducing interest rates in order to give it more "breathing space."
The report is seemingly a boost for Prime Minister Alexis Tsipras and others encouraging Greeks to vote against the latest bailout plan from creditors, which include the IMF and the Eurogroup. Since quitting negotiations and announcing the referendum last weekend, the leftist PM has argued that Greece needs a better deal with its creditors.
A survey late Wednesday from polling firm GPO showed voters were split on whether to accept the current proposal: 47% of likely voters are planning to support a proposal that includes cuts to pensions and other austerity measures from the International Monetary Fund, the European Commission and the European Central Bank. Another 43% said they would reject it during Sunday's referendum, as Prime Minister Alexis Tsipras has urged.
Tsipras called for the referendum after walking away from talks with creditors last weekend, and European leaders have snubbed his efforts to resume talks since. Negotiations are impossible, they said, until after the vote, which will end around noon EST on Sunday. Exit polls are expected shortly afterward.
If a majority vote for the creditors' most recent proposal, the Greek government itself could see the first casualties. That result would leave little negotiating room for Tsipras, who insisted Wednesday that rejecting it would yield a better bargain for Greek residents, not a default and exit from the Euro currency as other European leaders have predicted.
He would basically be forced to accept the creditors' demands without amendments, said Nicholas Burns, a professor at Harvard University and former U.S. Ambassador to Greece. It's also likely some key figures in his government would leave: Finance Minister Yanis Varoufakis has already told Bloomberg that he will resign if voters approve the current plan.
If a majority vote against the current proposal, Tsipras will be able to return to negotiations with a mandate from voters -- albeit those from his own country, whose dissatisfaction with austerity measures was already well known -- for changes.
"The referendum is part of a negotiating strategy," Burns told TheStreet in an interview. "I think he's miscalculated, I don't think it's going to work out to his advantage, but that's I think what his game is."
With a majority of Greek voters on his side, Tsipras might be able to win concessions from creditors that he asked for on Tuesday in a letter to Jean Claude Juncker, the president of the European Commission.
Tsipras' amendments included maintaining a discounted value-added tax for Greece's islands, slowing reforms to pensions and extending the EU's bailout for Greece, according to the letter.
In response to the proposed changes, Eurogroup President Jeroen Dijsselbloem said on Wednesday night that his group saw "no grounds for further talks at this point" and would not renew the bailout agreement that expired Tuesday night.
It's also possible a 'no' vote could seal Greece's exit from the euro. Michael Ingram, an analyst with New York-based BGC Partners, said markets were underestimating the chance Greeks would vote against creditors' proposals.
If Greece votes 'no,' he told TheStreet, there is an 80% chance it will leave the Eurozone.
Ahead of Sunday's vote, the Greek government set up a website to educate voters ahead of the referendum. The site includes statistics on the impact of the country's financial crisis and information about referendums held in other European countries in the past 15 years.
It also includes a link, titled "Where I vote," which takes visitors to a page containing a justification for the referendum according to the Greek constitution but no information on where to vote.
Regardless of the result of Sunday's vote, Tsipras and his government will need to return to negotiations with the IMF and the Eurozone's leaders, said Peter Sanfey, a regional economist covering Southeast Europe for the European Bank for Reconstruction and Development.
Without agreement on what to do next, he said, "prospects [will] remain so very bleak."
For more coverage of the Greek debt crisis from TheStreet, see:
This article is commentary by an independent contributor. At the time of publication, the author held TK positions in the stocks mentioned.