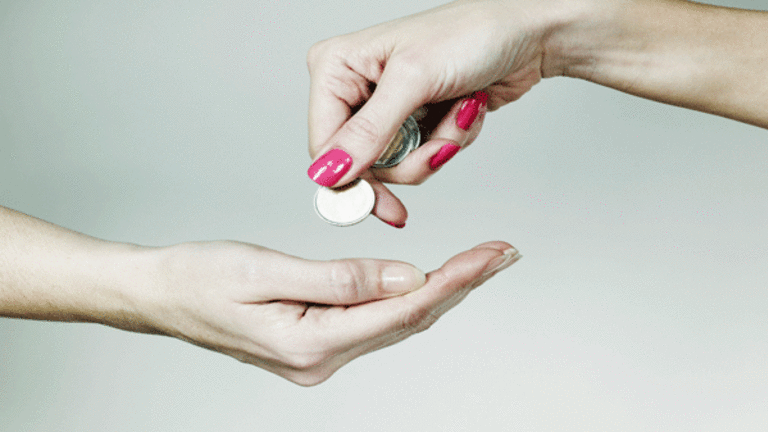 Global Concerns to Outweigh Data in Coming Week
Strategists expect concerns about QE2 and currencies, eurozone debt, and a potential Chinese interest rate hike to occupy the market next week.
NEW YORK (
) -- Global concerns hijacked the market a week after news of the
Federal Reserve's
plan to infuse the U.S. economy with its $600 billion program of long-term Treasury security purchases sent stocks to two-year highs.
This past week, renewed fears surrounding debt-logged eurozone economies and the impact that a probable interest rate hike in China will have on global growth caused U.S. stocks to finish with weekly losses of roughly 2%. Although the coming week brings a "datapalooza" to U.S. markets, according to Direct Access Partners' Mike Shea, U.S. economic reports will likely be a sideshow while the currency trade plays out on the main stage.
"We've got everything next week. I think the industrial production and capacity reports will be important because people will be watching to see that things continue to follow through. Retail sales on Monday will also be closely-watched for that reason," said Shea, managing partner in equity sales and trading at Direct Access Partners.
"CPI is always one of the most important reports and also one of the sketchiest because a large component of it is rent, and we all know rents aren't going up, but ask anyone who's doing Thanksgiving shopping, they'll tell you that food prices have gone up. So I think PPI will be a more indicative number than CPI," he said, adding, "But at the end of the day, I'm not actually sure that any of this data matters as much as what's happening in currencies. We're still very much in a global, macro trade."
In the past week, China said its consumer price index rose 4.4% year over year in October, bringing average inflation for the year to the government's target of 3%. That's increased the likelihood that the country will enact measures to slow economic growth.
> > Bull or Bear? Vote in Our Poll
Meanwhile, concerns about how weak eurozone economies will pay huge levels of debt returned to the market.
"I think global issues will have an impact in the coming week," said Mike McGervey, president of McGervey Wealth Management. "Currency wars are likely to continue and the sovereign debt issues that were on the back burner for a while have come back -- and anytime they've come back, they've reared their ugly heads. They've had an impact here despite favorable news on our side," he said, pointing to a stronger-than-expected read on November consumer sentiment on Friday.
"If you subscribe to the theory that China drives global growth, then whatever they do will be more important than whatever happens in Ireland, which will probably get resolved," said Shea of Direct Access Partners, pointing to an Irish bond rally Friday spurred by assurance from the European Union that it is prepared to step in and support Ireland if needed.
Investors will also be watching the U.S. Treasury market in the coming week as the Fed initiated its second round of quantitative easing on Friday, buying $7.229 billion of Treasury securities as part of its plan to purchase $600 billion of Treasuries through June 2011. The central bank bought 16 of the 24 securities maturing from November 2014 through April 2016, but yields on the benchmark 10-year Treasury note unexpectedly rose.
Whether the market reacts or not, the coming week delivers a diverse set of economic data to investors next week.
On Monday, the Commerce Department issues its October retail sales report, which is expected to show an increase of 0.7% and growth of 0.4%, excluding autos. That compares to September's growth of 0.6%, and a 0.4% uptick, excluding autos.
"The October retail sales report initially looks to be the most important new information, but any surprises from either CPI or regional production surveys could also significantly impact the tone of the economic news," said Joseph LaVorgna, Deutsche Bank chief U.S. economist, in a recent note. He added, "Given our assumption that the household savings rate is stabilizing and the labor market recovery is accelerating, we project a significant acceleration in consumer spending over the coming quarters."
Monday also brings the November Empire Manufacturing report, which is projected to fall to 11.7, after October's reading of 15.73, and September business inventories. According to Briefing.com, inventories are slated to show 0.9% growth, after climbing 0.6% higher in August.
On Tuesday, economists expect to see that producer prices climbed 0.8% in October, after rising 0.4% in the previous month. The core rate, which excludes volatile food and energy prices, is expected to increase by 0.1%, according to Briefing.com.
Later in the morning, the Federal Reserve is expected to report that industrial production gained 0.3% in October, after dropping 0.2% in September. Capacity utilization is forecast to tick up to 74.9%, from 74.7%, in the prior month.
At 10 a.m. EST, the National Association of Home Builders releases its November index. Economists anticipate a reading of 15, from 16, previously.
The consumer price index for October will be released on Wednesday. The market is looking for growth of 0.3%, after a milder uptick of 0.1% in September, while the core rate is slated to inch up 0.1% after remaining flat last month.
"We project tame increases at the core level, while food and energy prices are likely to push the headline readings up more quickly," LaVorgna said, forecasting PPI headline growth of 1%, PPI core growth of 0.2%, and CPI headline and core growth of 0.3% and 0.1%, respectively.
"We are not concerned about further disinflation turning into outright deflation, because we believe the economy is currently passing through an inflection point following which inflation will gradually begin to trend higher as economic momentum builds," he said.
Also on Wednesday, the Commerce Department issues data on October housing starts and building permits. Starts are expected to dip to a 600,000-unit annual rate, from the previous month's 610,000 pace, while permits are forecast to climb to a 565,000-unit annual clip, up from the previous month's 539,000 rate.
Thursday's releases close out the week. They begin with the Labor Department's weekly report on initial jobless claims. According to Briefing.com, economists expect claims to rise to 442,000, from 435,000, previously.
The 10 o'clock hour brings October leading indicators from the Conference Board. The market is looking for an increase of 0.6%, up from 0.3%.
Also at 10 a.m., the market gets a read on manufacturing activity in the Philadelphia region in November. Economists anticipate a stronger index reading of 4.5, after October's level of 1.
--Written by Melinda Peer in New York
.
Disclosure: TheStreet's editorial policy prohibits staff editors and reporters from holding positions in any individual stocks.