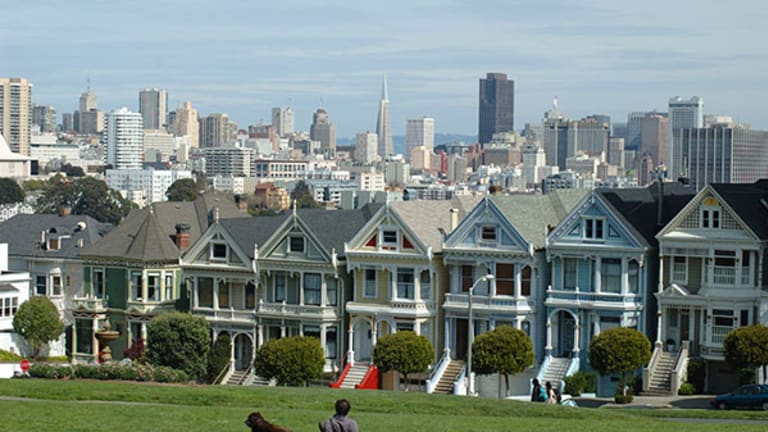 For Seriously Unaffordable Homes, Try San Francisco Bay Area
Trulia identifies markets where homes for sale are most within reach for the middle class. The contrast is quite stark.
NEW YORK (
) -- Despite rising home prices, higher interest rates and tight credit, most economists and analysts insist that housing is still highly affordable by historical standards. If you think that statement is ludicrous, you probably live in the San Francisco Bay Area or in New York.
Economists are quoting national averages when they compare the median-priced home to the median household income. But as the saying goes, in real estate, everything is local.
Trulia
chief economist Jed Kolko is out with a new
identifying markets where homes for sale are most within reach for the middle class.
Kolko considers a home affordable if the total monthly payment for the home is no more than 31% of the metro's median household income. The monthly payment assumes a 4.5% 30-year fixed rate mortgage and a 20% downpayment.
The results weren't very surprising though the contrast is quite stark.
Housing is most affordable in the Midwest. In Chicago, for instance, where median household income is $58,911, homes under $254,000 are within reach based on the 31% guideline. Of the homes listed for sale, 73% are priced below $254,000, which means three quarters of Chicago homes are within reach for the middle class.
The most affordable housing market is Akron, Ohio, where 86% of the homes listed for sale are within reach for the middle class. Dayton, Ohio and Toledo, Ohio round out the top three.
Click here for the complete
.
The least affordable market by this metric is San Francisco. Although San Francisco median household incomes are higher than Akron, the median price per square foot is nearly 7 times higher. Only 14% of the homes available for sale in city are within reach of the middle class.
Orange County and Los Angeles in California also figure in the top of the list of least affordable markets, as does New York.
In New York, only 25% of the homes are affordable. Of course, even here regional differences matter. Manhattan, New York is clearly unaffordable to the middle class, with only 2.5% of the homes available for sale within their reach. In the Bronx and Nassau, 40% of the homes listed for sale are affordable for the middle class.
Kolko noted another challenge that people in these cities face. Not only are their fewer affordable homes available, but the space is small. "The median size of affordable homes in San Francisco is 1,000 square feet, and they're even smaller in New York and Honolulu. That's a lot less space than the typical affordable home in Cincinnati (1,444 square feet), Columbus (1,400 square feet), and Indianapolis (1,656 square feet)."
Secondly, affordability is worsening. One year ago, more than half of homes for sale in Boston and Ventura County, CA, were affordable; this October, just 32% and 41% are, respectively.
So housing affordability is a pressing concern in parts of New York and California, though not really an issue in middle America.
The affordability issues in these two states are why some analysts including famed economist Robert Shiller are worried about a potential bubble forming.
--
Written by Shanthi Bharatwaj in New York
>Contact by
.
Disclosure: TheStreet's editorial policy prohibits staff editors and reporters from holding positions in any individual stocks.