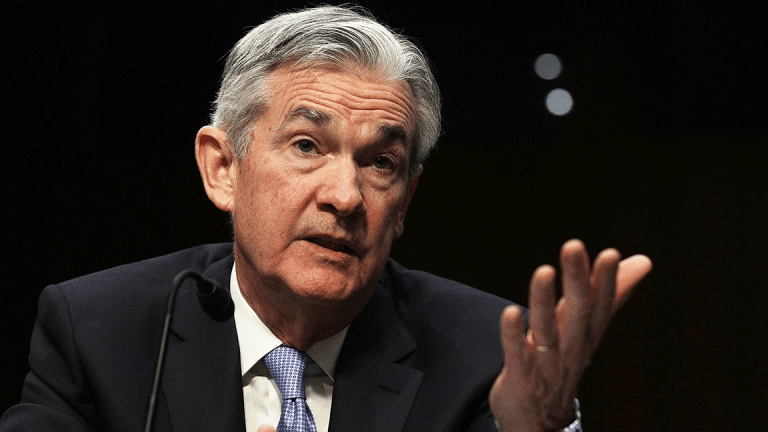 Federal Reserve Raises Interest Rates in Push to End Easy Money
The U.S. central bank's monetary-policy committee raised benchmark borrowing costs by a quarter percentage point to a range of 1.5% to 1.75%, in Jerome Powell's first meeting as Fed chairman.
The Federal Reserve raised interest rates Wednesday, increasing borrowing costs for the sixth time since late 2015 in a bid to keep inflation from rising too fast as the economy accelerates. 
The U.S. central bank's monetary-policy committee raised the benchmark rate by a quarter point to a range of 1.5% to 1.75%, according to a statement released after a two-day meeting. The Fed had held the rate close to zero from 2008 through 2015 in a bid to revive the economy and markets following the financial crisis.  
Since then, unemployment has fallen to a 17-year low of 4.1%, and stocks have surged to records on anticipation of a big windfall for companies this year and beyond due to President Donald Trump's tax cuts. Recent reports have also shown that workers' wages, stubbornly stagnant in recent years, are picking up.
The rate increase marks "another step in the process of gradually scaling back monetary policy accomodation as the economic expansion continues," Fed Chairman Jerome Powell told reporters during a press conference after the decision was announced.
While inflation, at around 1.7%, is still running below the Fed's target of 2%, Fed officials project that price increases will accelerate toward the mark this year and next. High inflation is considered bad for the economy, but persistently low inflation is usually seen as a sign of a sluggish economy.
The committee's two-day meeting this week was the first since Powell took over last month as Fed chairman from Janet Yellen, who had led the central bank since 2014. Several members of the committee, comprised of Fed board members as well heads of regional Fed branches, have changed since the last meeting in December. 
The quarter-point increase was in line with traders' expectations, though many economists remain at odds on whether the central bank will raise rates two more times this year, or three.  
"Before the meeting, there was a lot of anxiety and uncertainty" over how the new composition of the Fed committee might affect the central bank's stance on rate increases, said Peng Zhou, managing director of derivatives and quantitative strategy at Sun Life Investment Management, which oversees about $45 billion. "But this is not enough to make us feel like this is a real surprise." 
The Standard & Poor's 500 Index of large U.S. stocks was up 0.2% in New York trading after the report.
In a separate statement, Fed officials on average projected that the target rate would end this year at 2.1%, implying two more quarter-point hikes in 2018. Yet they increased their median projection for the rate as of year-end 2020 to 3.4% from a December estimate of 3.1%. 
Powell told U.S. lawmakers in a hearing last month that he believes "gradual" rate increases are warranted to keep the economy growing smoothly while pushing to normalize monetary policy.
"If the economy's a little bit stronger or a little bit weaker, then the path could be a little less gradual or a little more gradual," Powell said at the press conference.
Former Fed Chairman Ben Bernanke, Yellen's predecessor, pursued unprecedented policies to spark a recovery from the 2007-2009 recession by plying wobbly U.S. banks with cash, cutting interest rates to near zero and then pumping $4 trillion of fresh money into global markets. 
Earlier this month, Fed Governor Lael Brainard said in a speech that that the economy was now encountering "tailwinds" instead of headwinds, and that "rate normalization is under way."
The Fed also has begun letting some of its vast holdings of U.S. Treasury bonds and mortgage-backed securities mature without reinvesting the proceeds, under a plan to withdraw Bernanke's monetary stimulus. Since October, when the program began, total assets held by the Fed have declined by about 1.5% to $4.45 trillion. 
The asset-reduction efforts are "proceeding smoothly," Powell said at the press conference. "Barring a very significant and uncexpected weakening in the outlook, we do not intend to alter this program."