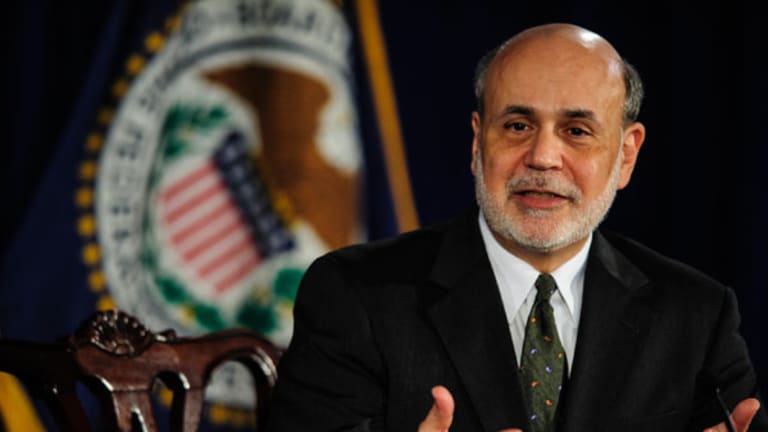 Federal Reserve Kicks Off Holiday Spree
The Federal Reserve's decision to keep economic stimulus unchanged could offer investors a cheerful ride into the holiday season.
NEW YORK (TheStreet) -- Enjoy the holidays, because the Federal Reserve just went on one.
The Fed's policy-making arm decided Wednesday to maintain its pace of economic stimulus and leave the federal funds rate at record-low levels, prompting economists and analysts to say the central bank won't modify its strategy until 2014.
"It's like the ball player who's day-to-day with an injury: the Fed is meeting to meeting, so right now the Fed is trying to catch up on economic releases that were delayed," said Greg McBride, senior financial analyst at Bankrate.com.
A weak September jobs report led a basket of tepid and in-line economic indicators that have emerged since last month's central bank meeting. Adding to the Fed's uncertainty is this month's government shutdown in Washington, which central bankers will only begin to assess in November.
There's growing consensus among economists that the Fed will stall until at least March to announce a taper to asset purchases because of the weak economic data that preceded the government shutdown and the worries of how much Washington's battle frightened investors and consumers.
"Fiscal policy is an easy target, because it has indeed hurt growth in 2013 and it will likely hurt growth in 2014 as well," said Steve Blitz, chief economist at ITG Investment Research.
Economic stress caused by fiscal policy also includes effects of the sequestration that has dented gross domestic product growth.
Interestingly, the Fed chose not to directly acknowledge the government shutdown, but kept the same language from its previous statement that simply said fiscal policy is restraining growth.
"I think that's kind of the Fed's polite way of saying, 'Hey, we'll stick to the economics and leave the politics to others,'" said Thomas Tzitzouris, head of fixed income research at Strategas Research Partners. "The fiscal drag point is almost redundant so I think the Fed would be wise also from a political standpoint to say, 'We're just going to observe the data and see what happens.'"
With the Fed having until December to assess U.S. data and two critical monthly jobs reports, investors can look to October's 4.9% rise through Wednesday in the S&P 500 as an example of what could happen in November and December if numbers continue to come in-line with Wall Street's expectations.
"Where we're left is a bull market that's based on cheap money until we can come up with a new narrative," said Marty Leclerc, chief investment officer at Barrack Yard Advisors. "It seems the Fed will continue to do whatever it takes to keep this asset prosperity going, hoping that real prosperity will follow."
The Fed shocked market participants last month when it announced no intention to reduce its monetary stimulus, causing U.S. equity markets to surge, Treasury yields to tumble and the U.S. dollar index to slump. Major simultaneous moves across asset classes suggested that markets were mispriced. Simply, investors were trading assets at prices that assumed the Fed would reduce quantitative easing, which turned out to be incorrect.
But caution headed into the final two months of 2013 should remain. Even though analysts forecast the central bank will hold tapering until 2014, they remind investors hurdles will remain.
"There is a potential coming up to that December meeting, even if the Fed makes no hint of tapering any time soon, [that] they could incrementally move towards a more hawkish tone and you could get a little bit of noisy trading at the end of the year," said Tzitzouris.
With the S&P's rise since the September Fed U-turn, a stream of unimpressive economic numbers and no central bank meeting until December, it looks like investors may have some room to ride markets into the heart of the holiday season.
-- Written by Joe Deaux in New York.
>Contact by Email.