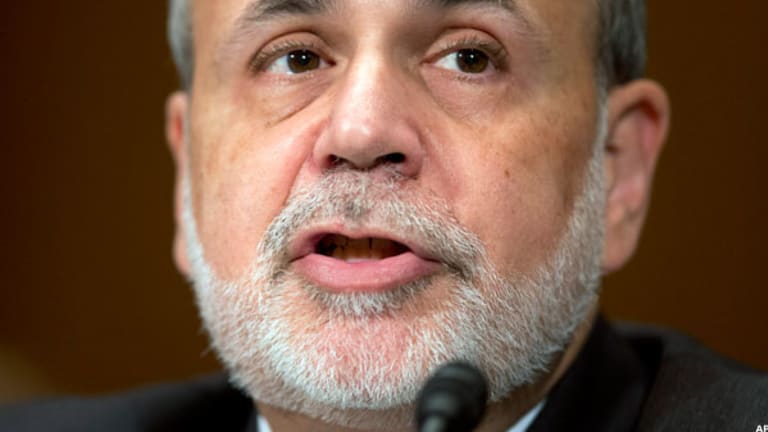 Fed Tapering is Coming, But Not At This Meeting
Wall Street is still betting on September as the start of Fed tapering.
Wall Street is still betting on September as the start of Fed tapering.
NEW YORK (
) -- When the Federal Open Market Committee makes its usual announcement on Wednesday following the conclusion of the two-day gathering, it's expected to reveal little change on the critical issue of when to begin tapering its stimulative bond-buying program.
Instead, the absence of anything substantive should raise expectations that the big announcement for the scaling back of Fed Chairman Ben Bernanke's historic quantitative easing will happen in September.
Dan Greenhaus, chief global strategist at BTIG in New York said there's a high probability that some modest adjustments in the statement will materialize.
"The Fed might throw in a sentence about how weak the economy has been even though it expects growth to accelerate and it might emphasize that rates are likely to stay very, very low even as it winds down asset purchases," Greenhaus said in an email.
"Any changes that might occur are more technical in nature," he said.
Tomorrow's FOMC announcement will not include a press conference with Fed Chairman Ben Bernanke. He's likely tired with those horse-and-pony shows. Come September though, Bernanke will be asked to hold a post-meeting press conference where he will have the opportunity to justify any major policy decisions by explaining revisions to economic projections.
"September
is still favorite for
the start of QE3 taper," Paul Ashworth an economist at Capital Economics commented in a note.
During his latest semi-annual monetary policy report to Congress, Bernanke reiterated that it would be appropriate to start moderating the monthly pace of bond purchases later this year and continue that reduction through the first half of next year, ending them around mid-year. The goal is that the jobless rate would be in the vicinity of 7%.
"This suggests to us that Bernanke and his Fed colleagues are still on track to begin reducing the monthly asset purchases in September, probably to $75 billion, with further small reductions coming at each meeting after that until the purchases are stopped entirely around mid-2014," Ashworth noted.
Written by Andrea Tse in New York
>To contact the writer of this article, click here:
Andrea Tse
.>