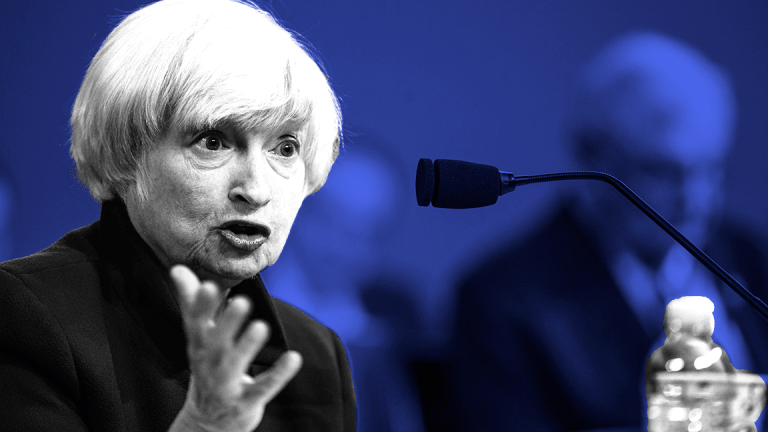 Fed Keeps Rates on Hold, Says Labor Market Continues to Strengthen
Federal Reserve officials, in their first meeting of 2018, held benchmark U.S. interest rates steady in a range of 1.25% to 1.5%, as expected.
Federal Reserve officials kept interest rates steady at their first meeting of the year, saying that labor markets continue to strengthen amid "solid" economic activity.
Monetary policy remains "accommodative," supporting an increase in inflation toward the central bank's 2% target in the "medium term," the Fed's rate-setting committee said Wednesday in a statement. 
"The committee expects that economic conditions will evolve in a manner that will warrant further gradual increases in the federal funds rate," according to the statement. 
The Fed raised rates three times in 2017, bringing the target to a range of 1.25% to 1.5%, from near zero before the central bank starting the current hiking cycle in late 2015. 
"The Fed appears to be sticking to the plan of slowly and methodically lifting rates and removing policy accommodation without disrupting markets," Charlie Ripley, senior investment strategist at the money manager Allianz Investment Management, said in an e-mail. 
The Standard & Poor's 500 Index of U.S. stocks was down 1.1% in New York trading after the announcement.
Yields on 10-year U.S. Treasury bonds were up 0.01 percentage point to 2.73% on Wednesday. They've surged by roughly 0.7 percentage point in the past four months, leaving them at the highest since mid-2014. 
Already the Fed's pace of tightening monetary policy has spurred concerns that the central bank might raise rates too fast, leading to a correction in buoyant markets and potentially triggering a recession as companies and individuals grapple with higher borrowing costs. 
The immediate effect would come in the form of higher monthly payments for consumers with credit-card balances, adjustable-rate mortgages and home-equity loans, all of which typically carry variable interest rates.
The tax cuts now being pushed through Congress could deliver additional growth that could further strengthen the Fed's resolve to keep raising rates -- to keep the economy from overheating and inflation from spiraling too high.
This week's meeting was Chair Janet Yellen's last before she turns over leadership of the Fed to Jerome Powell, President Donald Trump's appointee as her replacement. 
Yellen leaves with growth on sound footing, unemployment at a 17-year low and inflation edging toward 2% for the first time since the financial crisis of 2008 -- seen as a healthy indicator for the economy.
"Powell will have his hands full trying to assure a soft landing of solid, sustained economic growth without letting inflation or asset prices climb unchecked," Greg McBride, chief financial analyst at BankRate.com, said in an e-mail. 
 Watch Sarge's full Fed Reaction on Youtube
More of What's Trending on TheStreet: