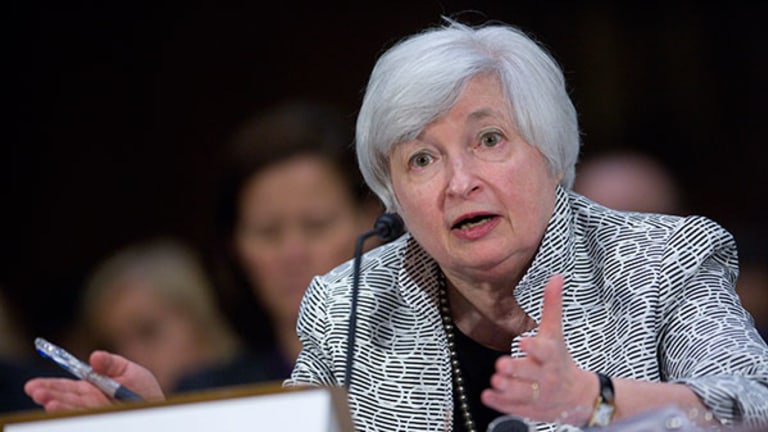 Why 'This is Yellen's FOMC Now'
Fed's emphasis on job weakness suggests new chairmwoman doesn't consider inflation a threat right now
NEW YORK (TheStreet) -- If the latest Federal Reserve statement reveals anything, it's that this is now Janet Yellen's FOMC.
The Fed's policy-making arm on Wednesday announced no change to the federal funds rate and cut its monthly bond-buying program to $25 billion from $35 billion, but a change in language about unemployment comes as the new Fed chair has been magnifying the labor market conversation.
READ MORE: U.S. Growth Surge Intensifies the Great Interest Rate Debate
WATCH: GDP Was Strong, but 'Don't Jump in Front of the Train' to Buy Stocks
"A range of labor market indicators suggests that there remains significant underutilization of labor resources," the Federal Open Market Committee statement said. This is a change from the old language that said the unemployment rate has remained "elevated."
"And if there ever was any doubt that this was a Fed in transition from Bernanke to Yellen, it is now put behind us," Mark Hamrick, economic analyst for Bankrate, said in a telephone interview from Washington. "This is the Yellen FOMC now."
Some analysts said this is a signal that Yellen is more concerned right now about jobs than inflation.
"This must be Yellen's way of reminding us that she is not comfortable yet with the pace of labor market improvement that would make her speed up the timeline of interest rate hikes," Peter Boockvar, managing director at The Lindsey Group, wrote in a client note. 
The shift in unemployment-rate language follows a growing argument among so-called hawks that core inflation is ticking to 2% -- the Fed targets this as the level of inflation it wants to maintain -- which, if surpassed, will force the central bank to counter by raising interest rates. And while hawks still think unemployment is a major issue in the country, many of them fear a sudden rise in inflation would supersede the jobs discussion in importance.
However, Yellen and others contend that wage growth remains subpar, despite steadily improving jobs growth.
It's an important detail to note as hawkish members, like Dallas Fed President Richard Fisher and Philadelphia Fed President Charles Plosser, are attempting to tilt more of the Fed's attention back to inflation.
Yellen has made it clear that she wants the Fed to up its message on joblessness and income, especially as she contends that inflation over the long run isn't poised to be a problem for the U.S. economy.
The discussion of jobs and inflation is a concern to market participants as the one issue on their minds now is when officials expect to raise the federal funds rate from its historic low level of zero to 0.25%.
A rise in inflation well past 2% would likely force the Fed to counter the action by raising interest rates. But a low unemployment rate also would signal that the economy has fully stabilized from the 2008 financial crisis, thus allowing the Fed to increase rates and return savers back to normal times.
"I don't think you get a clear sign about raising interest rates during this year," Moody's Analytics economist Ben Garber, said in a phone interview before the statement emerged. "Conceivably I don't see any type of move on interest rates until the second quarter of next year."
The debate whether inflation is seeping into the economy will only grow louder. But it's now clear that the loudest voice in the room is Chairman Yellen.
-- Written by Joe Deaux in New York.
>Contact by Email.