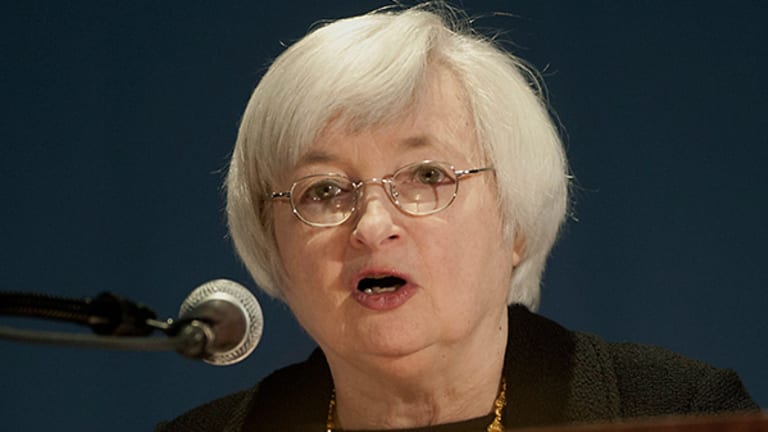 Fed Chief Janet Yellen: The Economy Needs More Time to Heal
Federal Reserve Chief Janet Yellen makes her case very clear to the capital markets on Friday: the economy needs more time to heal itself.
NEW YORK (TheStreet) -- Federal Reserve Chief Janet Yellen made her case very clear to the capital markets on Friday: The economy needs more time to heal itself.
During her speech in Jackson Hole on Friday, Yellen continued to throw her support behind those who say it's easier to fight inflation than deflation. That camp has also factored in that economies overseas, such as Europe and Japan, have in many ways reversed their positive course and are now showing very little strength.
"Profound dislocations in the labor market in recent years -- such as depressed participation associated with worker discouragement and a still-substantial level of long-term unemployment -- may cause inflation pressures to arise earlier than usual as the degree of slack in the labor market declines," said Yellen. "However, some of the resulting wage and price pressures could subsequently ease as higher real wages draw workers back into the labor force and lower long-term unemployment. As a consequence, tightening monetary policy as soon as inflation moves back toward 2% might, in this case, prevent labor markets from recovering fully and so would not be consistent with the dual mandate."
Yellen was referring to the dramatic drop-off in participation rates and her reasoning for deprioritizing the handling of rising inflation pressures in this environment. Rising wages would draw people back into the market potentially, but would also result in inflation. However, if the Fed starts to tighten immediately when inflation hits the 2% target, the central bank may actually halt that process of people returning to the labor market.
That hike could become a brake on the economy.
"She's clearly fighting on the fact that they should remain lower, longer," said Dave Roda, regional CIO for Wells Fargo Private Bank. "'Let's work through this labor slack before we start to try to put the breaks on and remove accommodation.'"
While setting a dovish tone for the central bankers meeting in Jackson Hole, Yellen at the same time continued to emphasize the importance of remaining data dependent. She acknowledged that while much work still needs to be done on the labor market, labor and inflation dynamics have moved closer to the Fed's target levels.
U.S. market action was fairly muted after the speech. Roda said the lack of momentum was due to the fact that many market participants had been front-running the view that Yellen would remain consistent in her dovish stance.
--By Andrea Tse in New York
Follow @AndreaTTse