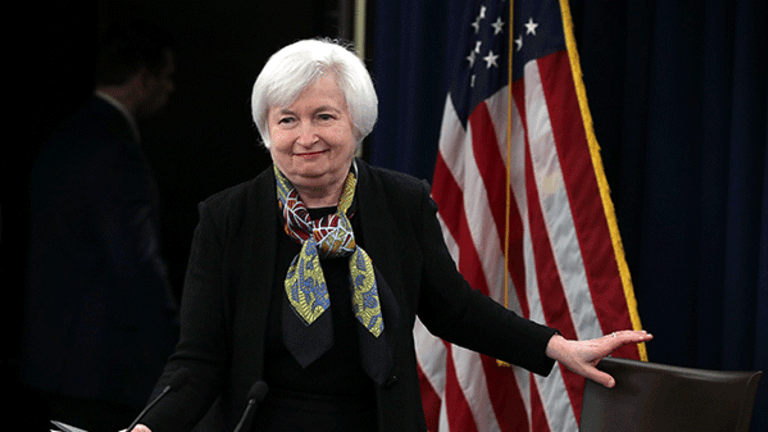 Fed Approves Second Rate Hike Since Financial Crisis -- Now What?
Wednesday's rate hike was widely expected, with rate futures indicating a 90% chance the Federal Reserve's monetary policy committee would act.
Editor's note: Seven new paragraphs added to the bottom of this piece since first published at 2:38 pm Tuesday.
The Federal Reserve raised short-term interest rates for the first time in a year -- and the second time since the 2008 financial crisis -- boosting the target by 25 basis points. 
The hike to a range of 0.5% to 0.75%, which was unanimously approved by the committee's 10 voting members, reflects the economy's shift to nearly full employment and a slight uptick in inflation, which remains short of the Fed's 2% annual target rate, the central bank said in a statement.
"My colleagues and I recognize the considerable progress the economy has made," Fed Chair Janet Yellen said in a news conference, pointing to 2.25 million new jobs created in the last year. "We expect the economy will continue to perform well."
The Fed's monetary policy projections, disclosed after today's meeting, signaled three rate hikes next year, toward the upper end of Wall Street expectations, and one more than committee members predicted in September, the last time they made public estimates.
"Fed raises rates from super low to merely very low. Not much to argue about here -- it's still really really cheap to borrow money," University of Michigan economist Justin Wolfers said on Twitter. "The Fed isn't applying the brakes any time soon; they're projecting continued expansionary monetary policy until at least 2019."
The shift likely is a "hedge against Trump-induced fiscal pressure that may or may not appear," said Jared Bernstein, former chief economic adviser to Vice President Joe Biden and a fellow at the Council for Budget and Policy Priorities.
The bank is also continuing to reinvest the proceeds of maturing bonds in its $4 trillion portfolio in new bonds, which helps keep interest rates low.
"For U.S. banks, the effect of the Fed's rate increase is likely to be similar to last December's rate hike, which provided an immediate, but modest, earnings boost," said Allen Tischler, a senior vice president with Moody's Investors Service. That didn't last because of a decline in long-term rates, which have since moved up, "making the profitability benefits of the Fed's rate increase more likely to last this time." 
Some of the country's largest banks announced increases to their prime lending rates, what the best customers are typically charged to borrow money, shortly afterward. 
Bank of America (BAC) - Get Report increased its rate 25 basis points to 3.75% effective immediately, while JPMorgan Chase (JPM) - Get Report , PNC (PNC) - Get Report and SunTrust (STI) - Get Report said they would boost their prime rates to the same level on Thursday.
The Fed also made very small changes in its economic forecasts, which have been criticized for years for being too optimistic.
Committee members expect the economy to grow 1.9% this year and 2.1% next year, each only slightly higher than in September, the last time the Fed released its members' forecasts. Inflation next year is predicted to be 1.7%, the same as the members predicted in September. 
Yellen noted that the new forecasts reflected what committee members know about the stimulus plans of the Trump administration and Congress. Ideas on the table include tax cuts ranging from $3 trillion to $6 trillion over 10 years, with or without offsetting cuts in spending or closing of tax loopholes to make the tax changes revenue-neutral, and the incoming president's proposal to boost infrastructure spending by as much as $1 trillion.
Yet she pointed out that the economy is in a much different position than it was when she and former Fed chairman Ben Bernanke pleaded unsuccessfully with Republican lawmakers for more expansionary fiscal-policy.
"My predecessor and I called for fiscal stimulus when the unemployment rate was substantially higher," Yellen said. "Fiscal policy is not obviously needed to provide stimulus to get us back to full employment."
But there are other reasons Congress might want a stimulus, she noted.
The economy's key problem is low productivity growth, not a low level of cyclical expansion in output. The legislative initiatives that might help include expansion of education and training efforts, which Trump has not proposed, as well as measures to promote corporate investment.
Aides to the incoming president have argued that his proposed cut in corporate tax rates would promote investment.
Yellen also repeated that she plans to remain as chair of the Fed until her term expires in 2018, and held out the possibility that she would remain on the monetary policy committee even after a successor is appointed.
The Fed chair downplayed the significance of the move upward in the likelihood of rate hikes next year, saying they reflected small shifts by a handful of members of the committee. And she emphasized that the exact course of rate hikes next year would depend on incoming data, including more details on what Trump and Congress will do about fiscal policy.
"The shifts you see here are really very tiny,'' she said.
This article is commentary by an independent contributor. At the time of publication, the author held no positions in the stocks mentioned.