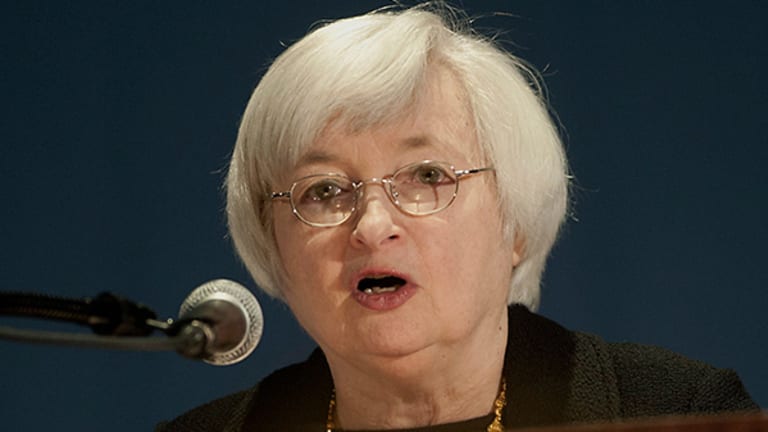 Fed Already Knows It Won't Raise Rates Until September: Economist
The government's report on fourth-quarter economic growth was weaker than expected, but the Fed is already mulling a delay in its rate-hike plans, according to one economist.
NEW YORK (TheStreet) -- Fourth-quarter GDP missed expectations, but the Federal Reserve is already mulling a delay in its rate hike plans, says ITG Chief Economist Steve Blitz.
Fourth-quarter gross domestic product rose 2.6%, compared to the third quarter's staggering 5%, the Commerce Department said Friday. Economists were forecasting 3%.
"I think the Fed already knows they are going to delay [raising rates] until September," Blitz said in an interview with TheStreet. "I think they are leaning closer to September. In the December statement, the Fed said growth 'is' solid and in January's statement, they said growth 'has been' solid. This tells me they're not sure what growth is going to be."
To boost GDP going forward, Blitz says we'll need to see consumers spend the savings caused from the precipitous decline in gas prices.
Blitz is also bullish on spring home buying and says the slowdown in federal and state spending should reverse and add to GDP. "Those two things alone should get us to 3% growth for 2015," he said
Aside from GDP, the employment cost index rose just 0.6% during fourth quarter, a slight decline from the third quarter's 0.7% increase, the Bureau of Labor Statistics said Friday morning.
Lower costs for employers mean wage growth is still nowhere to be found in the current labor landscape.
"We are a global economy," Blitz told TheStreet. "The threat of moving jobs overseas keeps wage growth lower and in the rest of the world there is lower growth and a surplus of labor."
The latest reading on average hourly earnings is released next Friday by the Bureau of Labor Statistics.
-- Written by Scott Gamm in New York.
Follow @ScottGamm.