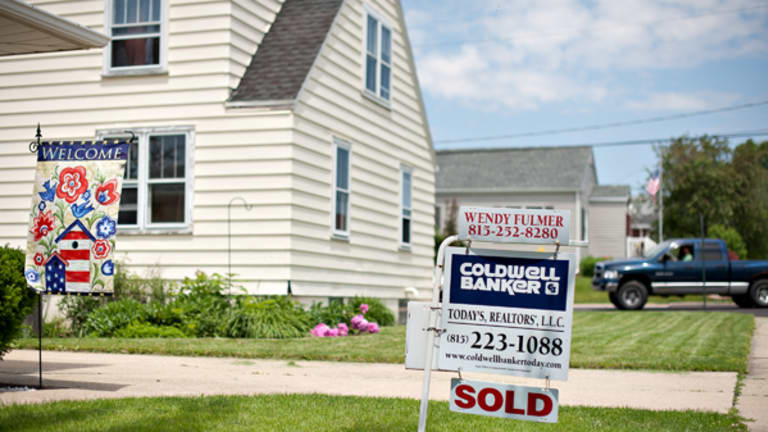 Existing-Home Sales Post First Annual Drop in 29 Months
The National Association of Realtors says sales of previously owned homes declined more than 4% in November.
Updated from 10:31 a.m. ET with additional commentary.
NEW YORK (TheStreet) -- Existing-home sales declined by more than 4% in November, missing estimates, and posted the first annual decline in nearly two-and-a-half years.
The National Association of Realtors said sales of previously owned homes declined to a seasonally adjusted annual rate of 4.90 million units from 5.12 million in October. This is the lowest level since April.
Economists on average expected the annualized sales pace for November to come in at 5.02 million units, according to consensus estimates from Bloomberg.
Existing-home sales are completed transactions that include single-family homes, townhomes, condominiums and co-ops, based on transaction closings from Multiple Listing Services (MLS). Existing-home sales account for more than 90% of total U.S. home sales.
November sales were down 1.2% on a year-over-year basis, the first annual decline in 29 months.
The decline in sales came even as inventory of homes available for sale expanded. The supply of existing homes available for sale declined 0.9% to 2.09 million units in November, representing 5.1 months supply compared to 4.9 in October. Year over year, inventory is actually up 5%, a sign that supply conditions are slowly easing.
The median time on the market for all homes was 56 days in November, up from 54 in October but still well below 70 days a year earlier.
Still, inventory conditions remain relatively tight compared to demand, and the national median price for homes is up more than 9% year over year at $196,300.
"Home sales are hurt by higher mortgage interest rates, constrained inventory and continuing tight credit," said Lawrence Yun, chief economist of NAR. "There is a pent-up demand for both rental and owner-occupied housing as household formation will inevitably burst out, but the bottleneck is in limited housing supply, due to the slow recovery in new home construction. As such, rents are rising at the fastest pace in five years, while annual home prices are rising at the highest rate in eight years."
The share of distressed sales accounted for 14% of all sales in November, unchanged from October. One year ago, foreclosures and short sales accounted for 22% of sales.
The declining share of distressed sales is good news because foreclosures and short sales are made at steep discounts to market value and depress neighborhood prices. More nondistressed sales are a sign of a healthier market.
Excluding distressed sales, existing-home sales were up nearly 9% year over year.
First-time buyers accounted for 28% of purchases in November, unchanged from October; they were 30% in November 2012.
Cash buyers continue to dominate. All-cash sales made up 32% of transactions in November, up from 31% in October and 30% in November 2012.
Budge Huskey, CEO of Coldwell Banker, said he viewed the latest report positively, noting that sales in the last few months of 2012 were unusually strong amid fears that the mortgage interest deduction would be done away with and that capital gains taxes would increase. "We knew going into the fourth quarter that year-over-year comparisons would be challenging. The fact that we are only 1% off and that prices are up 9% year over year ... we view it as a positive release," he said. He also noted that 35% of the inventory sold in less than a month, another sign that demand is robust,
He also added that with the market now moving toward normal, year-over-year comparisons will not be as strong as when the market was rebounding from the crash.
"The reality is there is a lot more clarity in 2014 on the foundation of the housing recovery. The economy is strengthening overall, the mortgage rules that will take effect in 2014 were far more favorable than expected and household formation is strengthening," said Huskey.
With household formation growing, he said there was plenty of demand for homes. Higher mortgage rates might affect the affordability, but it is more likely to affect the size of the home that buyers seek, not overall demand, according to the executive.
The real question for the housing recovery is whether borrowers can actually obtain a mortgage. Right now, credit standards remain too tight, he said.
-- Written by Shanthi Bharatwaj in New York.
Disclosure: TheStreet's editorial policy prohibits staff editors and reporters from holding positions in any individual stocks.