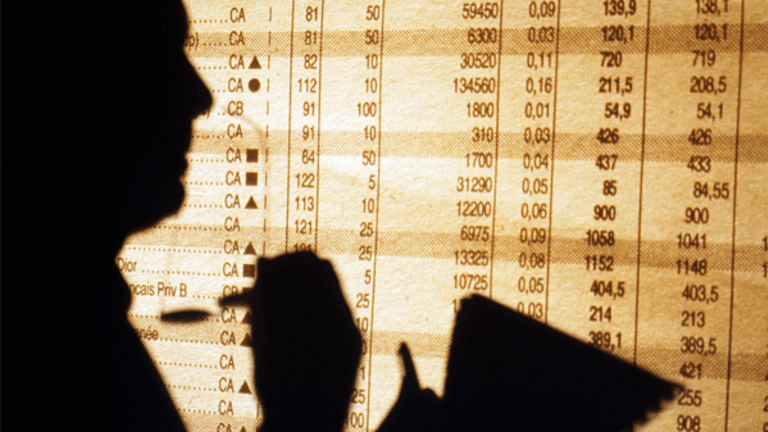 Europe, Bernanke to Test Markets in Coming Week
Investors are far from being out of the danger zone. To survive next week, they'll have to monitor multiple changing situations.
NEW YORK (
) -- Strategists are buckling in for more roller-coaster action in the coming week, as larger global uncertainties will continue to overshadow equity fundamentals.
Investors will have to keep an eye on economic indicators and look for signs of progress from U.S. and European leaders on their respective debt problems.
German and French leaders have been reluctant to pursue a comprehensive strategy to the continent's debt problems and instead have chosen incremental actions to try to stave off a collapse of the banking sector.
So far, their proposal to raise capital through a tax on financial transactions has been poorly received by investors. Any missteps from officials across the Atlantic next week would no doubt lead to further losses for investors.
"The global stock market drop seems to have its roots in free-floating anxiety about Euroland's economic financial stability," writes Carl Weinberg, chief economist at High Frequency Economics in a report.
When investors are at the mercy of politicians, even fundamental analysis seems to provide little help in predicting which way the averages will move. After a global selloff that was reminiscent of the sharp swings seen in 2008, the market is trying to find a bottom. Without a catalyst to help it move higher, however, gaining a firm footing, at least by next week, seems unlikely.
The "testing phase" that follows a "waterfall decline" can last a few weeks to several months, writes Bruce Bittles, chief investment strategist at Robert W. Baird. Key elements that would indicate a "positive outcome" include trading above the recent low, fewer new lows, and receding volume, explains Bittles. The
Dow
plunged to 10,860 in the trading session that followed the U.S. credit downgrade.
After such an oversold market, it will not be surprising to see some investors go bargain hunting. Plenty of traders are hoping to catch at least some of a potential short-term upside despite the heightened volatility.
Testing the market makes some sense given that opportunities have become enticing: With the dividend yield on the S&P 500 at 2.25%, stocks look attractive compared to Treasuries. The 10-year benchmark is only yielding 2.07%. According to Birinyi Associates, "this is only the second period since the 1950s where stocks have yielded more than bonds."
The larger question is whether investors are brave enough to take the plunge as noise about a possible recession in Europe and the U.S. grows louder.
Economic data from Europe likely will suggest that the weakening eurozone economies are in no position to address their burgeoning debt problems. Updates on eurozone manufacturing activity and business sentiment in Germany are expected from three different surveys: the eurozone purchasing managers' indices and Germany's ZEW survey on Tuesday; and the Ifo business climax index, also from Germany, on Wednesday.
A falloff in all three headlines, Capital Economics says, would suggest that the eurozone is headed for a "double dip." Negative news on Europe's growth trajectory would easily have investors recoiling from equities and dashing to gold and U.S. Treasuries once again.
Kurt Reiman, a strategist at UBS, describes the scene in Europe as "cracks in plaster." "You can go patch it up, but new cracks pop up and old cracks re-emerge."
One of the worst parts of the disintegrating global economic picture is that central banks have few options to help out. The European Central Bank can continue to buy government bonds to suppress borrowing costs for eurozone countries, but this strategy is likely to get very costly. The ECB recently purchased 22 billion euros in Italian and Spanish debt. For comparison, the value of the bond market in Italy and Spain totals 2,100 billion euros. Capital Economics does not expect the bank to support the bond market indefinitely.
Similarly, a lack of leadership on the fiscal front in the U.S. has put the
Federal Reserve
in a tight spot. In the coming week, investors will find out just how crunched the Fed is feeling.
Federal Reserve Chairman Ben Bernanke
Fed Chairman Ben Bernanke will be delivering his annual speech at Jackson Hole, Wyo. on Friday. Reiman at UBS says that the recent selloff is a partial indication that investors are realizing the Fed doesn't have many options. Reiman says he doesn't expect a "big surprise move" in the market's reaction to Bernanke. Some economists, however, are bracing for a disappointment in the equities market, which has been dying for more monetary intervention.
Recall that at the same speech at Jackson Hole last year, Bernanke laid the groundwork for a second round of quantitative easing. At that time, the economy was seeing decelerating inflation. Conditions now, however, are quite different. Signs of higher inflation make it difficult for the Fed to justify printing new money for the economy, and the central bank has already targeted the interest rate at near zero until at least 2013.
Most economists believe that Bernanke is unlikely to announce further quantitative easing at this stage in the economic slowdown. Some say that the Fed could extend the maturities of the bonds in its portfolio instead of buying up more assets. Some are also predicting that policy stimulus will come in 2012, once core inflation falls.
"At this point, Bernanke needs to clarify what the Fed's policy options are," says Fred Dickson, strategist at D.A. Davidson. Dickson says he's looking for an explanation for why the Fed came out with the "revolutionary statement on timetable" that it did, as well as how Bernanke plans to address the inflationary pressures.
"It will be important to gauge the degree to which the Chairman and presumably his policymaking colleagues are alarmed by recent data events ... notably consumer sentiment and the regional production surveys," writes Carl Riccadonna at Deutsche Bank, in a report. Tanking factory activity in the mid-Atlantic region shocked investors on Thursday, so the market is eager to know whether or not the latest economic data has heightened Bernanke's recessionary fears.
Meanwhile, the coming week will also see a smattering of reports from the U.S. economic calendar. With the exception of new home sales numbers, which has largely been ignored by investors because expectations for a housing rebound are so low, all of these have the potential to move the market.
A report on national economic activity by the Chicago Fed on Monday, durable goods on Wednesday, weekly jobs numbers Thursday, and consumer sentiment and revised GDP estimates Friday are all expected to contribute to choppy trading throughout the week.
"Since the economic release calendar has so uniformly disappointed
last week, it will almost have to uniformly surprise to the upside
this week," says Reiman at UBS. "There's very little margin for error."
In particular, pressure for coincident indicators to deliver good results is high. Thursday's weekly jobless claims numbers and Friday's report on consumer sentiment from the University of Michigan are both indications of how the economy has shaped up so far this month.
With filings for first-time unemployment benefits teetering around 400,000 in recent weeks, investors are focused more on which direction the reading moves more than its actual level. A sharp jump could unnerve an already unsettled market.
Poor economic data would increases the chances that the U.S. and Europe are both headed for another recession, and we could see the list of banks cutting back on their GDP estimates grow further next week. The latest bank to correct its forecast this week was Wells Fargo, which now thinks the economy expanded at 1.6% in 2011 instead of 1.7%. Its estimate for 2012 got cut too, from 1.7% to 1.1%.
According to UBS, the market has already priced in a mild recession. "We believe that earnings for the second half of this year and for 2012 will disappoint," said the bank in a report.
"In the absence of appropriate policy intervention from the European Central Bank, the Federal Reserve and the U.S. Government, it is entirely possible the current downward spiral in the economy and financial markets will become self-reinforcing," said Wells Fargo.
If investors heed those two warnings alone, they might second guess any risky bets and look for a rational, diversified, long-term strategy to weather the storm ahead. "There may be lighter summer volume, but volatility is unlikely to subside," says Reiman at UBS.
At the rate that policymakers are acting, markets are likely in for a repeat of the prior week's action.
-- Written by Chao Deng in New York.
>To contact the writer of this article, click here:
Chao Deng
.
>To follow the writer on Twitter, go to:
@chao_deng
>To submit a news tip, send an email to:
.