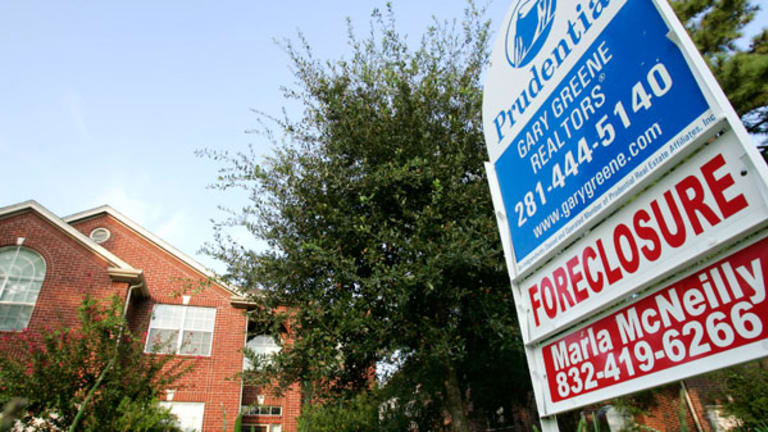 Eminent Domain Mortgage Battle Is a Lose-Lose Situation
A city's plan to use eminent domain to seize mortgages from investors may run into legal challenges over compensation.
NEW YORK (
) -- It has been called a bold, novel move to help save struggling homeowners from foreclosure.
But depending on who is talking, it has also been called drastic, desperate, ill-advised and downright unconstitutional.
The
move by Richmond, Calif., to seize "underwater mortgages"
from private investors using its powers of eminent domain has drawn controversy and consternation within the mortgage industry.
Eminent domain is the power of the state to seize private property for public use. The owner of the property is typically entitled to "reasonable compensation."
The law has mostly been used to seize property for public purposes such as building roads, highways or schools and other critical infrastructure.
Richmond is now testing whether the rule can be applied to seizing underwater mortgages.
Home prices in Richmond, a city with a population of a little more than 100,000 and a significant Hispanic and African-American presence, are still far below peak levels. More than half of its homeowners are underwater -- they owe more than their homes are worth.
Richmond Mayor Gayle Mclaughlin said eminent domain is the only way to help borrowers and repair the local economy, as investors of private-label mortgages have been either reluctant or too slow to provide relief to borrowers.
The city, partnering with San Francisco-based Mortgage Resolution Partners (MRP), began sending letters to owners and servicers of 624 underwater mortgages this week.
If the investors do not agree to sell at the negotiated price, the city will seize the property through eminent domain.
The mortgage industry is, predictably, threatening a legal battle.
"The practical effect of this proposal will be that individual investors, who put their money into pension funds and other investment vehicles, making mortgage money available to homebuyers, will see their assets and savings arbitrarily, and we believe unconstitutionally, taken," said Judd Gregg, CEO of SIFMA, a trade group representing the securities industry.
He added that local governments that use eminent domain to force investors to take losses on their mortgages will likely see the cost of credit rise in their communities.
Proponents of the proposal including Mortgage Resolution Partners believe the industry is just making empty threats. ""The proposal is entirely constitutional and will withstand any legal challenge," according to MRP.
But Richmond may still have to fight an uphill legal battle, according to legal experts interviewed by
TheStreet
.
"There is going to be a class of people, including retirees and pension funds, who are going to challenge the constitutionality of
the government taking their investment and reducing it to benefit some other class
borrowers," said Tim Rood, partner and managing director at The Collingwood Group, a financial and housing advisory firm. He believes this is a classic case of "robbing Peter to Pay Paul."
But local governments may be well within their rights to seize property, if recent case history on eminent domain is any indication.
"The constitutional challenges for this proposal are weak," according to David Reiss, law professor at the Brooklyn Law School.
While eminent domain was originally defined as seizing property for public use, courts have interpreted this more broadly to mean public "benefit." So a city could technically seize property if it can demonstrate that doing so will benefit the local economy and create jobs.
The courts are likely to be sympathetic to the view that lowering the risk of foreclosures and putting more money in the pockets of borrowers might help the local economy of Richmond recover.
While some investors have raised concerns about the violation of contract clauses, this should not be an issue either.
Tim Duggan, an eminent domain expert at New Jersey-based law firm Stark & Stark, said the proposal isn't a violation of contract law. "Government can take real estate, can take contracts, they can take pretty much any right for public use," under eminent domain, so long has fair compensation is paid.
The bigger source of legal conflict, according to Reiss and other experts, would be on determining what is fair compensation for a mortgage, especially one that is still current.
According to press reports, of the 624 mortgages Richmond is looking to seize, 180 are delinquent and 444 are current. Richmond is claiming the borrowers who owe these mortgages are at high risk of default.
Richmond proposes buying the mortgage at a discount to current home values, a measure of compensation likely to be contested by investors.
As reported by
The New York Times
, the plan works something like this:"In a hypothetical example, a home mortgaged for $400,000 is now worth $200,000. The city plans to buy the loan for $160,000, or about 80 percent of the value of the home, a discount that factors in the risk of default. Then, the city would write down the debt to $190,000 and allow the homeowner to refinance at the new amount, probably through a government program."
The homeowner goes from being underwater to actually having equity of $10,000. The profit of $30,000 goes to a flat fee to Mortgage Resolution Partners and to investors who funded the purchase of the mortgage.
Investors are likely to dispute the compensation price in court. They may demand that they be rewarded on the present value of future cash flows of the mortgage and not on the value of the underlying home.
"Courts tend to overcompensate properties taken under eminent domain as a general rule," said Reiss. "The proponents of this rule may be underestimating how these mortgages will be valued."
If the mortgages are valued higher, it may change the economics for the proposal. Buying a mortgage for higher than the property value would mean that borrowers are still underwater, defeating the purpose of the proposal.
"This is going to be very expensive for municipalities if banks fight," said Duggan.
Besides the legal complications, other cities may still have cause for pause when exploring this controversial strategy.
Investors have warned that the cost of credit could go up in municipalities such as Richmond that use eminent domain to seize mortgages.
Proponents have dismissed this, saying refusal to lend to these communities is tantamount to redlining or discrimination against minority communities.
However, investors frequently do factor in local laws governing foreclosure and other aspects when deciding to buy mortgages. If the secondary market demand for mortgages in an area shrinks, it could reduce the availability of credit.
Eminent domain is "theoretically a great idea," said Reiss. "States certainly have the legal authority to try this experiment. But it is not clear whether the outcome of all this is beneficial."
-- Written by Shanthi Bharatwaj in New York.
>Contact by
.
Disclosure: TheStreet's editorial policy prohibits staff editors and reporters from holding positions in any individual stocks.