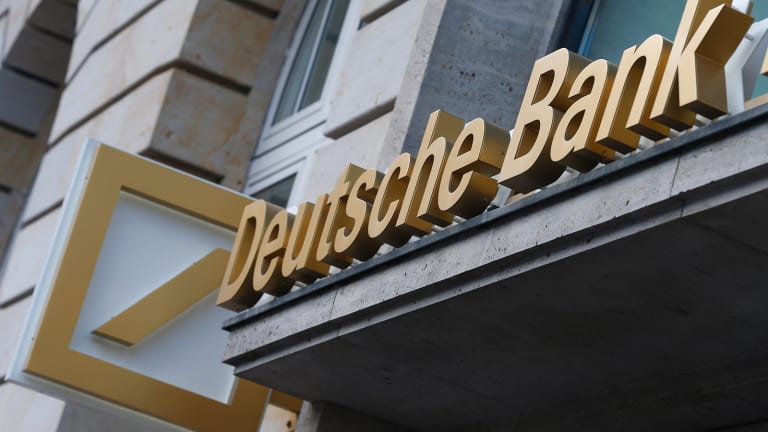 The following article, originally published at 2:13 p.m. on Monday, Sept. 19, 2016, has been updated with market reaction and data on regulatory settlements.
Deutsche Bank  (DB) - Get Deutsche Bank AG Report , which buttressed its balance sheet last year by securitizing at least $11 billion of loans, is employing the tactic again as the lender grapples with rising investor concern about its capital adequacy.
The move would reduce risks and improve the largest German lender's financial picture as it negotiates with U.S. regulators who proposed a $14 billion settlement of probes into mortgage-backed securities, people with knowledge of the matter said. 
The deal, under the same program the bank used to securitize $5.5 billion in loans in June 2015 but for a smaller amount, is set to close next week, in time for inclusion in the German lender's third-quarter results, said the people, who asked not to be identified because the transaction is private. Capital is the buffer of extra assets that banks are required to keep to protect depositors from losses and prevent the need for government bailouts. 
While Deutsche Bank says in its annual report that such efforts are a part of routine risk-management operations, next week's deal would be the first such transaction this year, one person said, in an indication that the lender is deploying all available means to bolster capital shy of a new equity offering. The overall size of the new deal and the amount of capital relief that would come from it couldn't be determined. A Deutsche Bank spokeswoman declined to comment. 
Deutsche Bank's credit-default swaps -- a type of financial instrument used to speculate on the likelihood of a company's default -- are trading at more than twice the average for global banks. Last week, Deutsche Bank's CDS price surged 8.4% in a single day after the lender confirmed the size of the mortgage settlement sought by the U.S. Department of Justice.
Deutsche said it expected to reach a settlement with the U.S. for a "materially lower" amount. Still, Credit Suisse said Friday that the German lender could need an additional 7 billion euros of capital ($7.8 billion) to meet expected regulatory requirements. The bank is likely to post a loss in 2017 and may have to cut its dividend, Credit Suisse analyst Jon Peace wrote in a report. He has an "underperform" rating on the stock, which has fallen 14% this month in New York to $12.62, a  far worse decline than the broader S&P 500.
"Weak profits and difficulties in disposing assets are slowing the capital build," Peace wrote. "Although an organic rebuild is still possible, a potential capital raise should not be ruled out."
Deutsche Bank's new deal is structured as a synthetic collateralized loan obligation, or CLO -- a type of financial instrument that uses derivatives to transfer the risk of losses to investors, the people said. Synthetic CLOs allow lenders to retain relationships with their customers while working like insurance policies to protect against defaults. The deals provide an alternative to a straight sale of loans, where the customer relationship transfers to the buyer. 
Selling synthetic CLOs allows lenders to reclassify risky loans as higher-quality exposures, since the bank would only incur losses under a dire economic scenario. Once the loans are reclassified as less risky, the bank gets to reduce the amount of capital that must be held against them. The tradeoff is that much of the expected income stream from the loans goes instead to the investors, who stand to collect attractive coupon payments sometimes in excess of nine percentage points over benchmark money-market rates. 
Other European banks including Stockholm-based Nordea and London-based Standard Chartered have used similar deals to manage risk and free up capital, which can then be applied toward new loans. Last month, Nordea securitized 8.4 billion euros of corporate and small-business loans through a synthetic CLO. In that deal, investors agreed to invest in notes that would be first to suffer losses if defaults on the loans escalate, according to a Nordea statement. 
While synthetic CLOs are often sold to a small group of investors who specialize in them, the Nordea notes were bought by the Dutch pension fund PGGM, Bloomberg reported last week.  
In December, Deutsche Bank used a synthetic CLO to reduce its risks on a $3.5 billion portfolio of trade-finance receivables, according to a statement at the time.
The new deal is being issued under an existing program known as Craft, which is designed to accommodate a mix of corporate loans from the U.S. and elsewhere, the people with knowledge of the matter said. The last transaction under the program was in June 2015 and involved the sale of $385 million of notes that effectively insulated the lender from the first losses on a $5.5 billion collateral pool, according to Bloomberg data.
A previous deal, in March of that year, involved the sale of $139.8 million in notes that protected the lender from losses on $2.35 billion in loans. 
Source: Find Out More | Graphiq