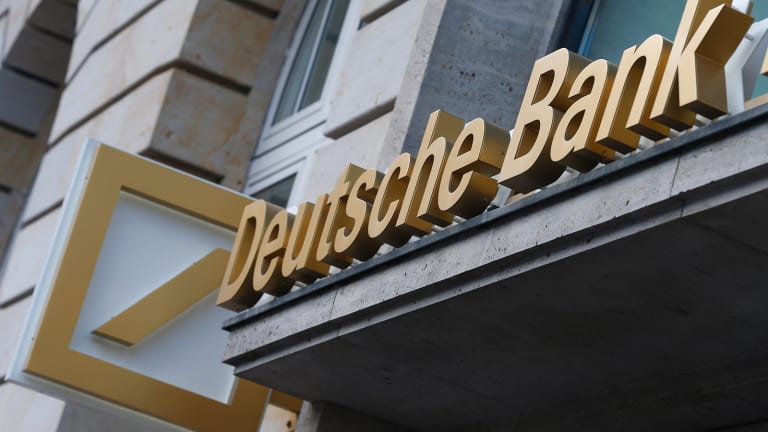 Publish date:
Deutsche Bank Said to Securitize at Least $2.5 Billion of Corporate Loans
The German lender's latest transaction should provide a dose of relief as investors speculate current capital levels might not be sufficient to satisfy regulators.
The German lender's latest transaction should provide a dose of relief as investors speculate current capital levels might not be sufficient to satisfy regulators.
Deutsche Bank (DB) - Get Report , the German lender facing doubts about its ability to weather big losses, has securitized at least $2.5 billion of corporate loans in a transaction designed to curb risk and bolster measures of financial strength, a person with knowledge of the plan said. 
The deal priced last week and involved the sale of $209 million of bonds to investors, the person said. The transaction, known as a synthetic collateralized debt obligation, or CLO, works like insurance so that investors take the first hit when the underlying loans go bad. Such deals allow lenders to reclassify the loans as less risky, allowing banks to reduce the amount of capital that must be held as a buffer against losses.
While Deutsche Bank says CLOs are common risk-management tools, the latest transaction is the first of its kind this year and shows the lender is using all available means to bolster capital without selling new shares. The bank securitized at least $11 billion of loans last year. 
"Deutsche Bank has successfully implemented several dozen similar transactions over the past 15 years and is comfortable with this well-tested approach," the lender said in an e-mailed statement. "These transactions are useful to any bank seeking to manage risk."
The Frankfurt-based bank's shares have tumbled 51% this year to their lowest levels since the 1980s as worries mounted that its capital -- the buffer of extra assets that's supposed to protect depositors - might not be sufficient to meet regulatory minimums if unusually large losses materialize.
Those concerns were amplified this month after the lender confirmed the U.S. Department of Justice is seeking as much as $14 billion to settle probes into mortgage-backed securities. Deutsche Bank has said it expects the amount to be materially lower.
The shares have slid further recently on speculation the German government wouldn't be as willing as previously thought to provide emergency financial backing to Deutsche, the nation's biggest bank. 
Analysts for Swiss lender Credit Suisse project that Deutsche Bank could need an additional 7 billion euros of capital ($7.8 billion) to meet expected regulatory requirements.
Although it wasn't clear how much capital relief the latest transaction will provide, it would be nowhere near Credit Suisse's projection, investors familiar with such deals said. 
The German lender said separately that it agreed to sell its Abbey Life insurance business in the U.K. to Phoenix Group for £935 million ($1.2 billion). The deal will improve the bank's position, CEO John Cryan said in a statement, boosting a measure of the safest form of regulatory capital by 10 basis points. That ratio stood at 10.8% as of the end of the second quarter.
The impact of the securitization deal, meanwhile, will be reflected in the bank's results for the third quarter, according to the person with knowledge of the matter.
The new CLO, known as CRAFT 2016-1, didn't come cheap. The bonds were priced so that investors receive an interest rate of 13.5 percentage points over the London interbank offered rate, or Libor, which is the global benchmark for short-term interest rates.
The previous CRAFT deal, a securitization of $5.5 billion of corporate loans in June 2015, paid investors just 9.25 percentage points over Libor, data show.